Larry Mayer and Simon Kaufman of ChicagoBears.com discuss the Bears players they'll be watching on both sides of the ball in Sunday's road game against the Arizona Cardinals:
Mayer
Offense: Receiver Allen Robinson II 
The Bears' No. 1 receiver continues to build a rapport with quarterback Mitchell Trubisky. In Monday night's win over the Seahawks, Robinson was targeted 14 times and caught 10 passes for 83 yards. He had twice as many targets and receptions as any other player in the game. The fifth-year pro figures to play a key role on offense again Sunday against the Cardinals.
"That's why we brought him here," said coach Matt Nagy. "I think Mitch is building the ultimate trust with him right now and that's important. The more guys that we can get that have that trust with Mitch, the better for our offense. Credit to Allen for all the time he's put in in OTAs mentally and then training camp physically, and I think you're starting to see some of the results now."
Robinson's value to the Bears should continue to grow as he gains more experience in the offense and keeps teaming with Trubisky. The receiver seems to have completely recovered—both physically and mentally—from a torn ACL he sustained in last year's season opener while playing for the Jaguars.
"I think he's really starting to build chemistry with Mitch," said offensive coordinator Mark Helfrich. "I think he's confident now. You never know with that kind of an injury how a guy is mentally approaching things, and that's a huge hurdle to get over is, 'Hey, I'm good,' and that's big."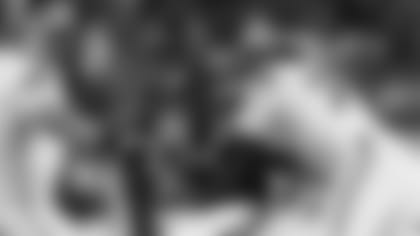 Defense: Nose tackle Eddie Goldman 
He may not make the splash plays like Khalil Mack, but Goldman has imposed his will in the middle of the defensive line so far this season and will only get better. The fourth-year pro recorded his first sack of the season, one tackle-for-loss and one quarterback hit in Monday night's win over the Seahawks.
"His play has gone up, but it's been on the steady going up phase for the last couple years," said defensive coordinator Vic Fangio. "Right now, he's in the best shape he's been in as a player. His weight is right where we want it. His knowledge is at its highest level for our system, and that just keeps allowing you to improve, and that's what he's been doing."
Goldman is a talented run-stuffer who also excels as a pass rusher—a rare combination for an NFL nose tackle. "He's very consistent in what he does pushing the pocket when he needs to," Nagy said. "In the run fits, he does a great job helping out there. He's a big-time part of this deal here on defense and we do not take him for granted at all."
Mack has been impressed with what he's seen of Goldman since joining the Bears earlier this month via a blockbuster trade with the Raiders. "Eddie's a pocket pusher," Mack said. "He gets penetration. He's a playmaker. We're just looking forward to him making more plays."
Kaufman
Offense: Receiver Taylor Gabriel 
Receiver Taylor Gabriel showcased his versatility against the Seahawks on Monday night. The fifth-year veteran sliced up the Seahawks secondary for four receptions and 30 yards and picked up 17 yards on the ground on three carries. It was the kind of production Bears general manager Ryan Pace envisioned when he signed Gabriel to a four-year deal with the Bears this offseason.
Gabriel, who has earned the nickname "Turbo" due to his speed, has shown his ability to get open downfield and elude tacklers when carrying the ball from the backfield. In the Bears opener against the Packers, Gabriel snagged a grab for 31 yards, his biggest reception dating back eight games.
Sunday against the Cardinals should provide plenty of opportunities for Gabriel to be targeted downfield. Arizona has allowed opponents an average of 294.5 passing yards this year. The biggest adjustment for Gabriel this year has been his increased reps. He's been on the field for 123 offensive snaps this season, second-most amongst receivers on the team behind Allen Robinson II. It's been an adjustment for the undrafted receiver, who played just 27 total snaps through the first two games with the Falcons last year, but coach Matt Nagy thinks he's been adjusting well. 
"He's learning right now how to be a full-time wide receiver, meaning he's getting a lot more reps," Nagy said. "But once he catches the ball, he can do some good things with it."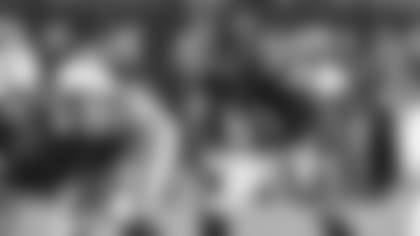 Defense: Inside linebacker Danny Trevathan 
Trevathan led the Bears defense to another monster performance in Week 2 against the Seahawks. Trevathan tallied two sacks, a team-high eight tackles and a forced fumble in the Bears' first win of the year. The performance earned him NFC Defensive Player of the Week honors.
Trevathan has been a huge presence on a defense that leads the league in sacks with 10. The former Kentucky standout has a team high 11-tackles on the season and will look to add to that total against a Cardinals offense that has scored a league-worst six points this year. Arizona quarterback Sam Bradford has been sacked three times in the first two games and thrown two interceptions.
The combination of Trevathan and Mack has made for a forceful duo attacking opposing quarterbacks. Both have the ability to explode off the edge right off the snap and get to the quarterback. More than his ability to take down quarterbacks, Trevathan represents a veteran presence on the defensive side of the ball as well.
"He's just bringing that leadership that we expected from when we got here in training camp," Nagy said. "I think the guys feed off that, they feel that, they understand what it takes. It's not just every other play, it's every play, and that's what he's done."