Larry Mayer and Simon Kaufman of ChicagoBears.com discuss the Bears players they'll be watching on both sides of the ball in Sunday's home game against the New England Patriots:
Mayer
Offense: Receiver Taylor Gabriel 
Long passes are becoming part of the Bears' arsenal on offense, and receiver Taylor Gabriel has emerged as the team's primary deep threat. No Bears wide receiver had a reception of more than 46 yards all of last season, but Gabriel did it twice last Sunday in Miami with catches of 54 and 47 yards.
Gabriel is building a rapport with quarterback Mitchell Trubisky that figures to increase with each passing game. "He throws a really good deep ball, a lot of touch on it and I feel like we're only growing from what we've already done and what we've already put together," Gabriel said. "You go through practice all week trying to get the right timing down, trying to get the right look. But when you get out there, it's just execution and that's what we did."
Gabriel has increased his receiving yardage in every game this season, from 25 to 30 to 34 to 104 to 110, and he leads the Bears with 27 receptions for 303 yards. His emergence has coincided with the development of the offense, which has scored 10 touchdowns in its last two games after mustering only four TDs in its first three contests.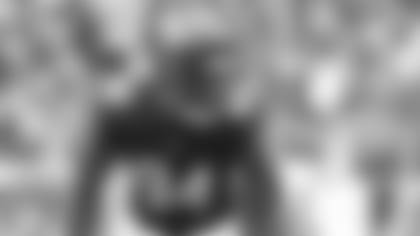 Defense: Outside linebacker Leonard Floyd
The Bears have been pleased with how Leonard Floyd has performed this season, but the third-year pro is still seeking his first sack. Hampered by a broken hand earlier in the year, Floyd registered a season-high four tackles in last Sunday's loss to the Dolphins.
"I think last week he probably played his best as far as being active," said defensive coordinator Vic Fangio. "I think it was the first game he used his hand almost back to normal. There's still a little more that can be improved there as far as his confidence and usage of it. But I thought it was good. Earlier he was really affected by it."
With fellow outside linebacker Khalil Mack hampered by an ankle injury—the All Pro pass rusher is listed as questionable for Sunday's game—the Bears will need Floyd to generate pressure on quarterback Tom Brady. After recording 18 sacks in their first four games, the Bears were blanked in that category in Miami, and journeyman quarterback Brock Osweiler took advantage, passing for a career-high 380 yards and three touchdowns.
If the Bears aren't able to pressure Brady Sunday at Soldier Field, the three-time NFL MVP could have a monster day.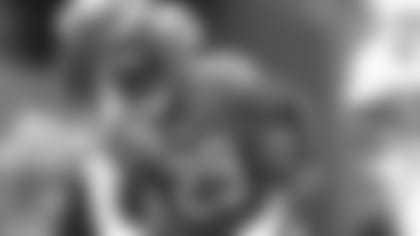 Kaufman
Offense: Running back Tarik Cohen 
Running back Tarik Cohen's numbers on Sunday will be a key narrative in the postgame story. Cohen averaged more than six yards per carry last week against the Dolphins and rushed for a touchdown. The second-year back also showcased his versatility, racking up 90 yards on seven receptions.
The Patriots defense has struggled against opposing run games this year. New England ranks in the bottom half of the league, giving up more than 110 rush yards per game. The Patriots have also been particularly bad in defending opposing running backs in the passing game. Chiefs running back Kareem Hunt rushed for 80 yards on 10 carries last week, but he put picked up 105 yards on just five receptions.
Cohen has demonstrated his ability to be a threat both running and receiving out of the backfield. He was targeted nine times last week, more than all but one running back in the league. His ability to be a dual threat on Sunday will be key in the Bears getting the win.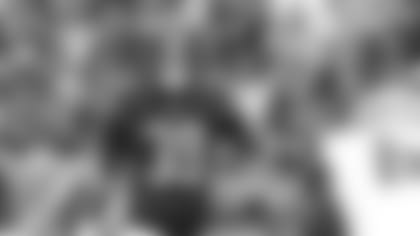 Defense: Safety Eddie Jackson 
Bears safety Eddie Jackson said the team's loss to the Dolphins last week doesn't take anything away from the defense's swagger. Until last week's loss, the defense had yet to be truly exposed. Jackson and the rest of the Chicago defense have a great opportunity to prove they're still an elite unit against the Patriots on Sunday.
Jackson will be tasked with trying to limit Brady's ability to attack through the air. The 41-year old three-time league MVP has thrown 11 touchdown passes in four games against the Bears in his career and is coming off a come-from-behind win over the Chiefs in which he threw for 340 yards. Chicago's defensive line and pass rushers will also be crucial in limiting Brady, but Brady has been historically good at avoiding pressure.
The Patriots are giving up just 1.3 sacks per game this year, the second fewest in the league. That means it'll be up to Jackson to keep Brady from hitting targets downfield. Jackson has two interceptions on the year and tallied six tackles last week. His ability to step up in the secondary will be key in taming New England.