Bears School Outreach
On Tuesdays during the football season and through a partnership with Youth Guidance, Chicago Bears players visit Chicago Public Schools to speak with students who are part of the Becoming a Man (B.A.M.) and Working on Womanhood (W.O.W.) programs. The B.A.M. program focuses on six core values, including Integrity, Accountability, Self-Determination, Positive Anger Expression, Visionary Goal Setting, and Respect for Womanhood. W.O.W. focuses on five core values, including Self-Awareness, Emotional Intelligence, Healthy Relationships, Visionary Goal Setting, and Leadership. The Bears School Outreach Program concluded its 20th season in 2017.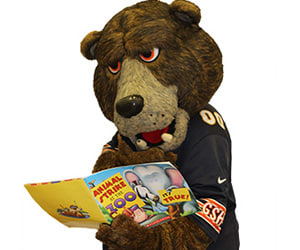 Tales to Tackle
The Chicago Bears offer our "Tales to Tackle" reading program to schools across Illinois. The program is geared toward students in grades K-8 and includes an interactive poster for the classroom for students to track their reading. The goal is for students to read as many teacher approved books each month. If your classroom is interested in participating during the 2018-2019 school year, please contact the Community Relations Department at (847) 739-5494 or fill out this form to sign up, receive your poster and more instructions.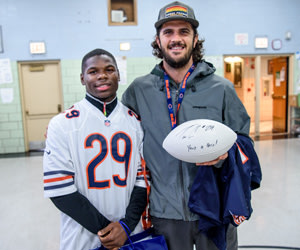 Symetra Heroes in the Classroom ®
Do you know a teacher who goes above and beyond? Do you want to recognize him or her for their hard work and dedication? Nominate them to be a Symetra Hero in the Classroom®! During the 2018 Bears season, 16 exceptional K-12 teachers will be honored. As part of the award, the Heroes will win two tickets to a Bears home game, be recognized at Soldier Field and receive a $2,000 donation for their classroom. Hero selection is based on a teacher's ability to balance the core curriculum with students' individual needs; build trust among students, parents and the community; and invest in their students' long-term success. Nominate your favorite teacher today at SymetraHeroes.com. Symetra Heroes in the Classroom ® is presented locally by Arthur J. Gallagher.