High School Football | Chicago Bears Official Website

High School Football Initiatives
High School All-Star & Coach of the Week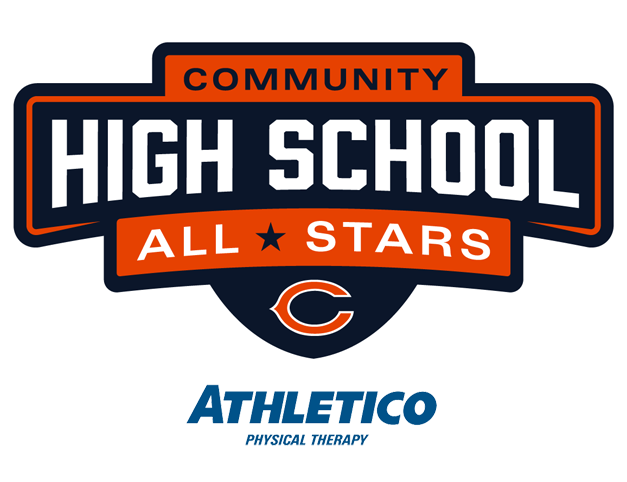 Chicago Bears Community High School All-Star brought to you by Athletico Physical Therapy
The Chicago Bears are proud to partner with Athletico Physical Therapy to present the Chicago Bears Community High School All-Star Award that recognizes high school football players who make a positive impact in their community and school. These student-athletes exemplify service, leadership, and character. The Chicago Bears Community High School All-Stars take the lessons learned through playing the sport of football and use them to benefit their community.
Nike 11-On
The Chicago Bears hosted the 3rd annual Nike 11-On at Fenton High School on June 29 and 30. Sixteen high schools participated in scrimmages and skills competitions over two days.  Those schools were:
Addison Trail
Carmel Catholic
Christ the King
Dundee-Crown
Evanston
Fenton
Joliet West
Lane Tech
North Chicago
Rochester
Rockford Auburn
South Elgin
Streamwood
Thornton Fractional North
Westinghouse
Willowbrook
As the winning team, Rochester received a $2,000 donation to their football program.  Carmel Catholic and Fenton received a $1,500 donation for coming in second and third place, respectively.  South Elgin received a $1,000 donation for fourth place, Dundee-Crown and Evanston received a $750 donation for coming in fifth and sixth place respectively, and Joliet West and Rockford Auburn received a $500 donation for coming in seventh and eighth place respectively.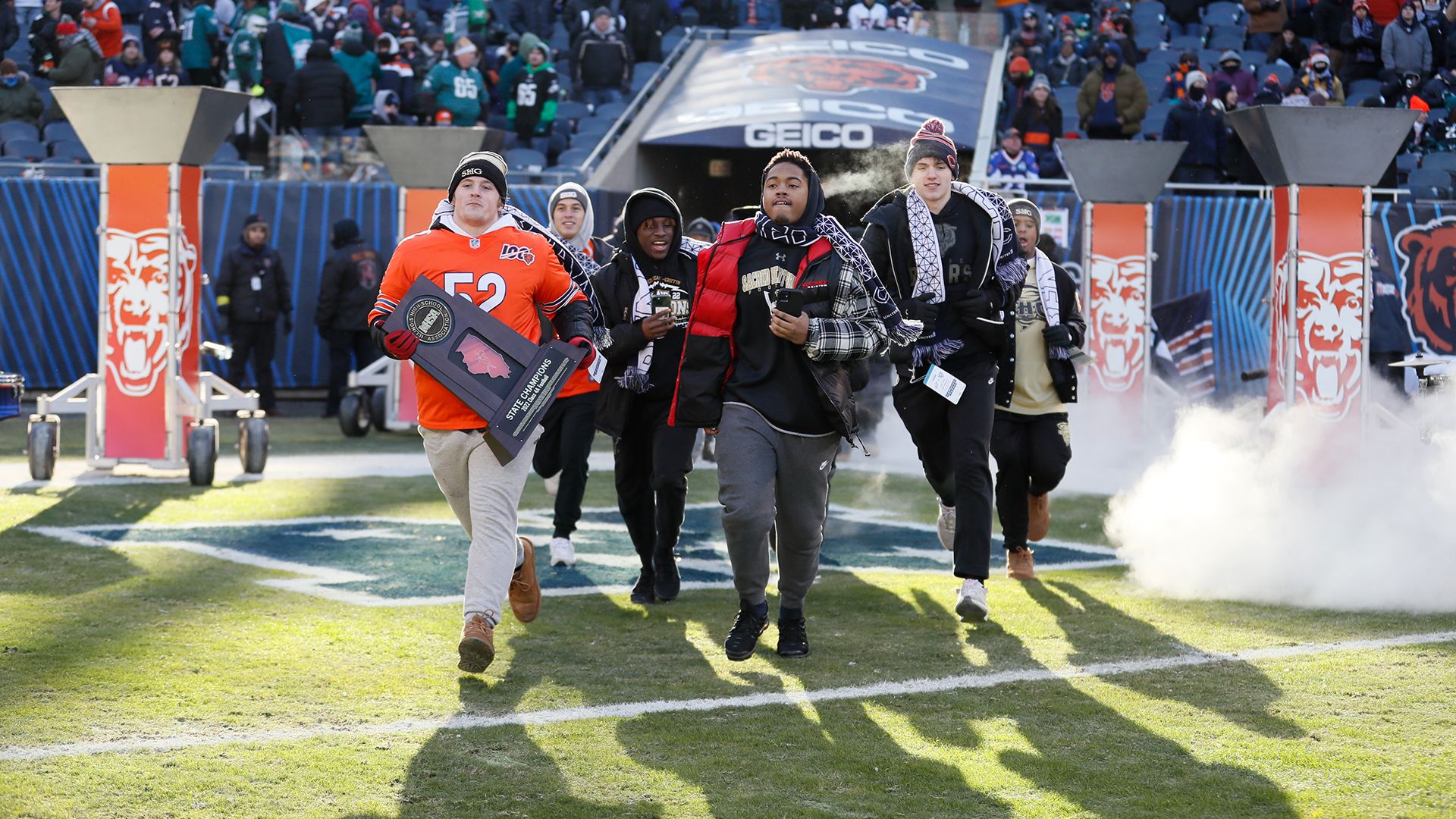 State Champions
During halftime on Dec. 18, the Bears recognized the 2022 Football State Champions.
Class 1A - Lena-Winslow
Class 2A - St. Teresa
Class 3A - IC Catholic
Class 4A - Sacred Heart-Griffin
Class 5A - Nazareth Academy
Class 6A - East St. Louis
Class 7A - Mt. Carmel
Class 8A - Loyola Academy
Girls Flag Football - Willowbrook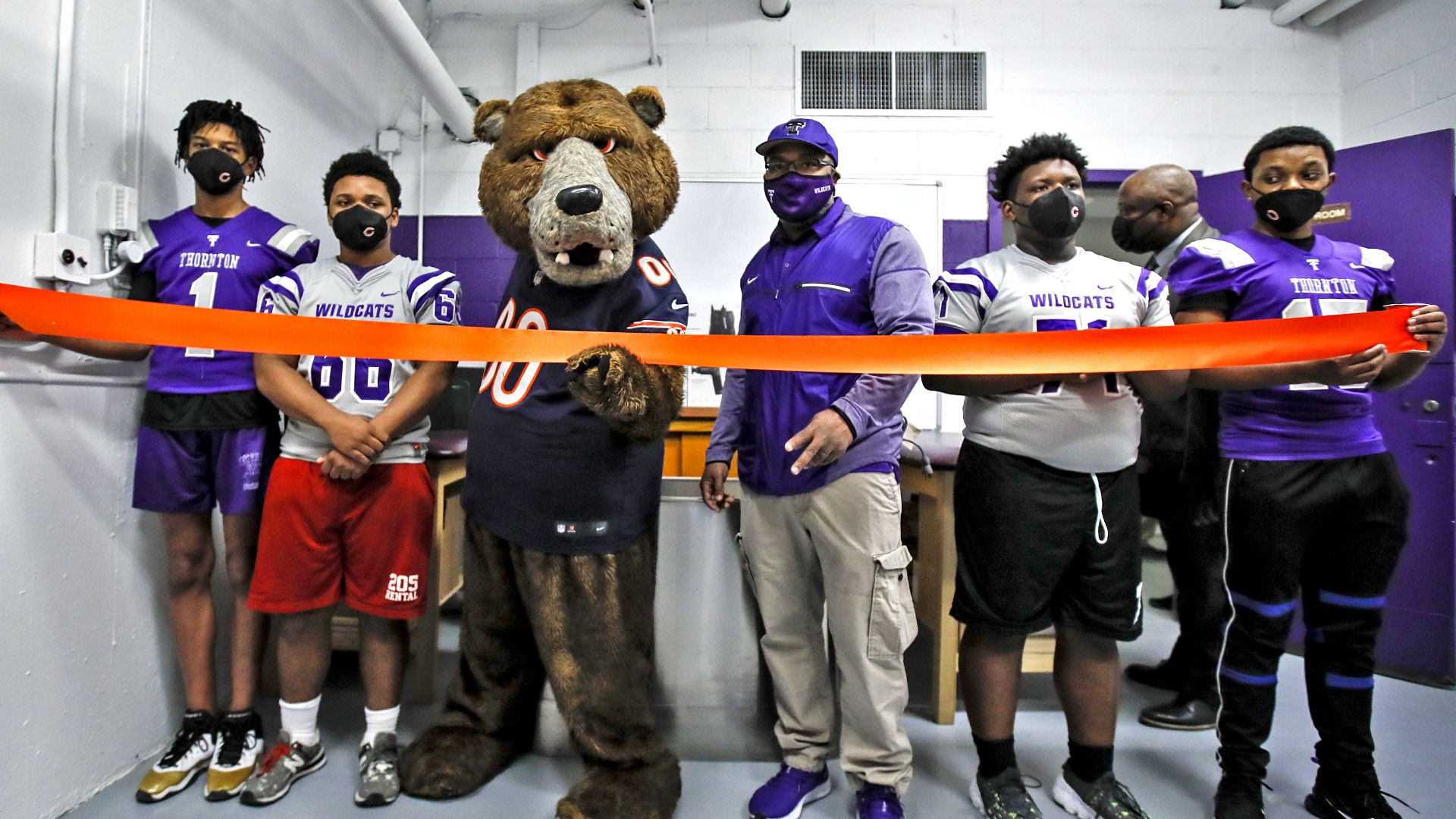 Athletic Training Grant
The Chicago Bears and Bears Care announced that Back of the Yards High School in Chicago and Thornton Township High School in Harvey will each receive grants from Bears Care for athletic training equipment that will support the health and safety of all students. In 2021, the Chicago Bears and Bears Care also presented Dunbar Vocational Career Academy in Chicago and Fenton High School in Bensenville with similar grants; Tucker also joined their coaches and staff virtually to share the news.
Girls Flag Football
The Chicago Bears, Nike, Gatorade, Buffalo Wild Wings and Bears Care partnered with The Chicago Public League, Rockford area schools and the West Suburban Conference to grow girls high school flag football in Illinois. The Chicago Bears High School Girls Flag Football League consisted of 60 teams and over 1200 girls. After a six-week regular season and a two-week post season culminated with a state tournament at Halas Hall, Willowbrook High School was crowned the 2022 State Champions.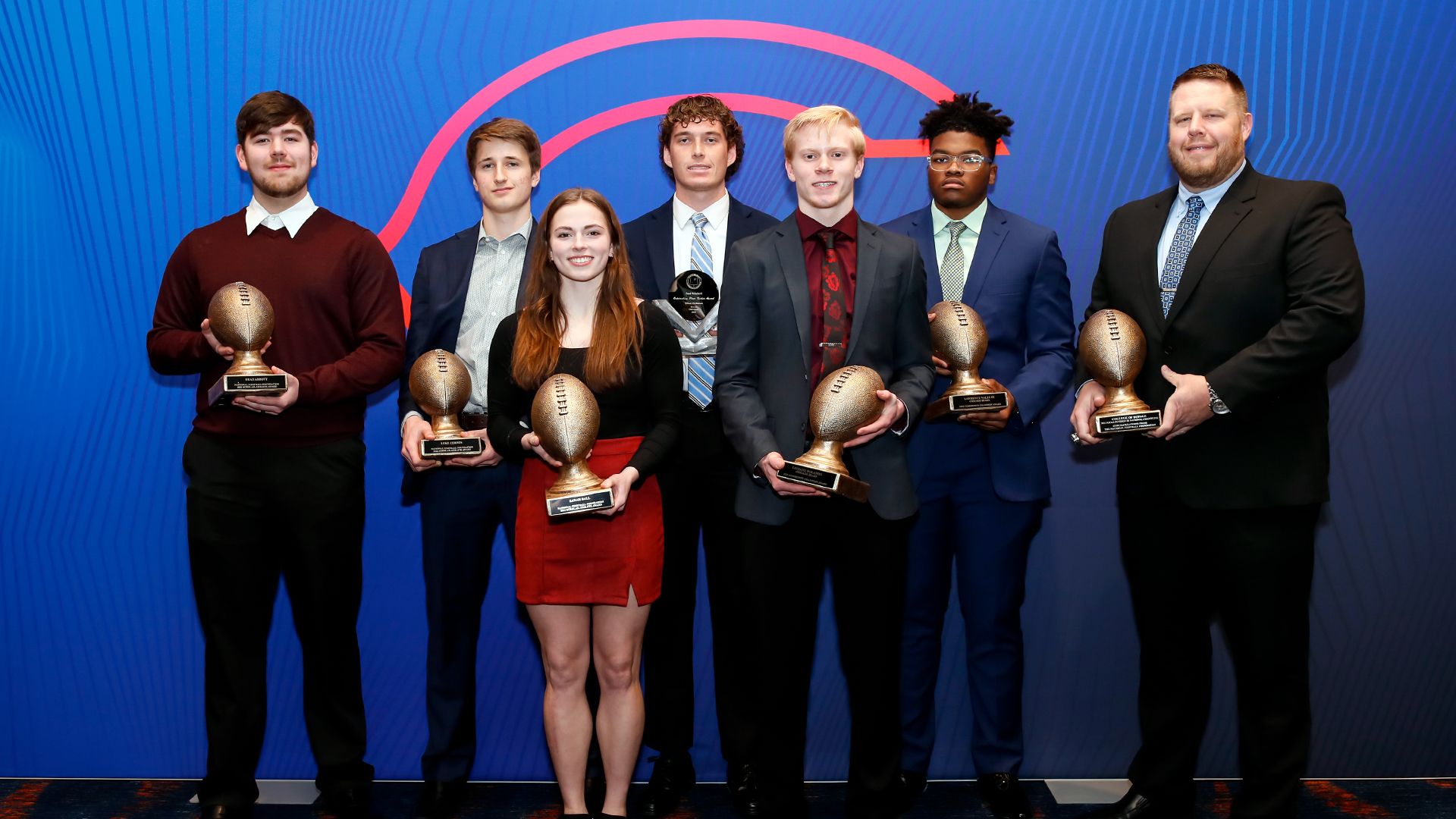 NFF Scholar-Athlete Awards
The Bears annually host the National Football Foundation Chicago Metro Chapter Scholar-Athlete Awards at Halas Hall. This year three high school seniors received college scholarships and trophies for their excellence on the football field, in the classroom and in the community. The scholarships are provided through a partnership between Bears Care and the National Football Foundation. Additionally, the Chicago Bears Community Champion Award was presented to two high school football players in recognition of their tremendous civic involvement. Each recipient received a $5,000 scholarship.
NFL Grassroots Program
The NFL Foundation Grassroots Program is a partnership of the National Football League Foundation (NFL Foundation) and the Local Initiatives Support Corporation (LISC) to provide non-profit, neighborhood-based organizations, middle schools and high schools with financing and technical assistance to improve the quality, safety, and accessibility of local football fields.
Parks and playing fields can serve as tremendous community assets because they offer opportunities for recreation, education, and relaxation that contribute to the local quality of life, especially for young people. Since 1998, the Fields Program has awarded $61.8 million in grants for 431 projects in over 40 cities across the country. The 2023 Grassroots funding cycle will begin September 15, 2023 and the deadline for submissions will be December 15, 2023. Details on how to apply are available here.
Below are the past winners from the Chicago area:
1998: Jackson Park Field (Chicago)
2000: North Park University Football Field (Chicago)
2000: New City YMCA Football Field (Chicago)
2004: Jesse Owens Park (Chicago)
2006: Lane Stadium (Chicago)
2007: Lazier Field (Evanston)
2008: Orr Academy High School (Chicago)
2009: Gately Stadium (Chicago)
2010: LaFollette Park (Chicago)
2011: Altgeld Park (Chicago)
2012: Kelly Park (Chicago)
2013: Pullman Park Recreational Center (Chicago)
2014: Manual Academy (Peoria)
2017: Douglas Park (Chicago)
2018: Ogden Park (Chicago)
2019: Taylor Park (Chicago)
2020: Leo High School (Chicago).
The National Football League Foundation (NFL Foundation) is a non-profit organization dedicated to improving the health and safety of sports, youth football and the communities in which we live. The NFL Foundation represents the 32 NFL clubs and supports the health and safety of athletes, youth football and the communities which support our game.