High School Football | Chicago Bears Official Website

High School Football Initiatives
Nike 11-Online
Nike and the NFL launch 11-Online, a new virtual training camp experience led by top NFL athletes, coaches and trainers.
11-Online provides high school football athletes with comprehensive training instruction, including team building, position-specific drills and leadership development, led by top NFL athletes and health and wellness experts in the sport. The platform was developed in partnership with the NFL and all 32 teams to create a one-of-a-kind virtual training camp that emphasizes on and off the field growth built using player insights and key learnings from Nike's grassroots partnerships. 11-Online provides instruction for all 11 positions, and offers athletes a chance to train alongside Saquon Barkley, Odell Beckham Jr., Cooper Kupp, Aaron Donald, George Kittle, Christian McCaffrey, Denzel Perryman, Taylor Rapp and Deshaun Watson.
Through this new digital format, Nike expands access to this elite football training program to high school athletes across the country. New and fresh content will continuously populate the platform to serve the needs of football athletes on and off the field of play.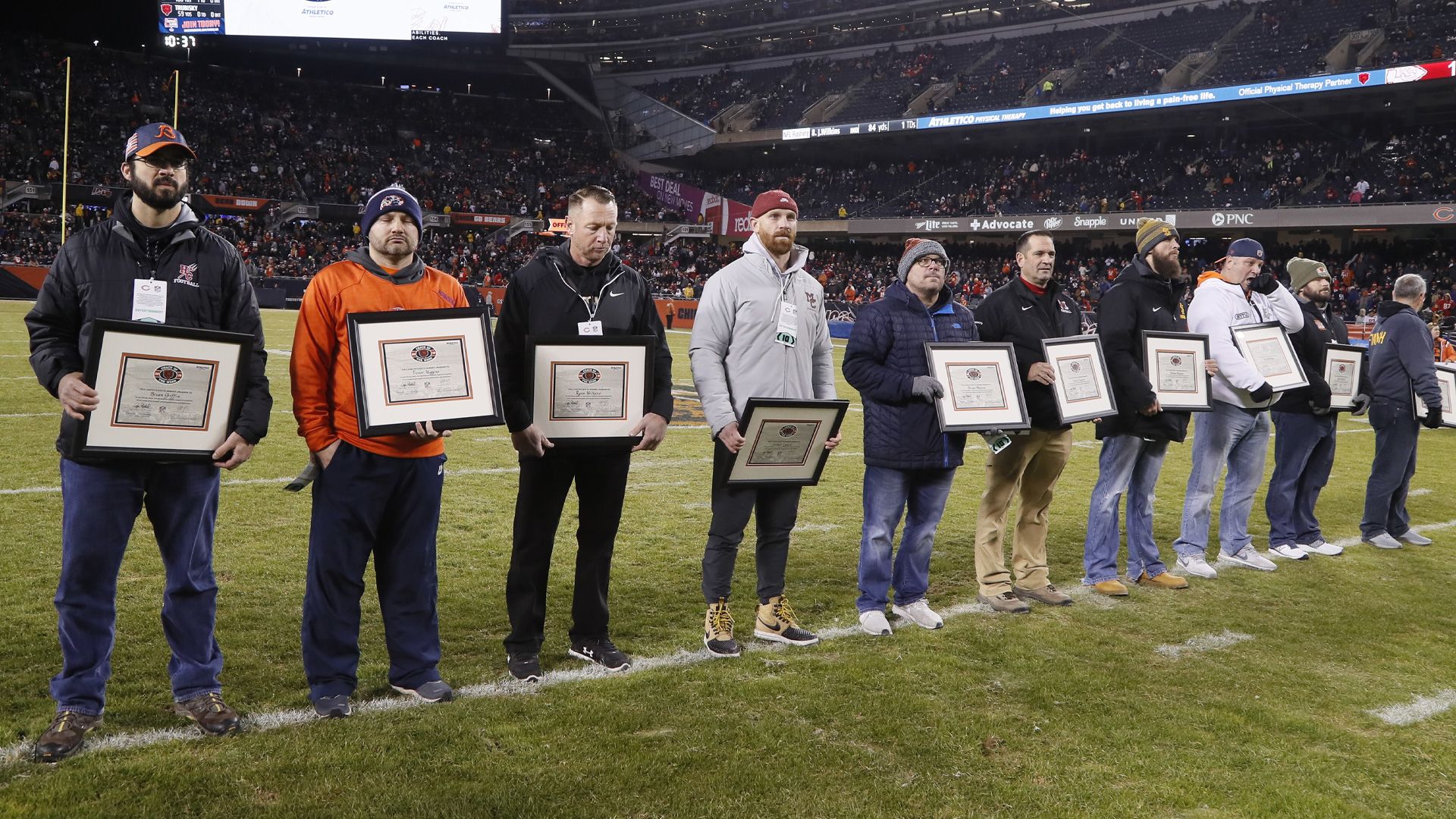 Coach of the Week - 2019 Winners
The Chicago Bears "Coach of the Week" program concluded its 24th season this year. The program honors outstanding Illinois high school coaches who develop players' football skills and knowledge, character, leadership, discipline and teamwork abilities. Other criteria considered includes unique coaching methodology, community and off-field components, school and community support, volunteerism and, most importantly, contributions to players' long-term success on and off the field. Deserving high school coaches are nominated by a panel of local prep authorities and the winning coach is selected each week. The Chicago Bears will make a $2,000 contribution to the football program at each winning coach's school and invite them to a Bears game. Since the program's inception, the Bears have donated over $300,000 to Illinois high schools in support of their football programs. 
Congratulations to the 2019 COW winners:
Brian Griffin - Hinsdale Central High School
Trevor Higgins - Pana High School
Ryan Wilkens - Glenbard North High School
Jordan Lynch - Mount Carmel High School
Brian Melvin - Burlington Central High School
David Inserra - Maine South High School
Adam Nissen - St. Laurence High School
Bob McMillen - St. Francis High School
Rob Howard - Beardstown High School
Coach of the Year:
Mike Noll - Richmond Burton High School
In his 30 years of coaching, Coach Noll has amassed 249 victories, 28 playoff appearances, and led his Richmond Burton Rockets to an undefeated season and a 4A state Championship in 2019.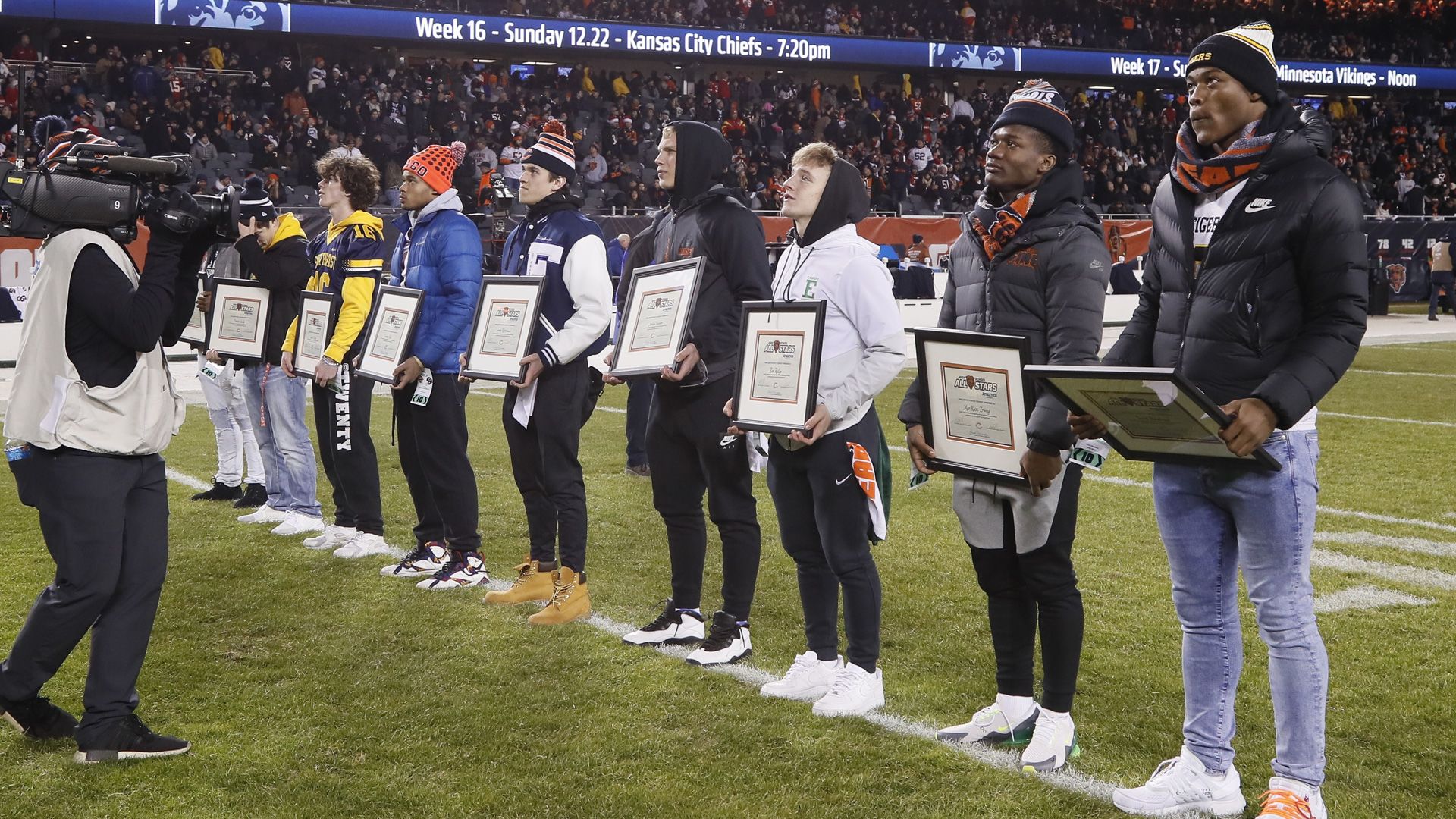 High School All-Stars - 2019 Winners
Each week for nine weeks, an outstanding high school football player will be selected through the Bears "High School All-Star" program. Each of the nine players will have the opportunity to direct a $500 monetary donation to the youth football program of his choice. The nomination criteria for the program includes on-field performance, community involvement and good sportsmanship. The Bears "High School All-Stars" program will run from Aug. 31 through Oct. 26. Deserving high school players are nominated by a panel of local prep authorities and the winning player is selected each week.
Congratulations to our 2019 High School All-Stars:
Jalen Moore- Glenbard West High School
Daniel Jezik- Coal City High School
Stuart Ross – Springfield Southeast High School
Deontay Bell – Montini Catholic High School
Tommy Rittenhouse- St. Francis High School
Jordan Hansen- Hersey High School
Ian Ridge- Elk Grove High School
Mar'Kiese Irving - Hillcrest High School
Trent Howland- Joliet West High School
IHSA State Champions
The Chicago Bears recognize the Illinois state football champions from Class 1A through Class 8A each year. In 2019, the following state champions were honored during a halftime ceremony at the Bears vs. Chiefs game on December 22.
Lena-Winslow High School (Class 1A)
Newman Central Catholic High School (Class 2A)
Williamsville High School (Class 3A)
Richmond burton High School (Class 4A)
Rochester High School (Class 5A)
East St. Louis High School (Class 6A)
Mount Carmel High School (Class 7A)
Lincoln-Way East (Class 8A)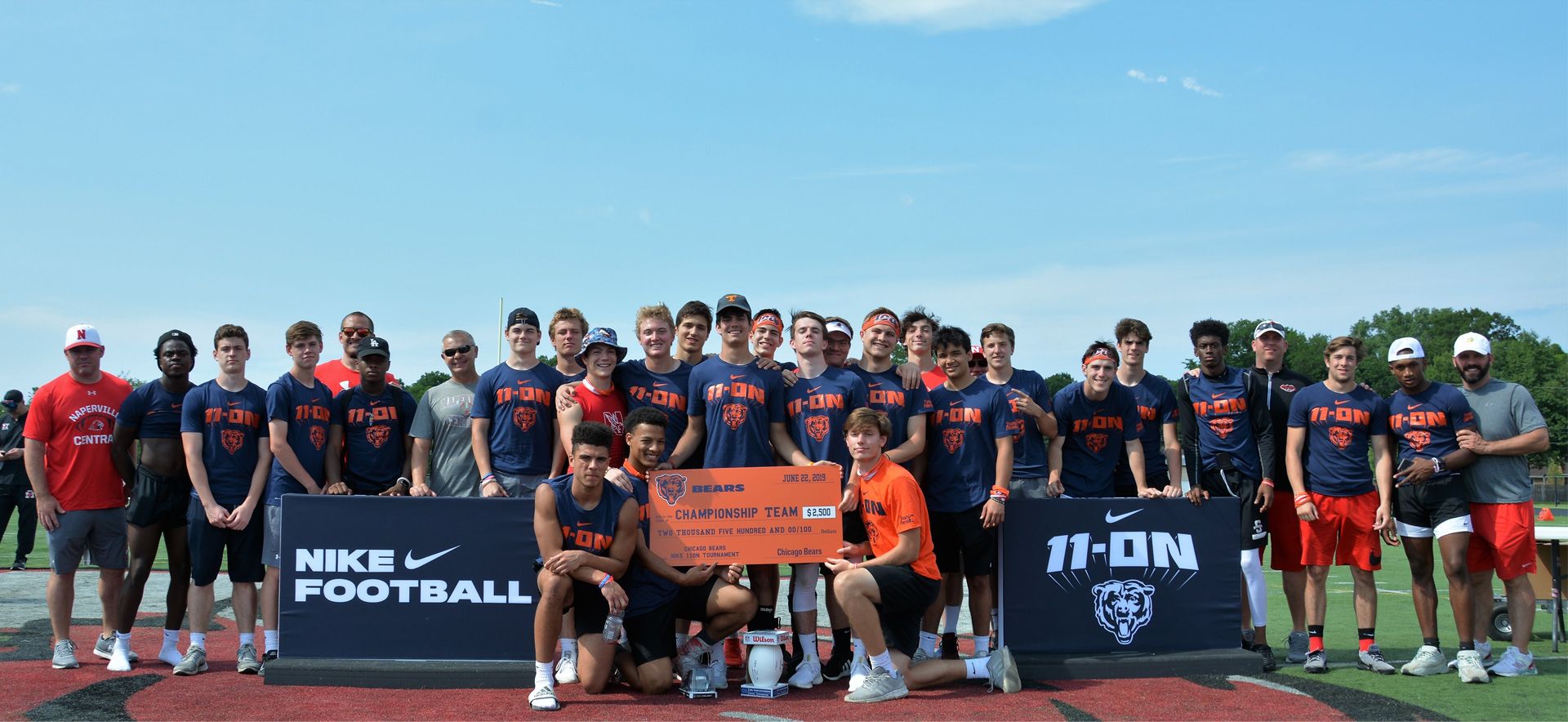 Nike 11on
The Chicago Bears partnered with Nike to host the inaugural Nike 11on tournament at Maine South High School on June 22nd, 2019. The tournament consisted of a 7 on 7 tournament, individual and lineman competitions that earn team points toward crowning an overall team champion. Naperville Central was crowned the team champion with host school Maine South coming in second, and Rochester finishing third. The top three schools received a grant from the Chicago Bears to support their football programs.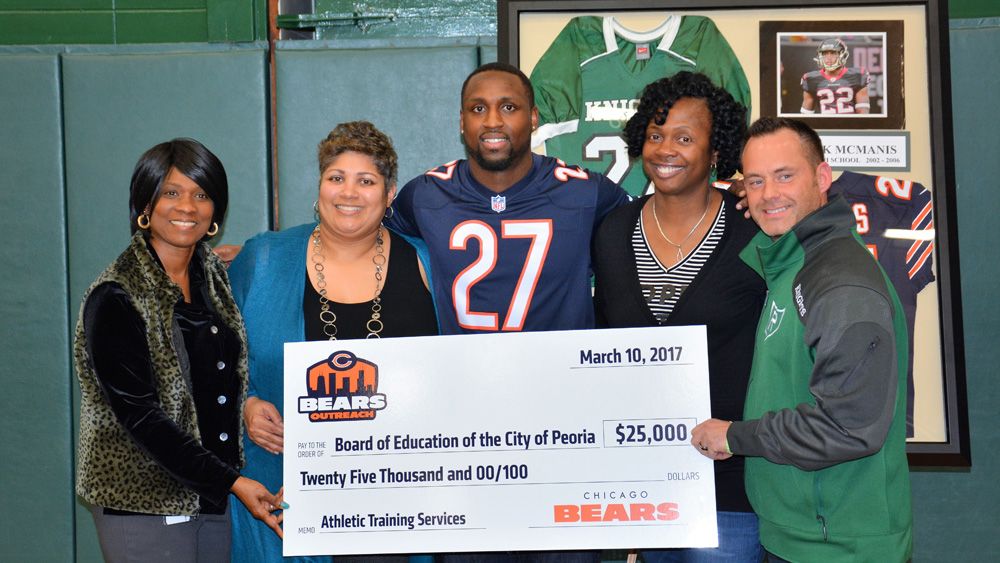 Athletic Trainer Initiative
The Chicago Bears make a donation to Chicago Public Schools every year to cover the cost of athletic trainers on the sidelines for every varsity football game during the regular season and state playoffs. The Bears also use a matching grant from the NFL Foundation to assist with the costs of athletic trainers in lower income suburban high schools.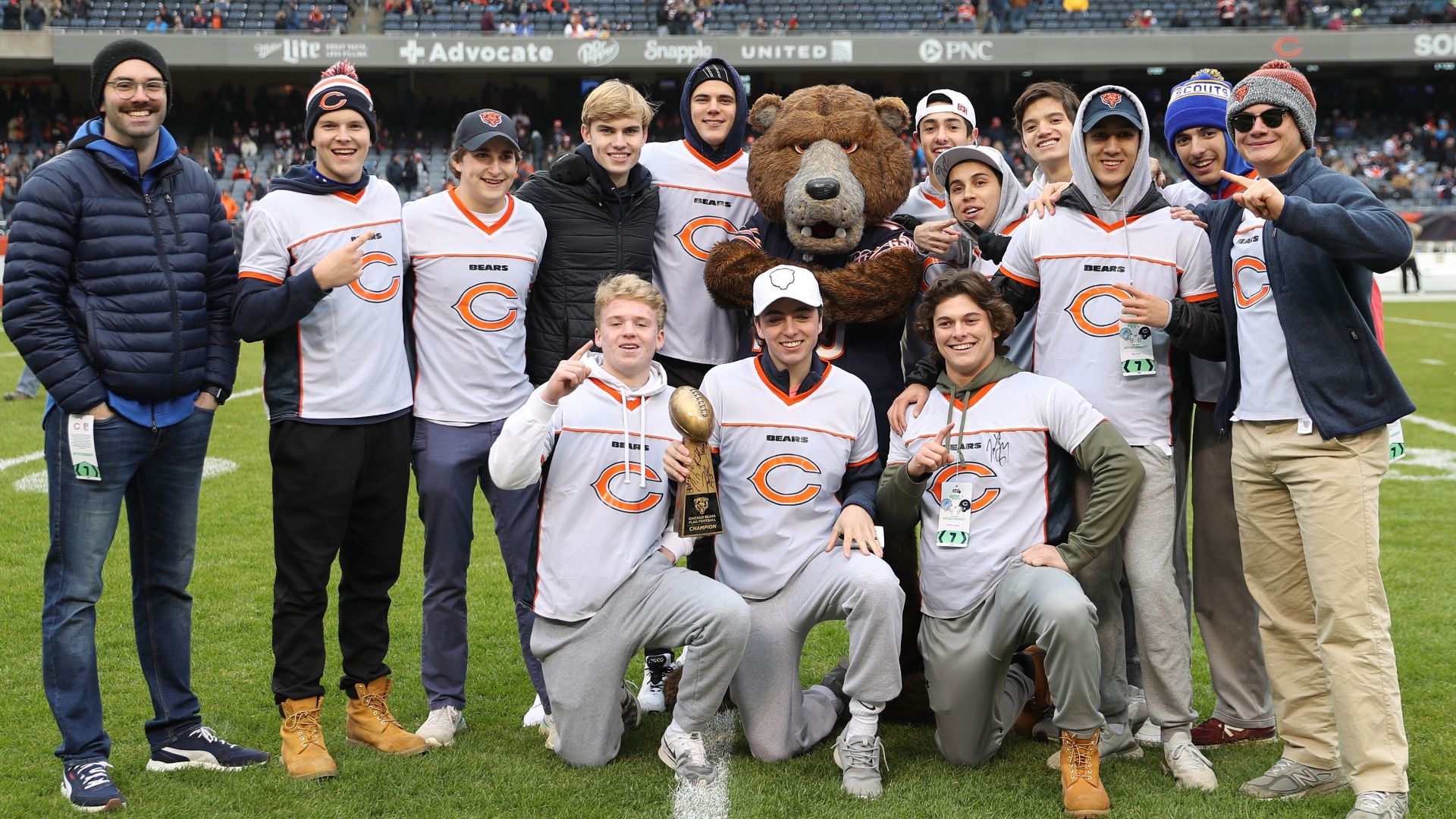 Bears Flag Football
On Saturday, November 2, 2019 the Chicago Bears hosted eight high school flag football teams at the Walter Payton Center for a single day tournament. Lake Forest, Oak Park River Forest, Waukegan, Marian Central, Stagg, Lemont, Reavis and St. Rita battled for the Championship. Lake Forest High School was crowned 2019 Bears Flag Football Champions and received tickets to a Bears home game where they were recognized during pregame.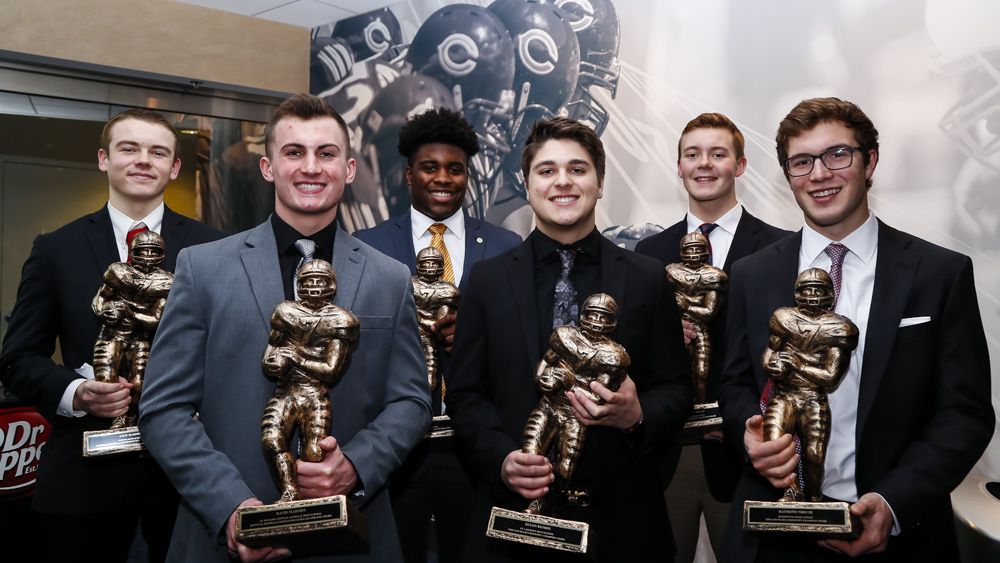 NFF Scholar-Athlete Awards
The Bears annually host the National Football Foundation Chicago Metro Chapter Scholar-Athlete Awards at Halas Hall. Three high school seniors receive college scholarships and trophies for their excellence on the football field, in the classroom and in the community. The scholarships are provided through a partnership between Bears Care and the National Football Foundation. Additionally, the Chicago Bears Community Champion Award is presented to three high school football players in recognition of their tremendous civic involvement.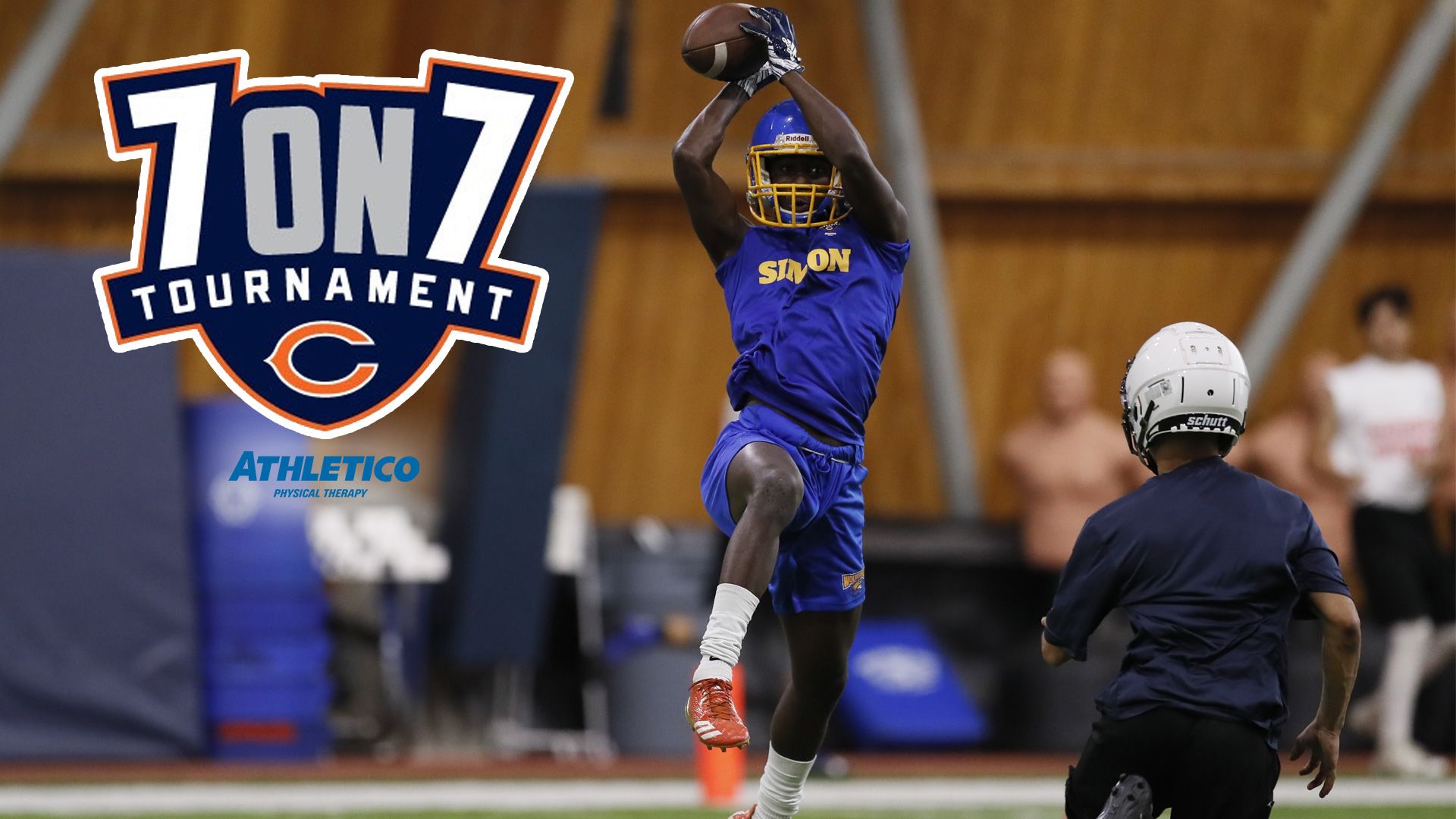 Chicago Bears High School 7 on 7 brought to you by Athletico Physical Therapy
On Saturday June 15th, 2019, the Chicago Bears hosted 8 Chicagoland teams during the Chicago Bears 7 on 7 brought to you by Athletico Physical Therapy. Chicago Simeon edged out Chicago Hubbard 19-18 in the championship game. Simeon received a grant from the Chicago Bears in support of their football program.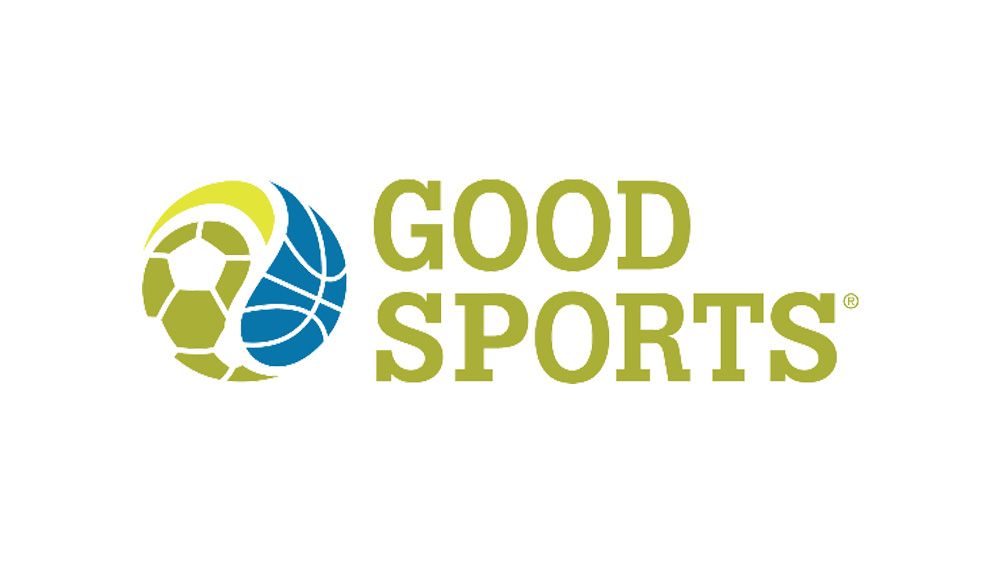 Equipment Donation Program
The Chicago Bears and Good Sports would like to help youth football programs who need help providing football equipment to their kids. It is our goal to serve and increase youth football participation in the Chicagoland area.
Good Sports is a non-profit whose mission is to increase youth participation in sports, recreation and fitness activities. Good Sports provides sports equipment, apparel, and footwear to youth organizations offering sports, fitness and recreational programs to youth in need.
Please read the Good Sports Application (PDF) for more information on the selection criteria and process.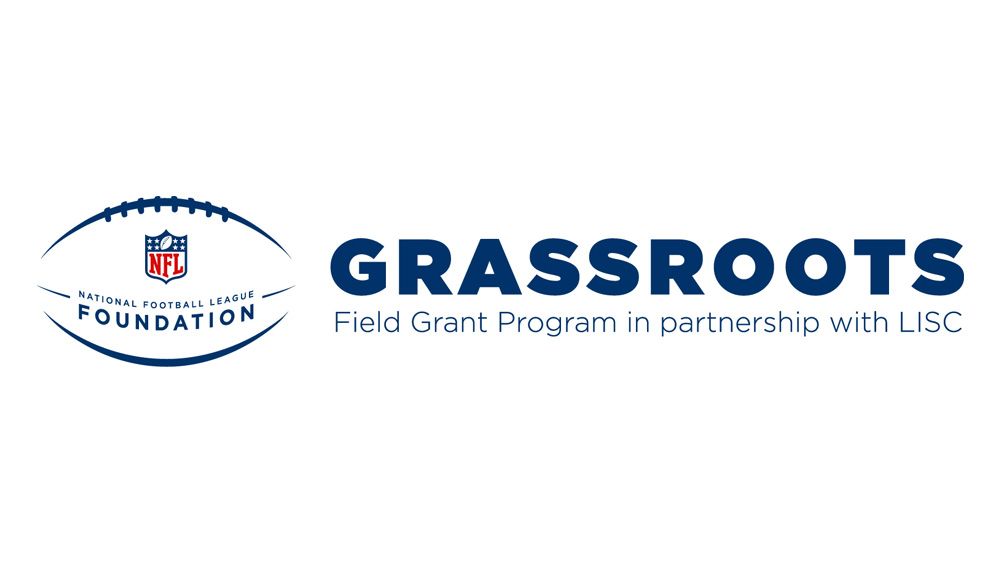 NFL Grassroots Program
The NFL Foundation Grassroots Program is a partnership of the National Football League Foundation (NFL Foundation) and the Local Initiatives Support Corporation (LISC) to provide non-profit, neighborhood-based organizations, middle schools and high schools with financing and technical assistance to improve the quality, safety, and accessibility of local football fields.
Parks and playing fields can serve as tremendous community assets because they offer opportunities for recreation, education, and relaxation that contribute to the local quality of life, especially for young people. In five years of programming, the Fields Program has awarded $12.5 million in grants for 116 projects with total development costs of $53 million in over 40 cities across the country. Grants are announced and awarded annually in the fall.
The National Football League Foundation (NFL Foundation) is a non-profit organization dedicated to improving the health and safety of sports, youth football and the communities in which we live. The NFL Foundation represents the 32 NFL clubs and supports the health and safety of athletes, youth football and the communities which support our game.