High School Football | Chicago Bears Official Website
High School Football Initiatives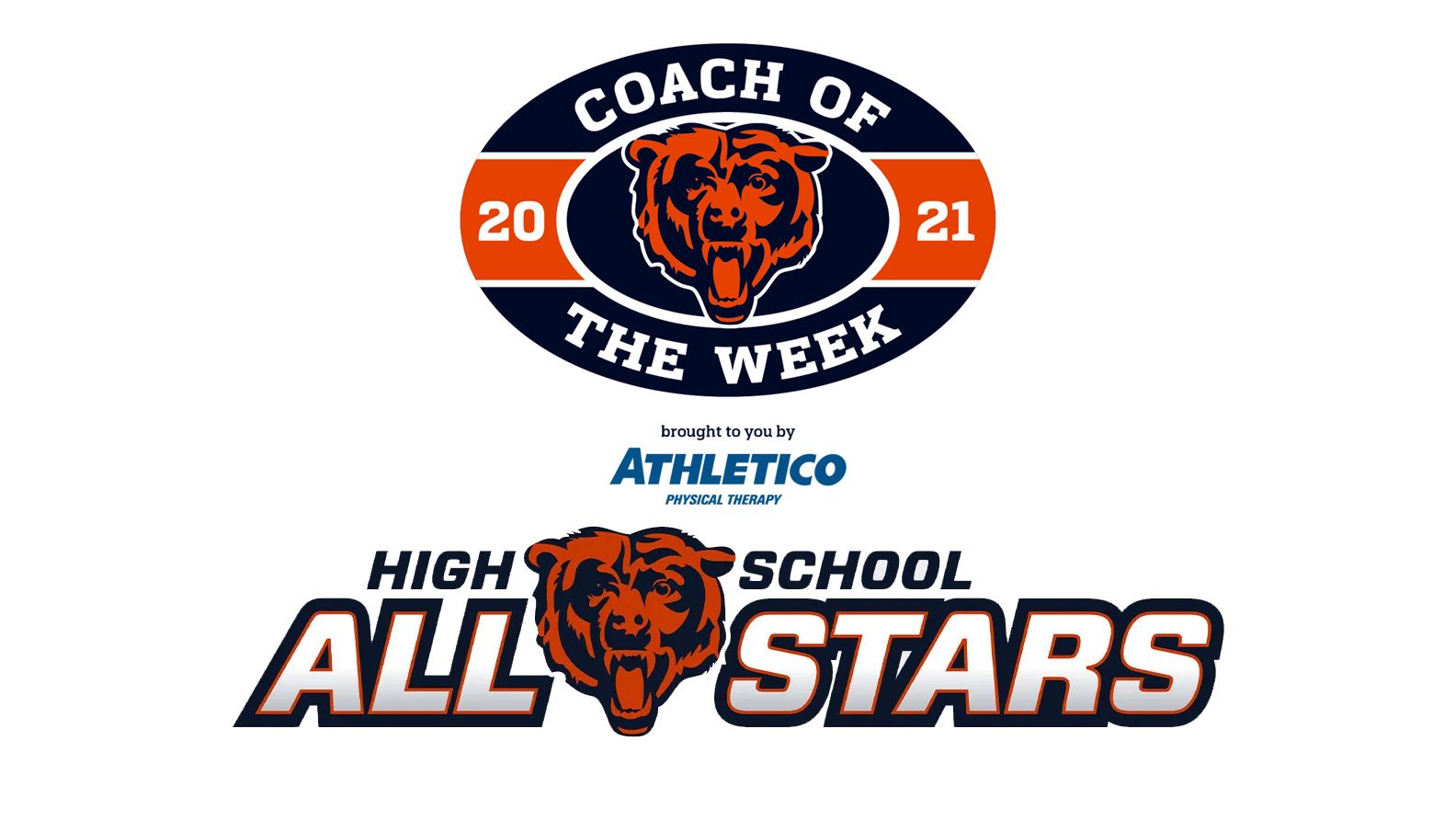 High School All-Star & Coach of the Week
The Chicago Bears "Coach of the Week" program was launched in 1996 and "High School All-Star" program in 2011. The "Coach of the Week" program honors outstanding Illinois high school coaches who develop players' football skills and knowledge, character, leadership, discipline and teamwork abilities. The nomination criteria for the "High School All-Star" program includes on-field performance, community involvement and good sportsmanship. Deserving high school coaches and players are nominated by a panel of local prep authorities and the winning player is selected each week from August 27-October 23. Since the program's inception, the Bears have donated more than $326,500 to Illinois high schools in support of their football programs.
Click below to view details on each week's winner.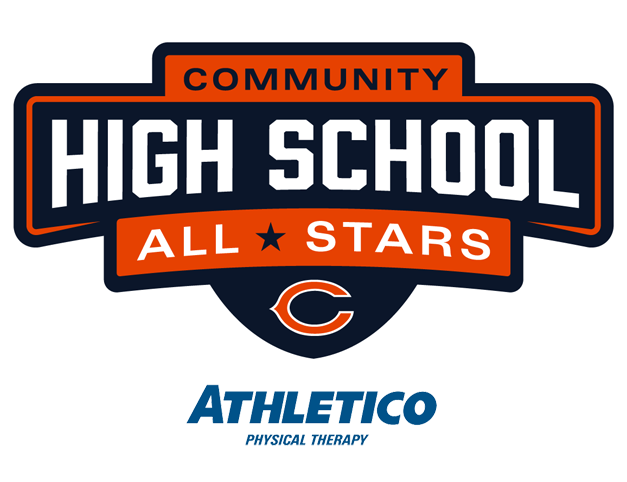 Chicago Bears Community High School All-Star brought to you by Athletico Physical Therapy
The Chicago Bears are proud to partner with Athletico Physical Therapy to present the Chicago Bears Community High School All-Star Award that recognizes high school football players who make a positive impact in their community and school. These student-athletes exemplify service, leadership, and character. The Chicago Bears Community High School All-Stars take the lessons learned through playing the sport of football and use them to benefit their community.
Nike 11-Online
Nike and the NFL launch 11-Online, a new virtual training camp experience led by top NFL athletes, coaches and trainers.
11-Online provides high school football athletes with comprehensive training instruction, including team building, position-specific drills and leadership development, led by top NFL athletes and health and wellness experts in the sport. The platform was developed in partnership with the NFL and all 32 teams to create a one-of-a-kind virtual training camp that emphasizes on and off the field growth built using player insights and key learnings from Nike's grassroots partnerships. 11-Online provides instruction for all 11 positions, and offers athletes a chance to train alongside Saquon Barkley, Odell Beckham Jr., Cooper Kupp, Aaron Donald, George Kittle, Christian McCaffrey, Denzel Perryman, Taylor Rapp and Deshaun Watson.
Through this new digital format, Nike expands access to this elite football training program to high school athletes across the country. New and fresh content will continuously populate the platform to serve the needs of football athletes on and off the field of play.
IHSA State Champions
The Chicago Bears recognize the Illinois state football champions from Class 1A through Class 8A each year at Soldier Field. Every year, the state champions are honored during a halftime ceremony at the Bears game.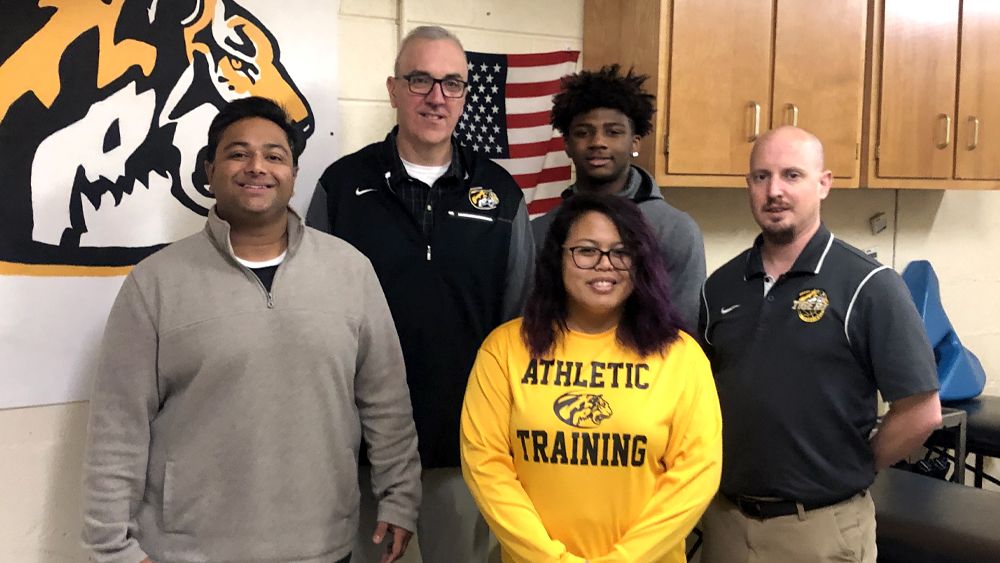 Athletic Trainer Initiative
The Chicago Bears make a donation to Chicago Public Schools every year to cover the cost of athletic trainers on the sidelines for every varsity football game during the regular season and state playoffs. The Bears also use a matching grant from the NFL Foundation to assist with the costs of athletic trainers in lower income suburban high schools.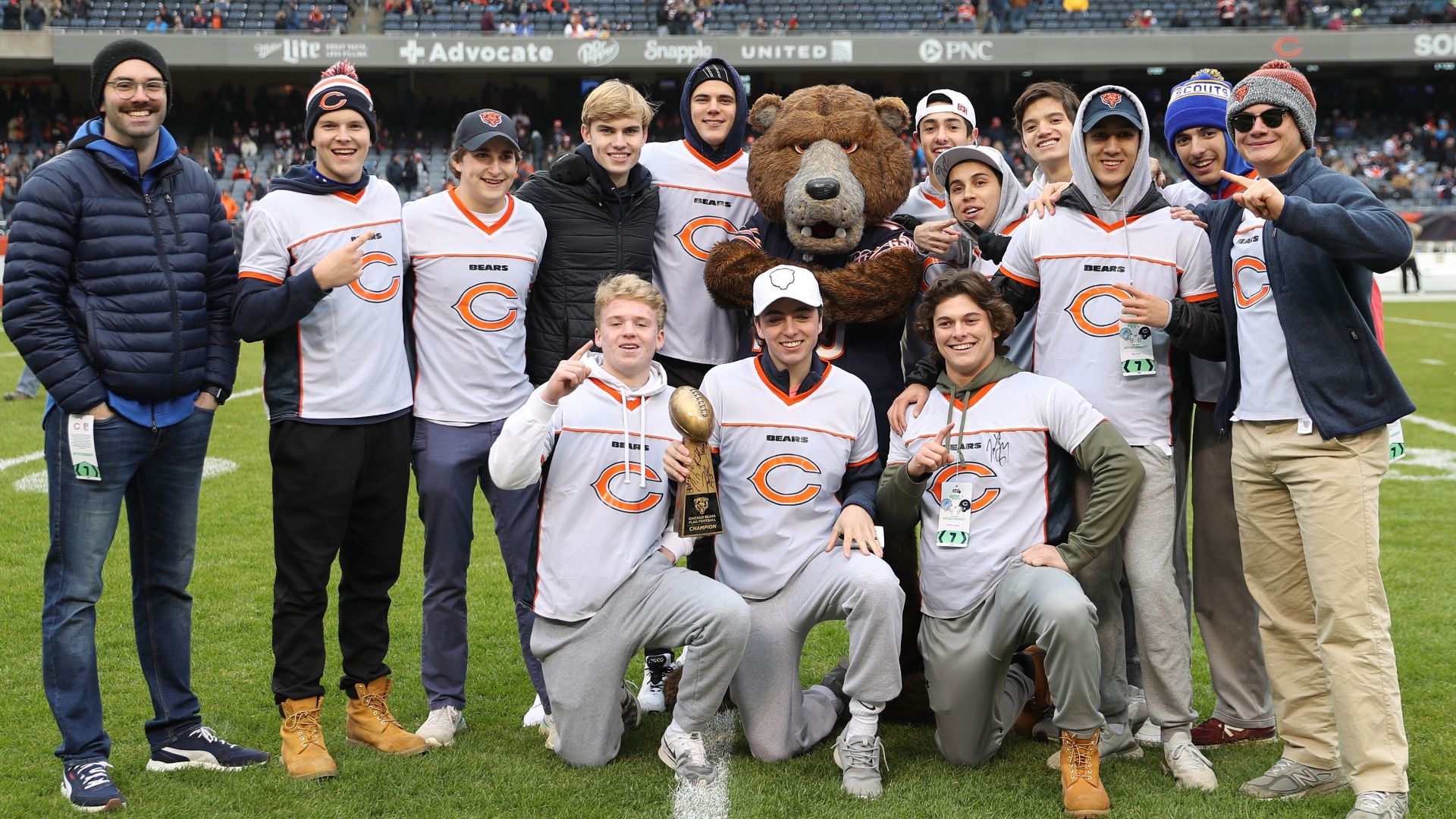 Bears Flag Football
Each year, the Chicago Bears host eight high school flag football teams at the Walter Payton Center for a single day tournament. One high school flag football team is crowned the Bears Flag Football Champion and receive tickets to a Bears home game where they were recognized during pregame.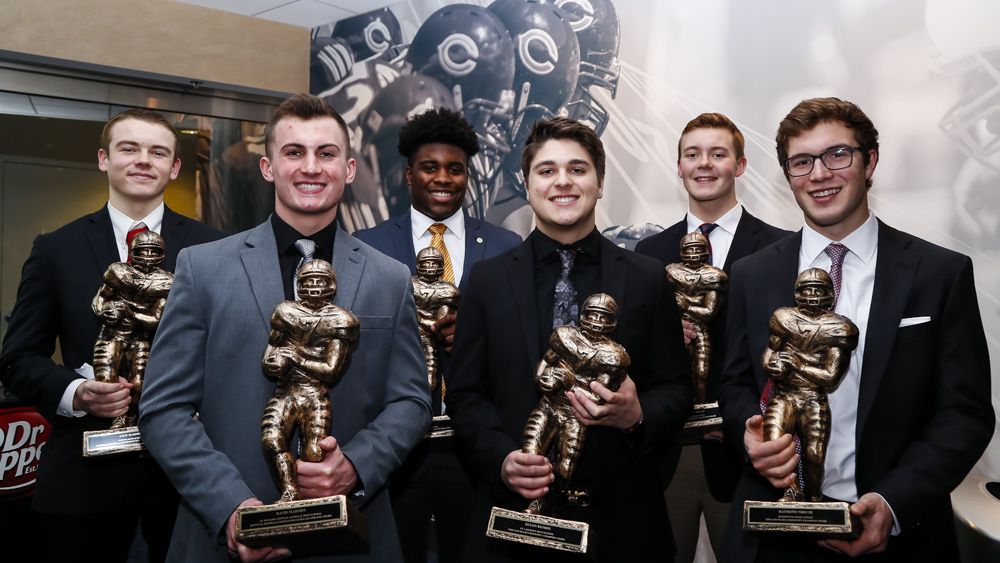 NFF Scholar-Athlete Awards
The Bears annually host the National Football Foundation Chicago Metro Chapter Scholar-Athlete Awards at Halas Hall. Three high school seniors receive college scholarships and trophies for their excellence on the football field, in the classroom and in the community. The scholarships are provided through a partnership between Bears Care and the National Football Foundation. Additionally, the Chicago Bears Community Champion Award is presented to three high school football players in recognition of their tremendous civic involvement.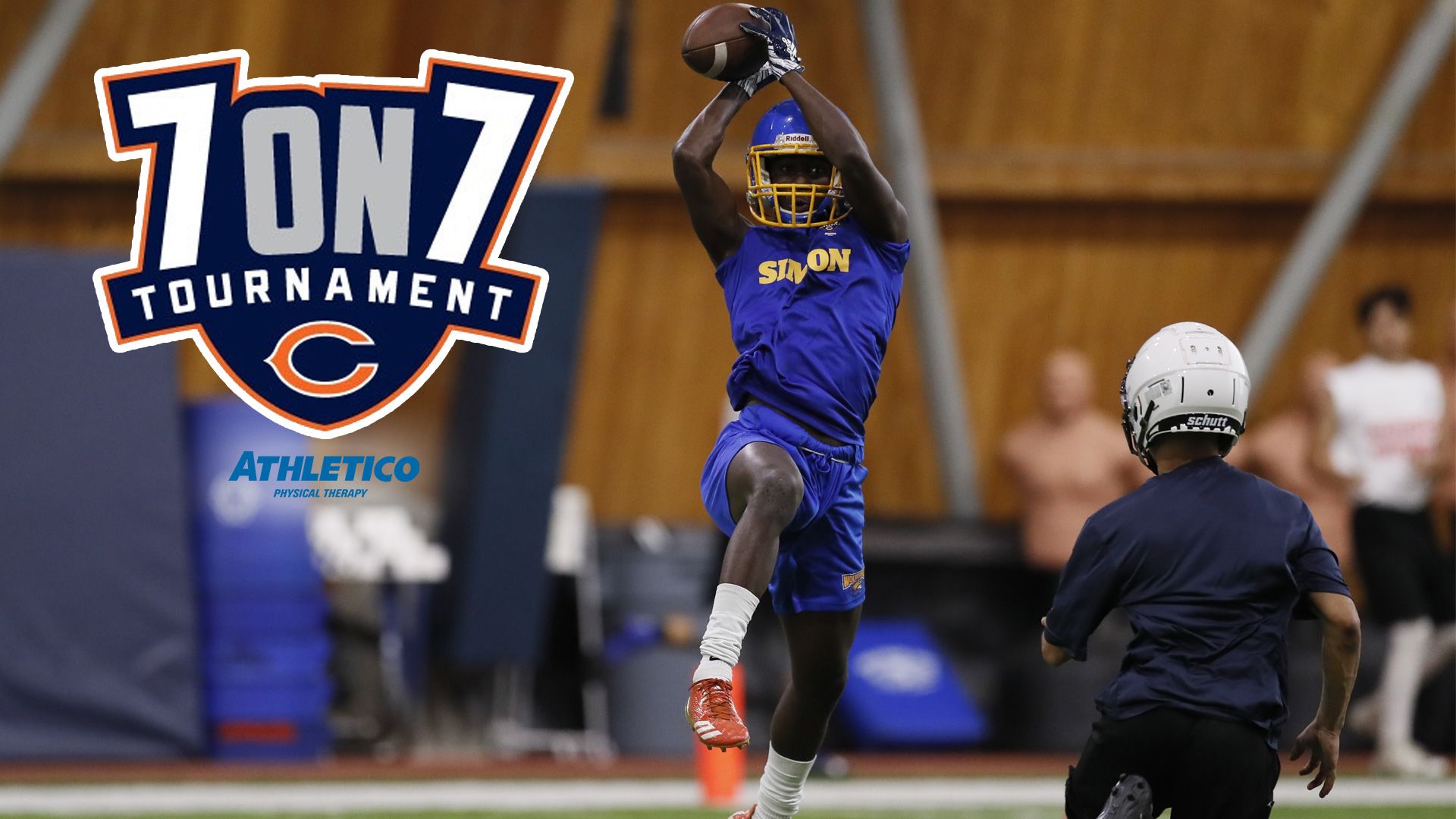 Chicago Bears High School 7 on 7
Brought to you by Athletico Physical Therapy, the Chicago Bears host 8 Chicagoland high school football teams during a Chicago Bears 7 on 7 all day tournament. Schools compete with one another in a friendly and competitive competition inside the Walter Payton Center at Halas Hall.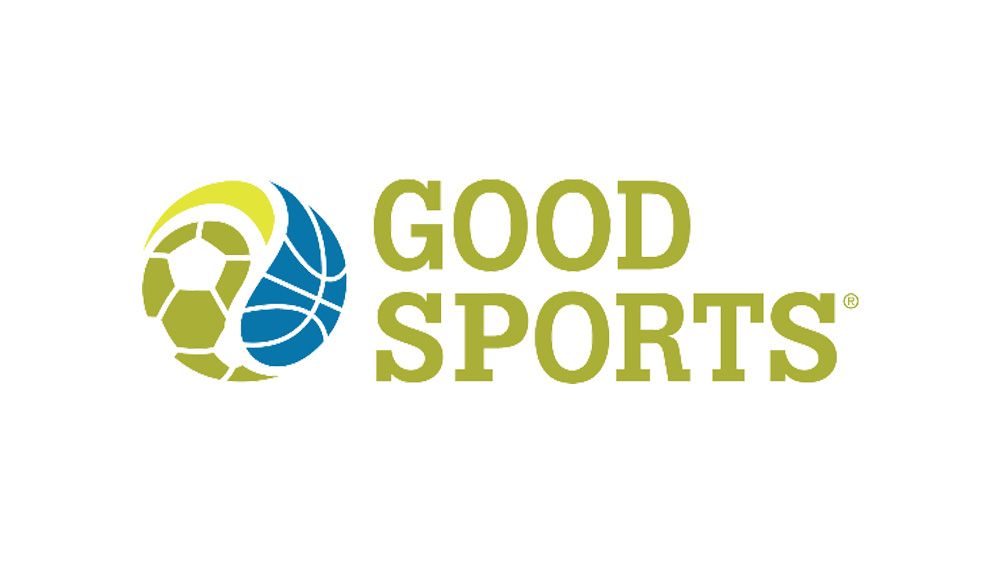 Equipment Donation Program
The Chicago Bears and Good Sports would like to help youth football programs who need help providing football equipment to their kids. It is our goal to serve and increase youth football participation in the Chicagoland area.
Good Sports is a non-profit whose mission is to increase youth participation in sports, recreation and fitness activities. Good Sports provides sports equipment, apparel, and footwear to youth organizations offering sports, fitness and recreational programs to youth in need.
Please read the Good Sports Application (PDF) for more information on the selection criteria and process.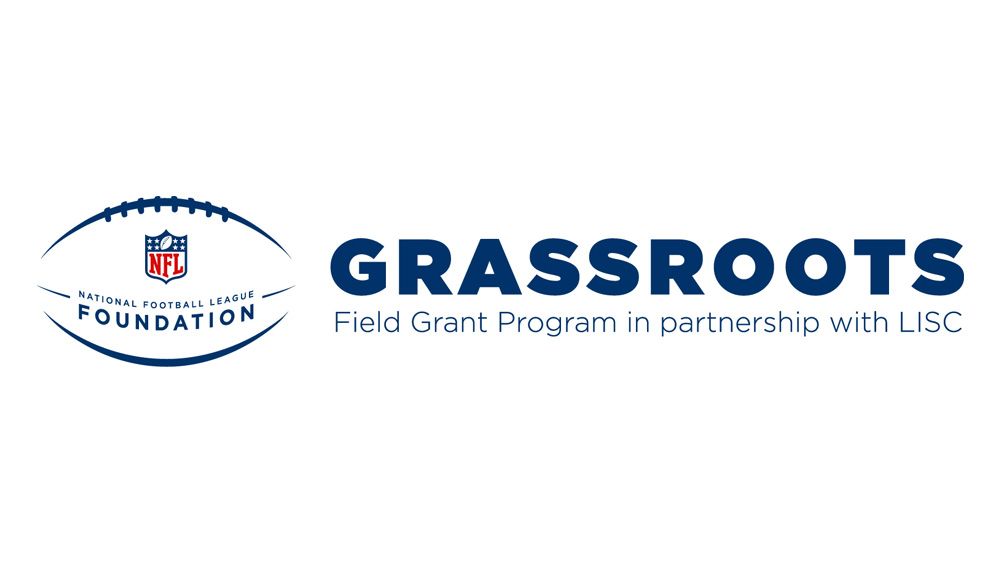 NFL Grassroots Program
The NFL Foundation Grassroots Program is a partnership of the National Football League Foundation (NFL Foundation) and the Local Initiatives Support Corporation (LISC) to provide non-profit, neighborhood-based organizations, middle schools and high schools with financing and technical assistance to improve the quality, safety, and accessibility of local football fields.
Parks and playing fields can serve as tremendous community assets because they offer opportunities for recreation, education, and relaxation that contribute to the local quality of life, especially for young people. In five years of programming, the Fields Program has awarded $12.5 million in grants for 116 projects with total development costs of $53 million in over 40 cities across the country. Grants are announced and awarded annually in the fall.
The National Football League Foundation (NFL Foundation) is a non-profit organization dedicated to improving the health and safety of sports, youth football and the communities in which we live. The NFL Foundation represents the 32 NFL clubs and supports the health and safety of athletes, youth football and the communities which support our game.