The Bears scored a late touchdown Sunday in New Orleans, but their rally fell short in a 20-12 loss to the Saints. Here are three things that stood out in the Week 8 defeat:
(1) The Bears defense continued to generate important takeaways.
After producing six takeaways and returning three of them for touchdowns in wins over the Ravens and Panthers the previous two weeks, the defense delivered again Sunday against the Saints, forcing turnovers on back-to-back fourth-quarter possessions.
First, Jonathan Bullard stripped Saints running back Mark Ingram from behind and Christian Jones recovered the fumble at the Chicago 28. The Bears converted the turnover into Tarik Cohen's 1-yard touchdown dive, cutting the deficit to 17-12 with 3:58 remaining in the game.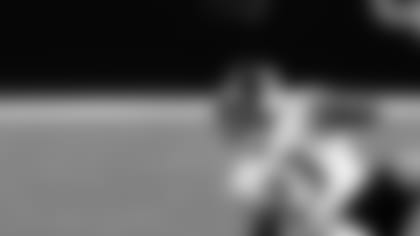 Saints running back Mark Ingram loses the ball after Kyle Fuller trips Ingram up.


On the Saints' next possession, Adrian Amos ripped the ball away from Ingram, scooped it up and returned it four yards to the Chicago 30. Unfortunately, the offense was unable to cash in a second time and New Orleans escaped with the victory.
After producing only two takeaways in the first five games of the season, the Bears defense has generated eight takeaways in its last three contests.
"I don't think it's an attitude change," Bullard said. "It's something [defensive coordinator] Vic [Fangio] has been big on since I got here: get the ball out. And just when it comes, it comes. Now that we've got it started, it's in everybody's mind. Every time you go for a tackle, secure the tackle but go for the ball also. It's just one of those things. When one of them comes, they just keep coming and coming and coming."
(2) The Bears reverted to their early-season form by shooting themselves in the foot.
With a small margin for error, the Bears were unable to overcome some self-inflicted wounds in all three phases Sunday in New Orleans.
It started on the game's first possession when a missed tackle by Bryce Callahan led to a 54-yard reception by Brandon Coleman. The defense held, but Kyle Fuller was penalized for lining up offside on Wil Lutz's 32-yard field goal, giving the Saints an automatic first down. New Orleans took advantage of the mistake to take a 7-0 lead on Alvin Kamara's 8-yard touchdown run.
Trailing 14-3 late in the first half, the Bears reached the Saints' 22 on Mitchell Trubisky completions of 25 yards to Tre McBride III on third-and-six and 12 yards to Jordan Howard on a third-and-11 screen. But then the offense went in reverse, losing three yards on a Cohen run and five yards on a sack of Trubisky, and Connor Barth then missed a 48-yard field goal attempt.
Another key miscue occurred late in the game when Trubisky's pass intended for McBride was intercepted by Marshon Lattimore, enabling the Saints to clinch the win. Trailing 20-12, the Bears had started their final possession at the New Orleans 43 with 1:28 to play after Cohen's 46-yard kickoff return coupled with a 15-yard penalty for a horse-collar tackle on the play.
(3) One of the worst plays in recent Bears history occurred in the third quarter when tight end Zach Miller suffered a gruesome knee injury while catching an apparent 25-yard touchdown pass that was later overturned by a controversial replay review.
Miller seemingly hauled in a perfect throw from Trubisky in the right corner of the end zone before tumbling to the ground after dislocating his left knee. The veteran tight end was carted off the field and rushed to a local medical center where he had emergency vascular surgery to repair a torn popliteal artery. Miller remains hospitalized in New Orleans.
"It's unfortunate to lose a guy like Zach, a leader of the team," Bullard said. "He's just in our thoughts and prayers throughout the whole team and the Bears organization. We're all here for him, anything we can do for him or his family. It's just a bad situation."
Miller drew an outpouring of support on social media from Bears teammates, opponents and others who offered their thoughts and prayers to the tight end. The reaction to the reversal of his touchdown was just as strong, with many outraged by the decision. Even an NFC North rival, Lions receiver Golden Tate couldn't believe it, tweeting: "Wow! They took away that man's TD after holding onto it while getting injured? Terrible call. Prayers up to Zach Miller.