Back to work Monday after a busy weekend at Halas Hall, here are three things that stood out to me during the Bears' three rookie minicamp practices Friday through Sunday:
1) Mitch Trubisky certainly looked like a franchise quarterback in the making.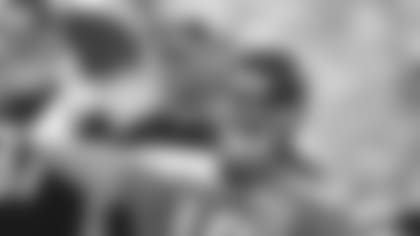 Bears first-round pick Mitch Trubisky throws a pass during Bears rookie minicamp.


Sure, it was only three non-contact practices in May. But Trubisky checked off all the boxes of what you'd expect to see in a face-of-the-franchise high first-round draft pick at the most important position on the field. The North Carolina product displayed accuracy, athleticism and arm strength while taking the majority of the reps in the three workouts.
I was standing on the sideline during one drill, watching the quarterbacks throw 20-yard outs to receivers. Trubisky's passes consistently zipped through the air, making a hissing sound I used to hear only when Jay Cutler made similar throws in practice. Say what you want about the former Bears quarterback, but there was no questioning his arm strength.
Watching the same drill at the Senior Bowl—albeit in windier conditions—the throws from the quarterbacks on the North squad coached by the Bears wobbled and floated.
Trubisky also displayed a quick release, athleticism and accuracy when rolling out of the pocket and throwing on the run, and sound decision-making, earning praise from coaches for dumping off the ball underneath to secondary receivers.
The one area that Trubisky must continue to work on is taking snaps from center, something he didn't do at North Carolina, where he lined up in the shotgun. He dropped a couple of snaps in minicamp, but it's not a big concern at this point and something he no doubt will work hard to rectify.
Trubisky also demonstrated leadership on the field.
"I like Mitch in the huddle," said offensive lineman Jordan Morgan, a fifth-round draft pick from Kutztown. "He's a real down-to-earth guy, very assertive with the way he calls everything. He's trying to be a commander out there, and that's definitely something he has to show to the coaches moving forward if he expects to be the guy."
2) Small-school prospects Adam Shaheen and Tarik Cohen stood out among Bears rookies from much more prominent college programs.
Some have criticized the Bears for drafting Shaheen and Cohen because they played against inferior competition at Ashland University and North Carolina A&T, respectively. But both showed some of the traits in minicamp that enabled them to dominate in college.
A 6-6, 278-pound tight end, Shaheen possesses an extraordinary size and speed combination that reminds some of Patriots star Rob Gronkowski. Shaheen also demonstrated good hands and athleticism in the three practices, characteristics he no doubt honed while playing basketball in high school and in his first year of college at Pittsburgh-Johnstown.
"Adam's going to be a great player," Trubisky said. "It's really cool to throw to him. You can tell he loves being out here as well. I've never thrown to a guy that big. He has huge range to catch the ball, so it makes it a lot easier for me."
Shaheen and Trubisky have already started to form a bond. The two are rooming together in a hotel where the Bears house their rookies and are spending a lot of time together at Halas Hall.
"I had a great relationship with my quarterback from Ashland, so I think it's huge, having that off-field relationship," Shaheen said. "It builds a trust on the field. There were times in college when he probably trusted me to throw it up when he shouldn't have, and I came down with it."
Cohen, a 5-6, 179-pound running back, showed the explosiveness and quickness that helped him become the Mid-Eastern Athletic Conference's all-time leading rusher with 5,619 yards. On one play Sunday, he caught a pass over the middle and sped away from three defenders.
The Bears are hoping that Cohen will contribute as a return specialist and as a third-down "joker" back who creates mismatches by lining up in the backfield and as a receiver.
3) The most impressive undrafted free agent I saw on the field was Wyoming receiver Tanner Gentry.
The Bears may have unearthed a gem in Gentry, who went undrafted despite having a breakout senior season. After recording 39, 32 and 37 receptions his first three seasons at Wyoming, he caught 72 passes for 1,326 yards and 14 touchdowns last year. In his final college game, Gentry had seven receptions for 113 yards and two TDs in a loss to BYU in the Poinsettia Bowl.
During minicamp, the 6-2, 210-pounder displayed excellent hands, route running ability and body control.
The Bears did not select a receiver in the draft, and although they signed veteran free agents Markus Wheaton and Kendall Wright, the competition for jobs at the position figures to be wide open this summer, especially following the free-agent departure of Alshon Jeffery.
"I know they need help at receiver, and I'm confident that I can go out there and earn a spot," Gentry told the Denver Post last week. "I can be a guy who will catch every ball, who will fight to make plays on 50-50 catches, and who plays hard and with passion and makes the most of every snap."
Gentry joins the Bears with a massive chip on his shoulder. Not only was he not drafted, but he was not invited to the NFL Combine or asked to play in an all-star game.
"I know I have a lot of people to go prove wrong," Gentry told the Denver Post. "That's all the motivation I need heading into camp."
ChicagoBears.com takes you to the practice fields at Halas Hall for Rookie Minicamp 2017.