Senior writer Larry Mayer looks back at three things that stood out in the Bears' 23-14 season-opening loss to the Houston Texans Sunday at NRG Stadium:
(1) As they begin their second season under general manager Ryan Pace and coach John Fox, the Bears are clearly a team in transition.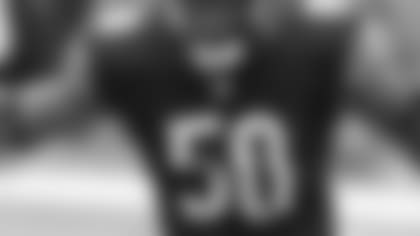 Jerrell Freeman was one of the new starters on defense from last year's Week 1 opener.


There are so many new faces on the roster that only three players who started Sunday's game in Houston—Jay Cutler, Kyle Long and Adrian Amos—opened last year's Week 1 loss to the Packers.
The Bears are confident that they've upgraded the talent on their roster, but acknowledge it will take some time to develop cohesiveness. One example Sunday was the miscommunication between quarterback Jay Cutler and receiver Kevin White that led to a crucial interception.
With the Bears leading 14-10 early in the third quarter, White stopped in the middle of the field while running a pass route. Cutler expected the receiver to continue running and threw the ball where he expected White to be. Unfortunately for the Bears, Texans safety Andre Hal was the only player in the vicinity and he intercepted the pass, swinging the momentum in Houston's direction.
White has practiced with Cutler since April, but Sunday was the young receiver's first NFL regular-season game after he missed his entire rookie year in 2015 with a leg injury.
Another costly miscue in Sunday's loss also could be blamed on a lack of familiarity. On a fourth-and-1 quarterback sneak late in the first quarter, Cutler fumbled a snap from center Cody Whitehair, a rookie second-round pick who was also making his NFL debut. Cutler recovered the ball, but he was tackled immediately short of the first down.
(2) Sunday's game was decided on third down.
The Texans held a decisive edge in time of possession (36:19-23:41), primarily because they sustained drives by converting 12-of-20 third-down opportunities (60 percent) while holding the Bears to a 31 percent success rate on third down (4-of-13).
The Bears did not allow more than nine third-down conversions in any game last season in John Fox's first year as coach, though the defense did rank 29th in third-down efficiency.
"It usually results in points when you move the chains," said coach John Fox. "[Third down] is arguably the most important down other than fourth down."
In marching 75 yards for a touchdown on their first possession of the game, the Bears converted their only third-down play as Cutler completed a 19-yard pass to Eddie Royal on third-and-7. But the unit struggled in the second half, converting just 2-of-8 third-down chances.
Last season Cutler ranked fourth in the NFL with a 103.2 passer rating on third down, trailing only the Cardinals' Carson Palmer (120.6), the Seahawks' Russell Wilson (117.3) and the Patriots' Tom Brady (105.2). On Sunday, Cutler dropped back to pass on all 13 of the Bears' third-down plays. He completed 5 of 9 passes for 52 yards and was sacked four times.
(3) The revamped offensive line needs to gel.
Since the end of last season, the only starting lineman who remains in the same position is left tackle Charles Leno Jr. Jr. During the offseason, the Bears signed right tackle Bobby Massie in free agency, moved Pro Bowler Kyle Long from right tackle to right guard and selected Whitehair in the second round of the draft. They added another key piece last Sunday when they signed left guard Josh Sitton after the three-time Pro Bowler was released by the Packers.
But with the regular season already underway, there's a sense of urgency up front.
"We don't have time to gel," Long said. "We've got to go. Our house is on fire and we've got to figure out a way to put it out. That's all 32 teams in offensive line rooms. Everybody's got problems. Everybody's got issues they've got to deal with. We have to do a great job as a unit to understand what our issues are and how we're going to fix them."
Although the line struggled in the second half against the Texans—especially after Houston took a two-score lead and knew the Bears had to throw the ball—Whitehair is confident that the unit will improve.
"We just have to keep grinding," Whitehair said. "We know it's a long season. We'll get better every week. Obviously we didn't come out the way we wanted to in the second half. But we'll get that fixed and we'll get the ball rolling again."