The Bears fell to 0-3 with a deflating 31-17 loss to the Dallas Cowboys Sunday night at AT&T Stadium. Here are three things about the defeat that stood out to me:
(1) As was the case with the offense a week earlier in a loss to the Eagles, the defense failed to perform up to expectations and gave the Bears little if any chance to win.
The Bears provided virtually no resistance as the Cowboys scored three touchdowns and one field goal on four first-half possessions to take an insurmountable 24-3 halftime lead.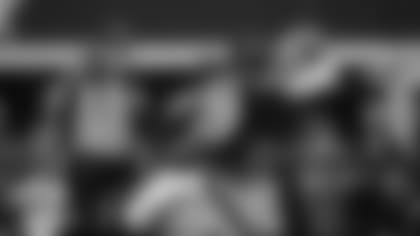 Bears cornerback Jacoby Glenn breaks up a pass in the end zone intended for Dallas Cowboys wide receiver Brice Butler.


"We just didn't stop them," said safety Adrian Amos. "They did things we practiced. I know when we watch the film we are going to be disappointed in ourselves and how we came out in the first half. We can see things we practiced that we just didn't execute."
The Cowboys compiled 209 of their 274 yards in the first half on 33 plays on first and second down. They converted 3-of-5 third-down opportunities, sustaining two scoring drives with successful conversions on third-and-one, third-and-three and third-and-two.
"We have to start faster," Amos said. "It was moving the ball, first and second down. They got it to third-and-short. The odds are stacked against us when we get to third-and-short. They really have everything in their playbook once we get there. We just have to play better on first and second down. We have to make plays, lock up in coverage and take advantage of the opportunities."
Asked to assess the defense's performance, coach John Fox said: "Not very good. Not well enough to win. I think anytime you give up 31 [points], it's not good enough. We have to look at that hard and what we're teaching, how we're doing it and just get better."
(2) Death, taxes and injuries in the NFL are all certainties. But the Bears don't have enough experienced depth to overcome the rash of injuries they've suffered.
The defense took the field in Dallas without outside linebackers Pernell McPhee and Lamarr Houston, inside linebacker Danny Trevathan, nose tackle Eddie Goldman and cornerback Kyle Fuller. And then safety Harold Jones-Quartey exited the game with a concussion. The offense played without quarterback Jay Cutler and running back Ka'Deem Carey.
Because of the injuries, three rookies in inside linebacker Nick Kwiatkoski, safety Deon Bush and cornerback Cre'von LeBlanc made their NFL debuts Sunday night, while two others in receiver Cameron Meredith and running back Raheem Mostert were active for the first time this season. Kwiatkowski played the most prominent role of the bunch, starting in place of Trevathan.
"It's not an excuse, but it is an excuse," Fox said. "It is what it is. I thought we had some growing pains even in this game. Hopefully we got some guys some key time that will help moving forward, especially if these injuries last a while.
"We have a young football team, have some new guys that are new to our systems, even more so now with some of the injuries. Nobody comes and rescues you. They don't cancel the rest of the season. You just have to find a way."
(3) Rookie running back Jordan Howard provided more evidence that he's ready for expanded playing time, something that may happen anyway due to an injury to Jeremy Langford.
The Bears already trailed 17-0 and had yet to pick up a first down when Howard turned his first touch of Sunday night's game into a 36-yard run, setting up a field goal.
"It was an off side zone play," Howard said. "The line gave a great push. The tight ends and receivers opened up a hole for me and I just hit it, so they mostly did all the work."
Howard rushed for 45 yards on nine carries against the Cowboys after gaining 22 yards on three attempts in a loss to the Eagles. The fifth-round pick from Indiana is averaging a robust 5.6 yards per carry this season with 67 yards on 12 attempts.
Fox called Howard "a young guy learning how to figure out our system and play better. I think he's done well with it and he'll continue to improve."
With Langford's status uncertain after he exited Sunday night's game with an ankle injury and Carey sidelined due to a hamstring injury, Howard could see even more action moving forward.
Asked if Howard is ready to handle a full workload in the backfield, Fox said: "There are guys in the league that do. Remember, Jordan is a rookie that we've seen for three real NFL football games. So we'll kind of evaluate as we move forward. I think it would be kind of not right for me to answer that at this point."