The Bears turned a 19-13 fourth-quarter deficit into a 23-19 lead Sunday in Indianapolis only to lose to the Colts 29-23. Here are three things that stood out to me in the game:
(1) Brian Hoyer continued to perform well in place of the injured Jay Cutler, who has been sidelined since spraining his right thumb in a Week 2 loss to the Eagles.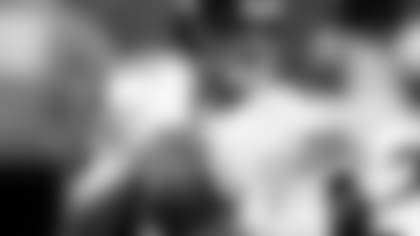 Quarterback Brian Hoyer passed for 397 yards, which is the fifth most in franchise history.


Hoyer continued to excel Sunday at Lucas Oil Stadium, passing for a whopping 397 yards—the fifth most in franchise history and the most ever by a Bears quarterback without an interception. Even more impressive was the fact that none of those yards came in "garbage time" when the Bears were playing catchup against a soft defense only concerned with preventing big plays.
Hoyer would have been a hero if the Bears defense had been able to stop Andrew Luck and the Colts from rallying late in the game. Hoyer engineered a nine-play, 96-yard drive that was capped by his 21-yard touchdown pass to running back Jordan Howard, giving the Bears a 23-19 lead midway through the fourth quarter. Hoyer completed 6-of-6 passes for 74 yards on the drive, which didn't even require a third-down play. It was the Bears' longest TD drive since a 97-yarder on Sept. 20, 2009 in a 17-14 win over the Steelers at Soldier Field.
Hoyer erred in not finding an open Alshon Jeffery on the Bears' final play Sunday. But the quarterback has generally done an excellent job of going through his progressions and finding open receivers. One example came on his TD pass to Howard. Hoyer first looked to his right and then his left before dumping the ball over the middle to the running back.
(2) The Bears defense was too banged up and inexperienced Sunday to contain a quarterback as talented as Luck, even with him playing behind a shaky offensive line.
The front seven finally generated consistent pressure on Luck in the second half and sacked him five times in the game. But there were too many plays where he had all day to throw and simply waited for a receiver—usually T.Y. Hilton—to get open. The two connected on 10 passes for 171 yards, the most in both categories by a receiver against the Bears since Dec. 17, 2000 when the 49ers' Terrell Owens set an NFL record that has since been broken with 20 receptions for 283 yards.
Already playing without outside linebackers Pernell McPhee, Lamarr Houston and Leonard Floyd as well as cornerback Kyle Fuller due to injuries, the Bears defense suffered a major blow in the second half Sunday when cornerback Bryce Callahan exited with a hamstring injury. The Colts took advantage of his replacement as Hilton badly beat untested second-year pro Jacoby Glenn for a game-winning 35-yard touchdown on a post pattern.
The Bears allowed the Colts to score on seven of 10 possessions before Indianapolis killed the clock in the final minute of the game. The defense did not produce a takeaway for the second time this season and has only four in five games this year after generating 15 all of last season. The Bears are now 1-12 when not creating a turnover since 2014.
With no takeaways Sunday, the only time the offense started a possession beyond its own 25-yard line was when Deonte Thompson returned the opening kickoff 32 yards to the Chicago 32.
(3) On a roster that could use more difference-makers, Howard and young receiver Cameron Meredith both showed the potential to become impact players.
Howard proved that his 111-yard effort in his first NFL start a week earlier against the Lions was no fluke, rushing for 118 yards on just 16 carries in Sunday's loss to the Colts. The rookie fifth-round pick from Indiana rarely is tackled by the first defender who hits him and once again displayed excellent vision and patience. Howard's 57-yard run was the longest rush by a Bears player since Matt Forte's 61-yarder Nov. 28, 2010 against the Eagles.
Howard became the first Bears rookie runner to record back-to-back 100-yard games since Anthony Thomas Oct. 21-28, 2001. Howard committed a costly facemask penalty that nullified Meredith's eight-yard run to the Indianapolis 1, but otherwise played a strong game.
Meredith also performed very well. A second-year receiver who played quarterback his first three years at Illinois State, Meredith made the most of his first NFL start, catching nine passes for 130 yards and one touchdown in place of the injured Kevin White. Meredith's first career touchdown, a 14-yard reception from Hoyer, tied Sunday's game 13-13 late in the first half.
Like Howard, Meredith made a key miscue, losing a fumble late in the game with the Bears trailing by just three points. But he seemed to put the mistake behind him, catching a 13-yard pass from Hoyer on the first play of the Bears' next possession.