The Bears snapped a three-game losing streak with a decisive 26-6 win over the San Francisco 49ers Sunday at Soldier Field. Here are three things that stood out about the victory:
(1) After adjusting to the wintry conditions, Bears quarterback Matt Barkley performed well in earning his first NFL win in his second career start.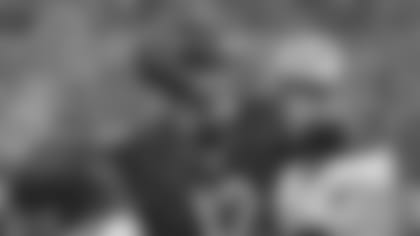 Matt Barkley completed 11 of 18 passes for 192 passes and a 97.5 passer rating.


The only snow that Barkley experienced growing up in southern California was when there was static on his television set. But after misfiring on his first three passes, the former USC standout changed his cleats to get more traction and also altered his throwing mechanics.
"I really had to adjust my arm angle and almost push the ball out instead of flinging it because my thumb would slip out," Barkley said. "Once we got used to that, we didn't really hold back on anything in the game plan. Plays were open and guys were getting open."
Barkley completed 11 of 18 passes for 192 passes and a 97.5 passer rating. He engineered three straight touchdown drives to turn a 6-0 deficit into a 21-6 lead. The first TD came on a two-minute drill at the end of the first half on which Barkley connected on 4 of 5 passes for 64 yards.
After passing for 316 yards with three TDs and two interceptions a week earlier in his first NFL start against the Titans, Barkley did not commit a turnover versus the 49ers. Following Sunday's win, Barkley said that his confidence level is "probably at an all-time high in this league, just knowing that I can play and knowing that we can make plays as an offense."
"I'm not holding back and they're not holding back on what we're installing from week-to-week," Barkley said. "I know what we're capable of and what I'm capable of. Hopefully we can keep pushing this and keep the same mentality that we did last week coming off a loss of wanting to get better and striving to perfection. That's what I'm going to be focusing on and pushing these guys, is to keep the same mentality this upcoming week."
(2) The Bears completely shut down quarterback Colin Kaepernick and the 49ers with their best defensive effort of the season.
A week earlier in sunny Miami, Kaepernick passed for 296 yards and three touchdowns and rushed for 113 yards in a loss to the Dolphins. On Sunday in snowy Chicago, the controversial quarterback was yanked from the game in the fourth quarter after completing just 1 of 5 passes for 4 yards and rushing for 20 yards on six carries while being sacked five times.
"That was the contain-rush that we were trying to accomplish," said defensive end Akiem Hicks, who recorded two of the Bears' six sacks. "You have to sacrifice a little bit as a rusher. You can't use all of your moves. You have to make sure you're putting yourself in a good position to stop him from being able to squeak out of the pocket. It's part of the game you have to play when you're playing a running quarterback."
The six points were the fewest the Bears have allowed since Oct. 7, 2012 in a 41-3 win in Jacksonville. The six sacks were their most in a game since they also had six Sept. 23, 2012 in a 23-6 victory in St. Louis. And the 147 yards were the fewest the Bears have permitted since Oct. 10, 2010 when they also yielded 147 in a 23-6 win in Carolina.
The only points the 49ers scored came on a pair of field goals after San Francisco had started drives at the Bears' 19 and 37 following a blocked punt and fumbled kickoff return. On six possessions in the second half, the 49ers mustered just 39 yards and two first downs on 21 plays and did not advance beyond their own 34-yard line.
(3) Some of the Bears' top performances in Sunday's game were delivered by players selected in general manager Ryan Pace's two draft classes.
Three rookies selected in this year's draft—fifth-round running back Jordan Howard, first-round outside linebacker Leonard Floyd and second-round center Cody Whitehair—appear to be forming a solid young core the Bears will rely on next season and beyond.
Howard has been the team's most pleasant surprise this year. He rushed for 117 yards and a career-high three touchdowns on 32 carries Sunday against the 49ers. The Indiana product now has five 100-yard games, tied for the most by a Bears rookie with Beattie Feathers (1934) and Rashaan Salaam (1995). Howard has gained 883 yards on 181 attempts this season.
Floyd returned with a vengeance after sitting out one game with a concussion. The Georgia product registered two sacks, increasing his season total to seven in only nine games. The seven sacks are already third most by a Bears rookie, trailing Mark Anderson (12 in 2006) and Brian Urlacher (8 in 2000). Floyd also produced a safety when he sacked Blaine Gabbert in the end zone and now has eight points this season, having scored the Bears' only defensive touchdown.
Whitehair anchored another strong performance by an offensive line that was missing starting Pro Bowl guards Kyle Long and Josh Sitton. Whitehair helped the Bears amass 326 yards and 19 first downs and convert 43 percent of their third-down chances (6 of 14) in sloppy conditions.
Bears 2015 second-round pick Eddie Goldman made a big impact on defense, recording one sack, one tackle-for-loss and one quarterback hit. Goldman's penetration up the middle early in the game led to a sack by teammate Willie Young.