The Bears recorded an impressive 23-17 overtime win over the Pittsburgh Steelers Sunday at Soldier Field. Here are three things that stood out in the stirring victory:
(1) Running backs Jordan Howard and Tarik Cohen have a chance to become one of the NFL's most dangerous backfield tandems.
Pair a talented second-year pro who finished second in the NFL in rushing last year with an electrifying rookie whose nickname is "The Human Joystick" and you have the potential for a dynamic 1-2 punch. The two backs combined to rush for 216 yards on 35 carries against the Steelers, with Howard running for 138 yards and two touchdowns and Cohen adding 78 yards.
"Just two guys with two different styles of playing, but both come from a very tough running style of football," said guard Kyle Long. "Wherever they learned how to play the game, they taught them the right way to do it. They're great guys to have in the locker room, too. They're great motivators in the huddle."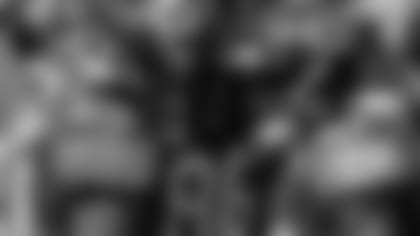 Bears running backs Jordan Howard and Tarik Cohen celebrate a touchdown.


Howard especially inspired his teammates Sunday, fighting through a nagging shoulder injury that caused him to leave the game twice, only to return. After Cohen's 26-yard run on the Bears' first possession of overtime, Howard followed with an 18-yard gain and a 19-yard touchdown that ended the game.
"Usually you'd be like, 'Dude, go to the sideline, you're not OK,'" Long said. "But there's nobody tougher than Jordan Howard, so I just said 'if you're out here, you're out here. I love having you in the huddle.' He would go down, he would get up, they'd bring him off, he'd come back in, first down. I felt like it just kept happening over and over again like that."
(2) The Bears defense rose to the occasion against a talented offense featuring quarterback Ben Roethlisberger, running back Le'Veon Bell and receiver Antonio Brown.
The defense contained Roethlisberger, limiting the future Hall of Famer to an 82.7 passer rating. Blitzing nickel back Bryce Callahan produced a takeaway with a first-quarter sack, causing a Roethlisberger fumble that defensive end Akiem Hicks recovered.
With the Bears protecting a 17-14 lead early in the fourth quarter, outside linebacker Pernell McPhee recorded a sack on third-and-three from the Chicago 43, forcing a punt. A few minutes later, the Bears turned the ball over at their own 21. But the defense held the Steelers without a first down and they had to settle for Chris Boswell's game-tying field goal.
Buoyed by the return of cornerback Prince Amukamara after he missed the first two games of the season with an ankle injury, the Bears secondary performed well. Amukamara and fellow cornerbacks Kyle Fuller and Marcus Cooper Sr. were all credited with two pass breakups.
"It was good getting Prince back for sure," Fox said. "Especially against a team that has some of the weapons they have, I thought all-in-all they played pretty well."
With the Bears down two inside linebackers—Jerrell Freeman and Nick Kwiatkoski are both sidelined with pectoral injuries—Danny Trevathan stepped up, compiling a team-high 10 tackles.
(3) Sherrick McManis was a difference-maker on special teams, producing two huge plays that led directly to 10 points.
Early in the first quarter, McManis cleanly beat his man downfield and recovered a muffed punt by Eli Rogers at the Pittsburgh 29. Six plays later, the Bears took a 7-0 lead on Howard's 3-yard touchdown run. The key to making a play like that, for McManis, is film study.
"It doesn't take long, to be honest, for me," McManis said. "But it does take time to kind of understand who you're going against, what he likes to do in certain situations. That was a move that I felt like could get me a win at that time. It worked and I was able to get down the field."
McManis later blocked Boswell's 35-yard field goal attempt on the final play of the first half, which ultimately led to Connor Barth's 24-yard field goal, which gave the Bears a 17-7 lead. "I was able to bend the corner pretty nice, get my hand out there and get a block." McManis said.
The Northwestern product has garnered Pro Bowl consideration in the past, but this may be the year he finally gets the nod. "He's really, really good at what he does," Fox said. "He's a great teammate. That's why he was voted a special-teams captain. Guys look up to him. I think he's a pro. How he conducts himself on and off the field, he's a contagious guy. He's an encourager and he pulls guys along in the right direction."