The Bears fell to 1-3 with a disappointing 35-14 loss to the Green Bay Packers Thursday night at Lambeau Field. Here are three things that stood out in Week 4 defeat:
(1) For the second time in three games, the Bears gave themselves no chance to win by committing four turnovers.
The Bears were hoping it was an anomaly when they opened their Week 2 game in Tampa two weeks ago with four straight turnovers in a 29-7 loss they were never in. But it was déjà vu all over again Thursday night in Green Bay when they coughed up the ball early and often.
After Clay Matthews sacked Mike Glennon on the Bears' very first play from scrimmage, forcing a fumble that the Packers recovered at the Chicago 3, Aaron Rodgers threw his second touchdown pass in a :53 span to give Green Bay an early 14-0 lead.
The Bears lost the turnover battle 4-1 in Tampa and 4-0 in Green Bay in lopsided losses of 22 and 21 points that were over before halftime.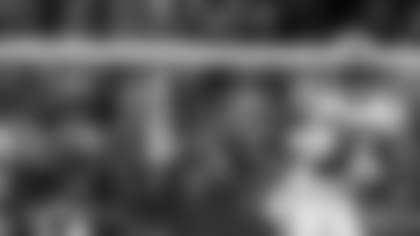 Packers player Kentrell Brice intercepts a pass against the Bears.


"Unfortunately, in this short season, we've already been there on the road," said coach John Fox. "There's two on the road. I believe that one was minus-three and this one was minus-four on the night. I don't care who you play, that's not a formula for success."
Glennon has accounted for eight of the Bears' nine turnovers in four games this season with five interceptions and three lost fumbles. "I don't think all of those were Mike's turnovers," Fox said. "There are a lot of people out there that are involved. We had dropped balls. We had penalties. There was plenty of stuff to pass around."
(2) After an impressive performance in an overtime win over the Steelers last Sunday, the Bears defense struggled against an injury-depleted Green Bay offense.
The Packers played without injured starting tackles David Bakhtiari (hamstring) and Bryan Bulaga (ankle) and lost running backs Ty Montgomery (chest) and Jamaal Williams (knee) during the game, leaving Aaron Jones as Green Bay's only remaining active running back.
But the Bears defense could not take advantage, especially against longtime nemesis Aaron Rodgers. The Packers star quarterback completed 18 of 26 passes for 179 yards with four touchdowns, no interceptions and a 128.0 passer rating. Rodgers has now thrown 21 TD passes and one interception in his last eight games against the Bears.
"The quarterback did a pretty good job of getting the ball out quick," said outside linebacker Leonard Floyd, who recorded one of two Bears sacks. "As a rusher you really can't do much about that, just continue to work as hard as you can."
After allowing touchdowns on 5 of 12 red-zone possessions in the first three games of the season, the Bears permitted TDs on all five of Green Bay's trips inside-the-20 Thursday night.
The short fields the Bears gave Rodgers with their turnovers killed the defense. Green Bay scored only one touchdown on seven drives that started at or inside their own 25 while they produced four TDs on four drives that began outside their 25 (at the Chicago 3, Green Bay 40, Green Bay 37 and Chicago 42).
(3) The Bears continued to shoot themselves in the foot not only with turnovers but with costly penalties as well.
The score probably would have been just as lopsided if the Bears didn't commit any penalties given their 4-0 turnover differential. But there were some key flags that hurt their cause.
Trailing 14-0 early in the second quarter, the Bears reached the Packers 37. Tarik Cohen raced around right end for 15 yards to the 22, but the play was nullified by a holding penalty on guard Josh Sitton. After an incompletion, left tackle Charles Leno Jr. was flagged for a false start, resulting in second-and-25. Instead of a possible touchdown that would have cut the lead in half, the Bears were forced to punt and soon fell behind 21-0.
Midway through the third quarter—after the game had already been decided—Danny Trevathan drew a 15-yard penalty for an illegal hit on receiver Davante Adams, giving Green Bay an automatic first down after it had appeared the Packers would have to settle for a field goal. Rodgers took advantage, throwing a 4-yard touchdown pass to Jordy Nelson to make it 28-7.
"We had eight penalties, they had seven," Fox said. "I would say it's fair to say they overcame their penalties better than we did."