The Bears improved to 2-4 with a stirring 27-24 overtime win over the Ravens Sunday in Baltimore. Here are three things that stood out in Week 6 victory:
(1) After nearly snatching defeat from the jaws of victory late in the game, the Bears displayed tremendous resiliency in rallying for the win.
Losing a game they seemingly had already won Sunday in Baltimore would have been catastrophic for a young Bears team that desperately needs to build confidence. But after blowing a late 24-13 lead, they regrouped to produce a handful of key plays that ultimately resulted in a pulsating overtime victory.
"Everyone stayed positive; it was great," said receiver Kendall Wright, who delivered one of those key plays with an 18-yard reception on third-and-11 in overtime that set up Connor Barth's game-winning 40-yard field goal. "If at any point anyone gave up on our team, we would have lost that game. Everyone kept working and playing hard, and we got it done."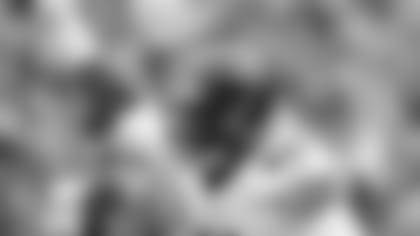 Bears linebacker Christian Jones celebrates after creating a turnover against the Ravens.


Safety Adrian Amos appeared to clinch the win he returned his first career interception 90 yards for a touchdown to give the Bears a 24-13 lead with 5:08 left in the fourth quarter. But the Ravens climbed to within 24-16 on Justin Tucker's 50-yard field goal with 2:56 remaining and then tied it 24-24 on Michael Campanaro's 77-yard punt return touchdown coupled with Joe Flacco's two-point conversion pass to Nick Boyle with 1:37 to play.
The rally ignited a Ravens crowd that had spent most of the game booing the Baltimore offense. But after the Bears went three-and-out on their first possession of overtime, the defense held and Jordan Howard raced around left end for 53 yards, flipping the field and setting up Barth's winning kick. "It took a lot because they had a lot of momentum going," Howard said. "It was very loud. You could barely hear at the end. We started out overtime with a [holding penalty] and we end up punting. The defense did a great job, and we were able to finish the game off."
(2) Asked to carry a heavy load to fuel a run-oriented game plan, Howard willed the Bears to Sunday's win by establishing career highs with 36 rushes and 167 yards.
The second-year pro from Indiana delivered a dazzling performance against a rugged defense, helping the Bears produce 231 yards, the most ever by a Ravens opponent. "We're really lucky to have Jordan Howard," said guard Kyle Long. "He's a tremendous worker and runner. We know if we're able to cover up the other guys there on defense, he can make some stuff happen. He's a tough runner and a real leader in this locker room."
Howard ran with determination and desire Sunday in Baltimore. His 36 carries and 167 yards were the most by a Bears running back since James Allen had 37 carries in a win over the Patriots on Dec. 10, 2000 and Matt Forte ran for 205 yards in a victory over the Panthers on Oct. 2, 2011. "I was very tired," Howard said after the game. "The overtime took a lot out of me. I feel like I'm in better shape—a lot better shape—than I was last year. So I was able to keep carrying the ball when they needed me to."
Howard's season-long 53-yard run in overtime came after he made a rare mistake late in regulation. With the score tied 24-24, he took a handoff on third-and-20 and inexplicably ran out of bounds after picking up eight yards, stopping the clock with :23 remaining. The Ravens were out of timeouts, so the Bears could have burned the rest of the time off the clock and headed into overtime. Instead, they were forced to punt to Campanaro, who had just returned a punt 77 yards for a touchdown. Fortunately, he was tackled after a 16-yard return.
Asked about Howard's 53-yard run, fellow running back Tarik Cohen said: "We knew he was ready to make a big play because he really felt like he let the team down when he went out of bounds in the fourth quarter. He really beat himself up about that and I just knew by the look in his eyes that he was ready to make a play."
(3) Generating three takeaways on defense and winning the turnover battle for the first time this season played a major role in Sunday's victory.
An opportunistic Bears defense more than doubled its takeaway output for the season, producing three against the Ravens after registering just two in the first five games.
In the second quarter, Christian Jones ripped the ball away from Ravens tight end Maxx Williams after a short completion and Danny Trevathan recovered at the Bears' 20. On the Ravens' next possession, Bryce Callahan intercepted a deflected Joe Flacco pass and returned it 52 yards to the Baltimore 20, setting up Cohen's 21-yard touchdown pass to Zach Miller on a halfback option play that gave the Bears a 10-0 lead.
Amos later picked off a Flacco pass that was deflected by Kyle Fuller, and weaved 90 yards for a touchdown. "It was the type of play that we need," Fuller said. "The guys were working together, and we were able to capitalize. It was definitely big. I knew it was a big play. When I saw him running down the field, I thought, 'This is getting even better.'"
Amos grew up in Baltimore, played in M&T Bank Stadium once a year in high school and had more than 40 relatives and friends at Sunday's game. "I made a play on the ball," Amos said. "I tipped it up and just caught it, then tried not to get tackled. I'm just happy I made a play to help the team win. For it to come here at home in Baltimore, it was a great feeling. My granny was up in the stands with the rest of my family, so it was a great moment."