The Bears registered their first win of the season with a complete game effort against the Lions Sunday at Soldier Field. Here are three things that stood out in the 17-14 victory:
(1) Brian Hoyer is a more-than-capable backup quarterback.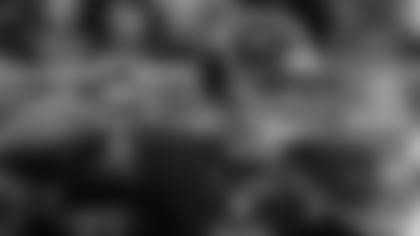 Quarterback Brian Hoyer completed 28 of 36 passes for 302 yards with two touchdowns and a 120.1 passer rating.


It was difficult to judge Hoyer's first start in place of the injured Jay Cutler last weekend in Dallas because the Bears faced a double-digit deficit nearly the entire game. But in Sunday's 17-14 win over the Lions, the veteran backup operated the offense with efficiency in completing 28 of 36 passes for 302 yards with two touchdowns, no turnovers and a 120.1 passer rating.
"He played great," said receiver Eddie Royal, who caught a game-high seven passes for 111 yards and one TD. "Being accurate with the ball, getting it out on time and doing all the little things. Converting on third down. Those things are key and he did a great job."
Seeking an experienced backup at the all-important quarterback position, the Bears signed Hoyer April 30. They were impressed with his 19-7 touchdown-to-interception ratio last season when he helped the Texans win the AFC South title and liked that he had worked with first-year offensive coordinator Dowell Loggains with the Browns in 2014.
Hoyer struggled at times in training camp and didn't perform particularly well in the preseason, recording a 54.4 completion percentage with no TDs, two interceptions and a 54.4 passer rating. But with a firmer grasp of the offense, he has excelled in three regular-season appearances, connecting on 69.1 percent of his passes with four TDs, no interceptions and a 103.3 rating.
(2) Members of the Bears defense took their poor performance in Dallas personally.
A lackluster outing against the Cowboys motivated the Bears defense last week in practice and the unit responded by playing "lights out" in Sunday's win over the Lions, according to coach John Fox. After allowing 24 points and 19 first downs on their first four drives in Dallas, the Bears permitted no points and just one first down on Detroit's first four possessions.
"We got our butt whipped," said defensive end Akiem Hicks. "There's no sugar-coating anything about it. We lost that game and that kind of loss really sits with you, resonates with you and makes you want to find those answers even faster."
The Bears did not allow a defensive touchdown Sunday for the first time since 2012 when they accomplished the feat four times in wins over the Rams, Jaguars, Panthers and Cardinals. The Lions offense entered Week 4 ranked fourth in the NFL in total yards at 413.7 per game and were limited to 263, 150 below their average.
The Bears run defense yielded just 66 yards on 18 carries after permitting the Cowboys to rush for 199 yards and three touchdowns on 41 attempts. "That's something we've been trying to improve every week," Hicks said, "and I think this is one of the first weeks we've been able to say it: We were extremely stout against the run and they didn't have much of a place to go."
(3) Rookie running back Jordan Howard appears to be the real deal.
With Jeremy Langford (ankle) and Ka'Deem Carey (hamstring) unable to play Sunday due to injuries, Howard gave the Bears offense a major boost by rushing for 111 yards on 23 carries. In the process, he became the team's first running back to top 100 yards in his first NFL start since Matt Forte gained 123 yards in the 2008 season opener against the Colts in Indianapolis.
"I saw it in training camp," said receiver Eddie Royal. "I thought this kid was going to be a great player for us. His physical nature of running the ball, the defense is going to get tired of tackling him. He just got those key extra yards for us and he did a great job."
The Bears entered the game ranked last in the NFL with an average time of possession of 24:06. But with Howard helping to sustain drives by moving the chains, they ran 67 plays, picked up 23 first downs and held the ball for 33:14, all season highs.
"It helped to have the run game going," Hoyer said. "When you get the run game going it opens up a lot of things. We ran the ball well and we were able to get some of those, especially at the end of the game when we were trying to kill the clock a little bit."