The Bears fell to 0-2 on the preseason with a 23-22 loss to the Patriots Thursday night in New England. But there were at least four positives to build on in the defeat:
(1) Jay Cutler and the passing game found a rhythm right from the outset.
Cutler led the Bears to a field goal and touchdown on their first two possessions, completing 8 of 12 passes for 83 yards. He connected with receivers Alshon Jeffery and Kevin White, running back Jeremy Langford and tight end Tony Moeaki, and hit tight end Rob Housler with a two-point conversion pass, as the Bears jumped to an early 11-0 lead.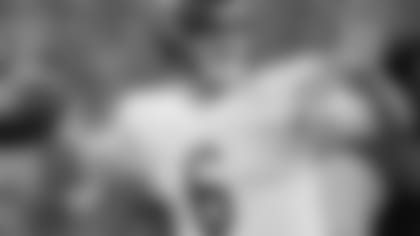 Jay Cutler led the Bears to a field goal and touchdown on their first two possessions.


Cutler's longest completion was a 29-yarder to Jeffery. "I felt good," Cutler said. "We connected with [Jeffery] on that big one early that kind of gave us a little bit of momentum. Anytime you're converting on third down and putting up points, that's heading in the right direction."
With starting tight end Zach Miller out while he continues to recover from a concussion, Moeaki caught four passes for 28 yards from Cutler on the first two possessions, including an 11-yarder on third-and-11 that sustained the Bears' first touchdown drive.
"He's a pro; he gets it," Cutler said of the seven-year veteran from Iowa. "He doesn't say much. [But] he's always in the right spot. He's been around the league and he knows what's expected of him and he goes out there and he produces."
(2) The starting offensive line opened holes in the running game.
The No. 1 line consisting of left tackle Charles Leno Jr. Jr., left guard Cody Whitehair, center Ted Larsen, right guard Kyle Long and right tackle Bobby Massie helped create lanes for running back Jeremy Langford, who rushed for 55 yards on eight carries in the first quarter.
"They did a great job of that," Langford said. "It came from the coaching on down. They did a great job of running them out and giving me a way to go."
None of the current starters was in the same position with the Bears entering last season. Only two were even with the team—Long was switched to right tackle a week before the regular season opener and Leno didn't replace Jermon Bushrod with the No. 1 unit until Week 4.
"I thought they played well," Cutler said. "We didn't see much from [the Patriots] coverage-wise or front-wise, so it was a pretty bland game, pretty vanilla up there. But I think Ted Larsen has moved into that position quite nicely [since replacing the injured Hroniss Grasu]."
(3) Langford looked like the No. 1 back the Bears need him to be.
The 2015 fourth-round pick, who is taking over as the starter from the departed Matt Forte, showed his speed, elusiveness and vision on back-to-back plays in the first quarter.
Langford took a handoff from Cutler, bounced outside and sprinted around right end for 34 yards, picking up a nice block from Long. On the next play, the 6-foot, 211-poiunder cut back up the middle for a 5-yard touchdown, with Long and Massie both clearing a wide open path.
"He made a step forward again," Fox said. "He had a good week of preparation, good week of practice. I thought he had a heck of a season a year ago as a rookie and he continues to impress and get better."
(4) The No. 1 defense produced a takeaway for the second straight week.
Seven days after Jerrell Freeman intercepted a pass that was deflected by Bryce Callahan against the Broncos, veteran cornerback Tracy Porter forced and recovered a fumble versus the Patriots.
New England had reached the Bears' 7 early in the second quarter when Porter chased down running back Brandon Bolden, ripped the ball out of his hands and recovered it at the 5. The turnover prevented the Patriots from narrowing the Bears' 11-0 lead at the time.
It was the type of play that the Bears are trying to generate more frequently in 2016 after the defense produced only 15 takeaways all of last season.
"I thought he did a great job of putting his hand in there and pulling it out," Fox said. "We have been stressing it, [defensive coordinator] Vic [Fangio] and his staff, and it's good to see it happen in games."