With the Bears preparing to open the preseason Thursday night against the Broncos. Jay Cutler spoke to the media at training camp. Here are five things we learned from the Bears quarterback:
(1) Cutler has been impressed with receiver Kevin White's progress in practice and is eager to see the 2015 first-round pick play in the preseason after missing all of last year with a leg injury.
"He's getting there," Cutler said. "We've just got to keep getting him reps and keep getting him experience. Preseason is going to be big for him, just getting out there and playing football again because it's been a while. You can only recreate so much at practice. So just getting that game and going through the motions—the pregame, the fans, the jitters—just feeling that out three or four times will get him ready."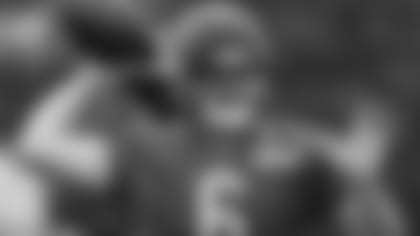 Quarterback Jay Cutler throws a pass during training camp practice.


(2) Cutler would like to see Alshon Jeffery play in the preseason after the veteran receiver was plagued by injuries last year. Jeffery missed all four preseason games last summer and sat out seven regular-season contests with calf, hamstring, groin and shoulder.
Jeffery has been limited in practice this week due to a mild hamstring strain.
"It's going to be important for him to get a few reps out there and just get a feel for football," Cutler said. "He's been kind of on and off at camp, so just getting three games in, four games in of just getting some reps, just getting his conditioning, just getting ready to play football, get hit a little bit, get some soreness and work through that, I think that would be good for him."
(3) The transition from offensive coordinator Adam Gase to replacement Dowell Loggains has been seamless for Cutler, mainly because Loggains served as Cutler's position coach last year.
"We didn't miss a beat," said the Bears quarterback. "I've known Dowell for a long time and him coming from quarterback, he knows how I play. So him stepping into that role was kind of nice.
"He's been good. He's strong in his conviction of what this offense is going to be, how he sees it in his mind. He lets us know in meetings and he holds guys accountable. That's all you want from an 'OC' and play-callers, holding everyone accountable so that on Sunday if everyone is doing their job we'll be OK."
(4) Cutler hasn't spent much time thinking or worrying about how rookie second-round pick Cody Whitehair is performing at left guard, and that's a positive in itself.
"The good thing is we don't talk about him much," Cutler said. He's doing his job over there. He's quiet. He's steadily becoming a pro, even at a young age. He's going to be good on that left side for us."
(5) Cutler has grown weary of seeing so many fights in practice and hopes they no longer occur.
"It's a tough team, [but] now we're getting to the point where we're just kind of being a dumb team," Cutler said. "So we've got to find that fine line of when we're being tough and when we're being dumb. I think we're right there on that edge, so now we have to start dialing it back and get ready for games."