Vic Fangio spoke to reporters Thursday for the first time since training camp began last week. Here are five things we learned from the Bears defensive coordinator:
(1) Fangio has been pleased with what he's seen from first-round pick Leonard Floyd but knows that the rookie outside linebacker must step up his game to excel in the NFL.
"He's on his way. He's not there yet," Fangio said. "He missed the first day or two with an illness and then had to come out of one practice with a little injury, so he's a little bit behind where he should be up to this point because of missed practice time. But I'm confident he can get there."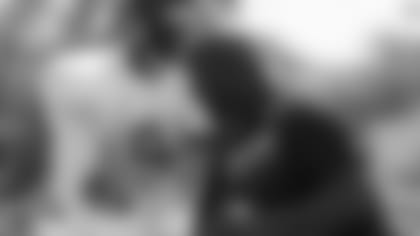 First-round pick Leonard Floyd working with OLB Coach Clint Hurtt.


The Bears traded up two spots to select Floyd with the ninth pick in the draft in large part because they wanted to add speed and athleticism to their front seven.
"I think we've seen for the most part the player we thought we were getting," Fangio said. "He just needs to learn to play the techniques of playing in the NFL versus college and how he's going to have to play and defeat blocks more so than he did in college. He's going to have to strike them a little bit better, he's going to have to be a little quicker. He doesn't have the physical advantage that he probably enjoyed most of the time in college, so he's got to figure out the competition and adjust his play."
(2) Fangio has high expectations for veteran outside linebackers Willie Young and Lamarr Houston, both of whom are much more comfortable with the defense than they were last summer when they were learning new positions and recovering from serious injuries.
"They're light years ahead of where they were last year at this time because they weren't even partaking in camp, so I think they should both make great improvements," Fangio said. "They made great improvements through the season. Now with an offseason and a training camp that they really didn't have last year, they should even be better."
(3) Fangio is concerned that outside linebacker Pernell McPhee has yet to practice as he recovers from a knee injury, but the coach is focused more on the players on the field.
"It's a concern for sure, but until I see him out on the field I'm really not thinking about it as much," Fangio said. "The medical staff has to clear him first and then when he's cleared we take over as coaches and see if he's able to protect himself, one, and then two, play with the kind of movement he needs to be able to play with."
(4) Fangio has been impressed with how safeties Adrian Amos and Harold Jones-Quartey have performed with the No. 1 defense and likes the position as a whole.
"[Amos and Jones-Quartey] are doing a good job," Fangio said. "They're two guys who like football, like being part of a team, like being a good teammate. Those two guys are doing a good job, as is [Deon] Bush, as is Chris [Prosinski], and the rookie from William and Mary (DeAndre Houston-Carson) is starting to feel his way, so we've got good competition back there."
With inexperienced defensive backs, Fangio will have to determine how much he can throw at them.
"We're young in the secondary, outside of [cornerback] Tracy Porter for the most part, and we're just going to have to see what they're capable of doing mentally as we go through the process here and how many schemes we can ask them to do effectively."
(5) Fangio likes what he has seen from new defensive ends Akiem Hicks, who signed with the Bears in free agency, and rookie Jonathan Bullard, who was selected in the third round of the draft out of Florida.
"[Hicks] has done well," Fangio said. "He's a big, strong explosive guy. He's aggressive. He likes playing the game. He's enthusiastic. For a big guy he's got a lot of energy. We've just got to get him honed up a little bit better in his techniques."
Fangio hopes that Bullard (6-3, 290), who brings a different element to the line than Hicks (6-5, 336) and nose tackle Eddie Goldman (6-4, 320), emerges as a regular contributor.
"He's not quite the size that those guys are, he's a guy that's got a little bit more quickness," Fangio said. "He's a guy that we hope can be in our mix and rotation and be a guy that comes and plays a fair amount in every game just filling in."