One was a ferocious middle linebacker, an intimidating and relentless force who possessed talent, aggression and hostility. The other was an electrifying and elusive running back who was a threat to go the distance every time he touched the ball.
The differences between Dick Butkus and Gale Sayers were obvious, but the similarities remain just as striking. The superstars arrived with back-to-back picks in the 1965 NFL Draft, dominated as rookies and became Bears legends who are still revered by fans more than 50 years later.
Their brilliant careers were shortened by knee injuries, but Butkus and Sayers both ultimately were inducted into the Pro Football Hall of Fame. They even stood side-by-side when the Bears retired their numbers during a Monday night game against the Packers in 1994.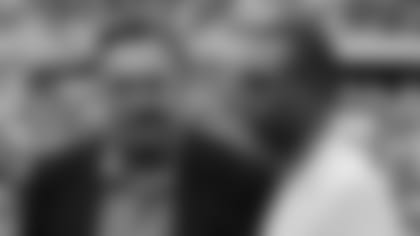 Hall of Famers Dick Butkus and Gale Sayers were selected back-to-back in the 1965 NFL Draft first round.


With the first pick in the 1965 draft, the New York Giants considered Butkus before choosing Auburn's Tucker Frederickson "because he is the best all-around fullback in the country," Giants vice president Wellington Mara said at the time.
After the San Francisco 49ers selected North Carolina running back Ken Williard, the Bears chose Butkus third with a pick they had acquired in a trade with the Pittsburgh Steelers and Sayers fourth with the selection they had received after finishing 5-9 in 1964.
After the Dallas Cowboys drafted California quarterback Craig Morton fifth overall, the Bears chose Tennessee defensive lineman Steve DeLong at No. 6 with a pick they had acquired from the Washington Redskins.
"As far as we're concerned, we got the No. 1, 2 and 3 college football players in the country," said Bears president George "Mugs" Halas Jr., the son of the legendary Bears founder and owner. "We would have been happy if two of the three had been left for us."
"It was like holding an idiot's hand in gin rummy," said another staff member.
The Bears' 1965 draft class also included seventh-round selection Dick Gordon, a Michigan State running back who developed into a two-time Pro Bowl receiver in Chicago.
DeLong opted to sign with the rival American Football League and played his first seven pro seasons with the San Diego Chargers before finally joining the Bears for one year in 1972.
Chicago's other two first-round picks, however, became immediate stars.
Sayers, who set an NFL record with 22 touchdowns and tied another mark by scoring six TDs in a remarkable performance against the 49ers, edged Butkus for Rookie of the Year honors.
Sayers came to the Bears after starring at the University of Kansas. In Sayers, the Bears were hoping that they had drafted a breakaway successor to the late Willie Galimore, a star running back who had been killed in an automobile accident the previous summer at training camp.
"I've looked at Sayers in 12 games and he has some moves that even Willie didn't," Bears assistant coach George Allen said at the time. "And he's a track man, too; a hurdler. This is an indication that he has something more than just straight-ahead speed."
Kansas athletic director Wade Stinson told the Chicago Tribune that "Sayers is the best broken field runner I've ever seen. He'll show you moves you haven't seen yet."
Forced to retire after a second knee injury, Sayers set 23 club records and seven NFL marks during seven seasons with the Bears. He was selected to five Pro Bowls and was named Offensive MVP in three of the all-star games.
In 1977, at the age of 34, Sayers became the youngest man ever inducted into the Hall of Fame. His effective playing time is also the shortest of any Hall of Famer.
Butkus was voted to the Pro Bowl in each of his first eight NFL seasons. He was also selected as an All-Pro in seven of his nine years with the Bears. Butkus was inducted into the Pro Football Hall of Fame in 1979 in his first year of eligibility.
"If I had a choice, I'd sooner go one-on-one with a grizzly bear," Packers running back MacArthur Lane once said. "I pray that I can get up after every time Butkus hits me."
A Chicago native who was an All-American linebacker at the University of Illinois, Butkus recovered 25 fumbles during his career, which was an NFL record when he retired.