BOURBONNAIS, Ill. — Despite losing tackles Jermon Bushrod and Jonathan Scott to minor injuries early in training camp, the Bears offensive line hasn't missed a beat.
Pro Bowl receiver Brandon Marshall has taken notice and is especially impressed with how first-year offensive coordinator/line coach Aaron Kromer is molding the unit.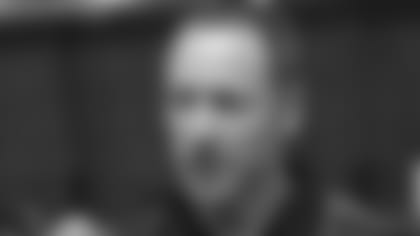 Offensive coordinator Aaron Kromer has been an NFL assistant coach since 2001.
"It's actually exciting to see some of the guys step in and step up," Marshall said. "I'm looking at some of my guys up front and seeing the progress made from last year to this year as far as some of the younger guys and it's amazing. Coach Kromer is doing an amazing job."

Kromer joins the Bears after spending the past five seasons with the Saints, coaching running backs in 2008 before working with the offensive line/running game from 2009-12.

Over the last four years, New Orleans tied for the fewest sacks allowed in the NFL with 96 and sent five linemen to the Pro Bowl: tackles Bushrod and Jon Stinchcomb, guards Jahri Evans and Carl Nicks, and center Jonathan Goodwin. While Stinchcomb entered the league as a second-round pick, Bushrod and Evans were fourth-rounders and Nicks and Goodwin were fifth-rounders.

Kromer entered the NFL as an assistant with the Raiders in 2001. From 2001-03, Kromer worked on the same offensive staff as Bears head coach Marc Trestman, including in 2002 when Oakland led the league in total offense and reached the Super Bowl.

Working at it: Webb has shown flashes as the Bears' starting right tackle in training camp, but the fourth-year pro from West Texas A&M needs to be more consistent.

"J'Marcus is day-to-day," Trestman said. "He's got to continue to be consistent. He ascends some days and levels off. He's extremely focused. I'm around him in meetings. He's on top of everything and Aaron and Pat [Meyer] are working really hard to continually develop him.

"He's a talented young man and he's focused and wants to do well. These things are day-to-day and week-to-week in terms of progress and he's working at it every day, and we've got some time left to see where this thing takes us as the season gets closer."

Webb was selected by the Bears in the seventh round of the 2010 draft. After starting 12 games at right tackle as a rookie, he opened all 32 games at left tackle in 2011-12. The 6-7, 333-pounder was shifted back to the right side this offseason after the Bears signed Bushrod in free agency.

Bookend tackles: Although Bushrod remains sidelined with a calf injury he sustained last Monday, the seven-year veteran has enjoyed working with Webb.

"It's going good," Bushrod said. "We're both trying to get better day-in and day-out, trying to be more consistent, trying to do the techniques that we're taught. It's going good so far. We're learning. We're fighting to get better every day and it's very encouraging.

"The way this group has been coming together since I've been here, I haven't been here but a few months now, but the guys are working hard and it's good to see and I'm excited about our future."

Bright future: Bushrod has been impressed with guard Kyle Long, the Bears' first-round pick.

"He's a gifted kid," Bushrod said. "He has it physically. Just mentally and getting into this playbook, that's going to come with time. It's not easy. This is not an easy offense to learn. It took me a year or two. Even in the first year I had to start, just knowing where your help is, how to be in the right position, he's learning all of that.

"He's an eager kid that just wants to get better day-in and day-out. He asks me questions, [center Roberto] Garza questions, coach questions. He does the same thing I used to do when I was a rookie. He wants to have success. He's going to be successful. I'm excited about his future."