Sam Acho has been a regular starting outside linebacker in the NFL. But in his first season with the Bears, he knows that he won't earn playing time based solely on his résumé.
"This league is about proving yourself year-in and year-out," Acho said. "I'm on a new team; nobody knows me here. I've got to go out and prove myself. That's what practice is about. That's what games are about. That's what preseason is about.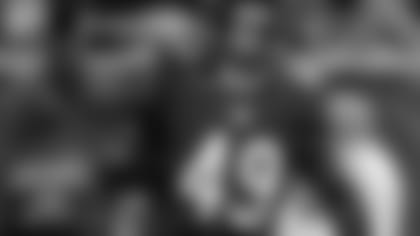 Sam Acho celebrates his fourth-quarter interception Thursday night at Soldier Field.
"You've got to go out there and prove yourself. That's my goal and my mentality as a player and that's our goal as a defense as a unit is to prove ourselves."
Acho accomplished his objective in Thursday night's preseason-opening win over the Dolphins, intercepting a McLeod Bethel-Thompson pass at the Miami 13 and returning it seven yards to the 6 early in the fourth quarter. The pick set up a field goal that enabled the Bears to extend their lead to 20-10 en route to a 27-10 victory at Soldier Field.
Bethel-Thompson unloaded the ball over the middle to avoid being sacked by defensive end Cornelius Washington in the end zone. The pass went directly to Acho, who was dragged down from behind by intended receiver Cobi Hamilton.
"We had some great pressure on the quarterback; that's the biggest thing," Acho said. "The biggest thing about our defense is we've got to create pressure, whether it's pressure on the quarterback or pressure on offensive linemen.
"Cornelius was getting great pressure on the quarterback, the quarterback threw it right to me and I caught it. Next time I've got to score."
Acho was surprised that he didn't score on the play.
"I've got to go back and watch it because as soon as I caught it all I saw was green grass," Acho said. "Those are plays we want to capitalize on and make the most of. We want to turn that from an interception into a scoring play."
Acho signed with the Bears April 1 after spending his first four NFL seasons with the Cardinals after being selected by Arizona in the fourth round of the 2006 draft out of Texas.
Acho appeared in 51 games with 32 starts for the Cardinals, recording 86 tackles, 13 sacks, 16 tackles-for-loss, seven forced fumbles, two fumble recoveries, three interceptions and eight pass breakups.
As a rookie in 2011, Acho played in all 16 games and registered seven sacks, five tackles-for loss and four forced fumbles. After starting all 16 contests in 2012, Acho was limited to three games in 2013 due to a broken leg. Last year the 6-3, 257-pounder appeared in all 16 games with four starts, compiling 21 tackles, one sack, one interception and four tackles-for-loss.
Acho, who has been working with the No. 2 defense this summer, believes that his interception Thursday night against the Dolphins will help him in more ways than one.
"Making plays is a confidence-builder," Acho said. "I'm on a new team with new coaches and new players. You've got to make a first impression, so though it is preseason this game helped me build my confidence and I think it's helping other guys have confidence in what I do."