Bears outside linebacker Sam Acho visited Woodland Intermediate School in Gurnee Tuesday in recognition of the school's success in the Bears Football for Heart program.  
To congratulate the students for reaching their fundraising goals, Acho participated in two assemblies that included a Q-&-A session and a fitness activity. Woodland Intermediate was the top fundraising school during the 2014 Bears Football for Heart program, which raised over $123,000 for the American Heart Association.
Through a partnership between the Chicago Bears and the American Heart Association (AHA), Bears Football for Heart is available to Illinois schools. This program combines a football skills event with an in-school campaign to educate students about heart health and the importance of taking care of their bodies through good nutrition and getting at least 60 minutes of physical activity each day. The program also promotes community service by raising funds for the AHA.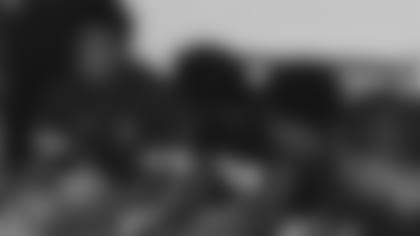 Bears running back Jeremy Langford chats with students at Julian High School in Chicago.
School Outreach:
Cornerback Kyle Fuller (Douglass), outside linebacker Lamarr Houston (Bowen), running back Jeremy Langford (Julian) and tackle Charles Leno Jr., Jr. (Harper) all visited Chicago high schools Tuesday in support of the Bears School Outreach program.  
During the football season and through a partnership with Youth Guidance, Chicago Bears players visit Chicago Public Schools to speak to, motivate, and interact with students who are part of the B.A.M (Becoming a Man) and W.O.W. (Working on Womanhood) programs.  
The B.A.M. program focuses on six core values: integrity, accountability, self-determination, positive anger expression, visionary goal-setting and respect for womanhood. W.O.W. focuses on five core values: self-awareness, emotional intelligence, healthy relationships, visionary goal-setting and leadership. The Bears School Outreach Program is in its 18th season and is brought to you by the University of Phoenix, the Official Education Partner of the Chicago Bears.
Giving thanks: In honor of Veterans Day and in preparation for Thanksgiving, Miller Lite, the Chicago Bears and Jewel-Osco are partnering with the Road Home Program: The Center for Veterans and their Families at Rush University Medical Center to distribute Thanksgiving meals to 500 military families in Chicago.  
Bears alumni players Tom Thayer, Jay Hilgenberg, Alex Brown and Rashied Davis were at Jewel-Osco (1340 S. Canal St.) in Chicago Tuesday to help distribute turkeys and visit with veterans and their families.  Participating families received a turkey, canned goods, potatoes, stuffing and a $20 Jewel-Osco gift card.  The Road Home program worked with partner organizations in the community, including the USO of Illinois and the Department of Veterans Affairs to identify military families who would benefit from the Thanksgiving meals.