After digesting the Bears schedule, here are three things that stood out to me:
1) No NFL team has a more difficult first quarter of the season than the Bears.
Back in high school I showed up for the first day of basketball conditioning thinking there'd probably be a brief introductory meeting followed by some light jogging as a way to ease into the program. Instead, we were required to run four miles. For a week, it felt like I got hit by a bus.
The Bears certainly can empathize with that scenario, thanks to the NFL schedule-makers. They'll open the season against the high-powered defending NFC champion Falcons, who figure to be in a surly mood in their first game since blowing a 25-point lead in the Super Bowl.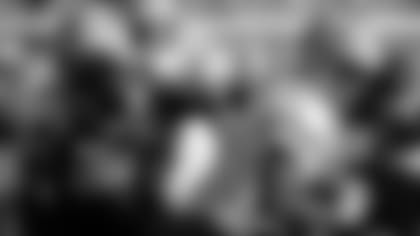 Bears defensive lineman Akiem Hicks sacks Packers quarterback Aaron Rodgers last season.


The Bears will then travel to Tampa, where they got drubbed 36-10 by the Buccaneers last November, before facing a pair of defending division champions in a five-day stretch in the Steelers at Soldier Field and the Packers at Lambeau Field on Thursday Night Football.
Looking to rebound from last year's 3-13 record won't be easy for the Bears, who are the only NFL team that will open its season by playing four straight opponents that had winning records in 2016. Three of those teams—the Falcons (11-5), Steelers (11-5) and Packers (10-6)—won their respective division titles and combined for a 32-16 record.
The situation is similar to John Fox's first season as coach in 2015 when the Bears opened 0-3 with losses by a total of 59 points to the Packers, Cardinals and Seahawks—three teams that had combined for a 35-13 record the previous season.
With their fifth and sixth games against teams that went 8-8 last year in the Vikings and Ravens, the Bears won't face an opponent that had a losing record last year until Week 7 when they host the Panthers at Soldier Field Oct. 22.
2) The NFL doesn't think the Bears are prime-time players.
The league likes to showcase its top teams in nationally-televised games—especially clubs with big fan followings such as the Bears and those in large television markets like Chicago. As a result, the Bears usually are well-represented on the prime-time schedule. Even last year when they were coming off a 6-10 season, they played four of their first eight games at night.
This season, however, the Bears are only scheduled to play two prime-time contests—Sept. 28 against the Packers in Green Bay on Thursday Night Football and a week later Oct 9 versus the Vikings in Chicago on Monday Night Football. This year marks the first time the Bears will not appear on Sunday Night Football in 17 years, though nine of their 13 Sunday afternoon games are eligible to be flexed from noon into primetime.
This season the Chiefs play the most prime-time games among NFL teams with six, including four in a five-week span from Weeks 4-8. The Steelers play four straight prime-time contests in Weeks 11-14. At the opposite end of the spectrum, the Browns and Jaguars are the only clubs that have no prime-time games scheduled.
For nine consecutive seasons from 2006-14, the Bears played either four or five prime-time games each year. They had just two in 2015 and then had four in 2016.
3) Quarterback Mike Glennon should be familiar with the Bears' first two opponents.
Glennon signed with the Bears after spending his first four NFL seasons with the Buccaneers. Chicago's presumptive starting quarterback will see his old team in Week 2 after opening the season against a team he's had success against in the Falcons. In four career games versus Atlanta, Glennon has completed 71.6 percent of his passes for 683 yards with six touchdowns, no interceptions and a 109.2 passer rating.
Despite receiving a lucrative offer from the Buccaneers to remain their backup behind Jameis Winston, Glennon opted to pursue an opportunity to start with the Bears.
Glennon was selected by Tampa Bay in the third round of the 2013 draft out of North Carolina State. After the Buccaneers opened 0-3 in 2013, he replaced Josh Freeman and started the final 13 games, connecting on 59.4 percent of his passes for 2,608 yards with 19 TDs, nine interceptions and an 83.9 rating.
When Lovie Smith became Tampa Bay's head coach in 2014, he installed newly-signed free agent Josh McCown as the starter, relegating Glennon to backup duty. After McCown was sidelined with a thumb injury, Glennon played in six games with five starts, passing for 1,417 yards with 10 TDs, six interceptions and an 83.3 rating. He remained in the No. 2 role the past two seasons after the Buccaneers chose Winston with the No. 1 overall pick in the 2015 draft.