New Bears defensive end Jared Allen, who played for the Vikings the past six seasons, returned to Minnesota last Thursday for a very special occasion.
The five-time Pro Bowler was in Minnetrista, Minn., to break ground on a new handicap-accessible home for Marine Corporal Colin Faust, who was badly injured while serving in Afghanistan in 2010. Faust reportedly lost his left leg and suffered severe injuries to his right leg and left arm after stepping on an improvised explosive device (IED).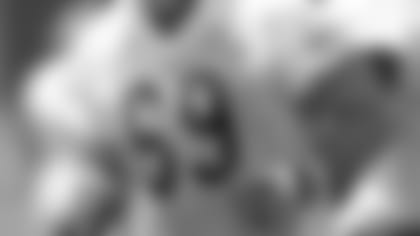 Jared Allen
Allen's Homes for Wounded Warriors Foundation regularly provides financial assistance to help convert injured veterans' homes into handicap-accessible structures, but this is the first time the organization is building a handicap-accessible home from the ground up.
"It's an incredible feeling that someone has the heart and generosity to take their fame and wealth and do something for good," Faust told KSTP-TV in Minneapolis.
Allen created Homes for Wounded Warriors in 2009 after returning home from a USO trip to U.S. military bases in the Middle East. According to his website, he was moved by the commitment, dedication and sacrifices that American soldiers make and wanted to say thank you to them by doing something to make their lives easier once they returned home.
Allen comes from a military family; his brother, father and two uncles have served in the Marines and Air Force.
Allen's Homes for Wounded Warriors foundation is also teaming up with the Army Ranger Lead the Way Fund to purchase, remodel and donate a handicap-accessible home in Gilbert, Arizona, to wounded war veteran, Army Ranger Sergeant First Class (SFC) Cory Remsburg.
Remsburg joined the Army when he was 18. He went through rigorous and specialized training to become an elite Army Ranger, and was deployed to Iraq and Afghanistan 10 times. He spent a total of 39 months in combat and was eventually promoted to be the leader of his company's heavy weapons squad.
In 2009, Remsburg and his platoon hit a roadside bomb in Kandahar, Afghanistan, and the explosion nearly killed him. He was found face down with shrapnel lodged in his brain. Remsburg was in a coma for more than three months. After undergoing dozens of surgeries, he is still blind in his right eye and is partially paralyzed on his left side. After years of rehabilitation centers and hospitals, Remsburg now lives at home with a full-time caregiver in Phoenix.
Modifications to Remsburg's home will include widening of all doorways, installation of all new appliances and fixtures in the bathrooms and kitchens as well as new flooring. The house will also include a large gym for his extensive rehab, a guest home for his live-in caregiver, an automated home control system and a wheel-in pool for underwater rehabilitation with a therapeutic Jacuzzi.