When Jared Allen stepped on the practice field in Bourbonnais for the first time Friday, the Bears' lack of success on defense last season was the furthest thing from his mind.
"The fans and the media want to talk about what happened last year," said the five-time Pro Bowl defensive end. "I wasn't here last year, so to me that doesn't matter."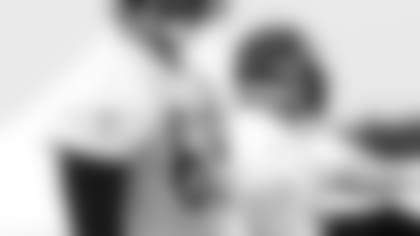 Jared Allen runs through drills in his first training camp practice with the Bears.
What does matter to Allen is the 2014 Bears defense, and he sees a revamped unit that possesses all of the necessary ingredients to rebound from last year's debacle. Decimated by injuries in 2013, the Bears allowed the most points (478), total yards (6,313) and rushing yards (2,583) in team history.
"I know how things can change in one year," said Allen, who signed a four-year contract with the Bears in March. "I've been a part of really good defenses and I honestly believe that we have those components. As long as guys continue to grow and develop and understand how each other work and the coaches continue to let us work within our scheme, we'll be fine."
The Bears defense that outperformed the offense on the first day of training camp Friday hardly resembles the unit that stumbled in the final two games last season with a playoff berth on the line. The Bears allowed 87 points in dropping those contests to the Eagles and Packers.
Two perennial Pro Bowlers in linebacker Lance Briggs and cornerback Charles Tillman are back at full strength from injuries, as are linebacker D.J. Williams and defensive tackle Nate Collins.
And they've been joined by a slew of newcomers who were acquired during a busy and productive offseason. Free agent additions include ends Allen, Lamarr Houston and Willie Young; and safeties Adrian Wilson, Ryan Mundy, M.D. Jennings and Danny McCray.
The Bears also spent their first three and four of their first five draft picks to bolster their defense, selecting cornerback Kyle Fuller in the first round, defensive tackle Ego Ferguson in the second, defensive tackle Will Sutton in the third and safety Brock Vereen in the fourth.
"We've got a mixture of young guys [and] quality vets, we've got Pro Bowl guys, we've got guys right on that precipice of exploding," Allen said. "It's exciting to see the talent level we've got."
With second-year defensive coordinator Mel Tucker changing the scheme—specifically in regard to terminology, alignments and techniques—every defensive player will start 2014 with a clean slate.
"Everybody's just kind of growing together," Allen said. "They're excited to get out there and play ball. I think everybody sees the ability and what we have on paper. But that doesn't necessarily mean anything. You've got to go out and you've got to make it happen."
It's clear that Allen—whose 128.5 sacks in 10 seasons are the most by any player since he entered the league—will help make that happen, even if he isn't the rah-rah type in the huddle.
"Jared's very consistent," said coach Marc Trestman. "He's a very likeable guy in the locker room. He's a fun guy to have a conversation with. When he's out here [on the field], you don't hear him, you see him. And he's working. We're very excited to have him with us. He's been a tremendous addition in our locker room and we're hopeful it'll translate to the field and the games as well."
Allen confirmed that he intends to lead by example.
"You're a leader by what you do," he said. "I've had success in this league, so for me it's nothing I want to say to a guy. I'm going to encourage a guy. I'm going to help young guys out if they want it. But the way I'm going to lead is I'm going to show up to work and I'm going to put my best on the field and I'm going to expect the guy next to me to be his best."