An NFC North rival for the past six seasons, defensive end Jared Allen was ecstatic to practice for the first time with the Bears Tuesday as they conducted the first of 10 OTA workouts.
"I think change is good if you allow it to be good," said the five-time Pro Bowler. "It definitely energizes you."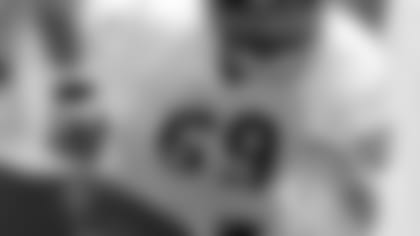 Jared Allen runs through a drill Tuesday in the Bears' first of 10 OTA practices.
One of the NFL's most prolific pass rushers, Allen signed with the Bears on March 26. The 6-6, 270-pounder has recorded 128.5 sacks in 10 seasons with the Chiefs (2004-07) and Vikings (2008-13), the most by any player since he entered the league and the 12th most in history.
"Minnesota was heading into a different direction than I thought my career, my life, my path is going, so I made the decision not to go back there," said Allen, who visited the Seahawks before signing with the Bears. "I had options. When I looked at the total equation, this was a place where I can be a part of something great."
A four-time first-team All-Pro, Allen has averaged 14.5 sacks over the past seven seasons, never registering fewer than 11 during that span. Last season he compiled 11.5 sacks, 52 tackles, 13 tackles-for-loss, six pass deflections and two forced fumbles.
Although his Hall-of-Fame-caliber production speaks for itself, Allen admitted Tuesday that as he joins the Bears, he's motivated more than anything by a fear of failure.
"I don't want to be that guy who they feel like 'we shouldn't have got him,'" Allen said. "When I signed, I wasn't going to be that guy that wasn't worth the money. My motivation to be the best at what I do is a self-motivation; it's probably more of a fear of failing than it is necessarily striving to be the best.
"I just want guys, when I leave this league, I want them to say, 'he did it the right way, he gave everything he had, and not one day he was stealing checks.' So that's what motivates me; that's what energizes me."
Allen feels that he's primed for a big season and is eager to prove himself to his new teammates and coaches.
"I got a full year now of training off my shoulder injury—last year I couldn't start working out until May—so I'm healthy," Allen said. "I feel good. Again, it's exciting. There are new people. Even though you've played against these guys, you are trying to prove yourself to the coaching staff and your teammates to let them know they can trust my day-to-day habits and that I'll be ready to play on Sunday."
As he practices for the first time with the Bears, Allen is busy translating the defensive terminology into what he's accustomed to and digesting the language of the playbook.
"A lot of it is the same stuff I've done; it's just different terminology, so mirroring those is big for me right now," he said.
Allen is working closely with defensive coordinator Mel Tucker and defensive line coach Paul Pasqualoni while also trying to build cohesiveness with other linemen such as tackles Stephen Paea and Jeremiah Ratliff and end Lamarr Houston.
While Allen is willing and eager to share his knowledge of the game with younger teammates, he isn't trying to become a vocal leader on the Bears defense.
"I try to lead by example," Allen said. "I know I have a reputation for being outspoken, but I'm really not. I'm really not a rah-rah guy. I'm not afraid to call a guy to the carpet because I expect accountability. I think as pros we all should expect accountability from each other. But I didn't come here to take over leadership.
"I didn't come here because I thought they needed a figurehead on the defense. I came here to be a part of something. So for guys like Lance [Briggs] who have been here, guys like Peanut [Tillman], they're leading by example and that's what I want to do. I'm going to go out there and work hard every day and I'm going to study hard and make sure guys see me doing the right things."