New Bears defensive end Jared Allen opened his introductory press conference Monday at Halas Hall by saying that he's excited to join an organization with so much tradition and history.
But that's not the only reason that Allen agreed to terms on a four-year deal last Wednesday. With a potent offense and a defense that has been bolstered by multiple free-agent signings, he believes that the Bears are capable of contending for a Super Bowl championship.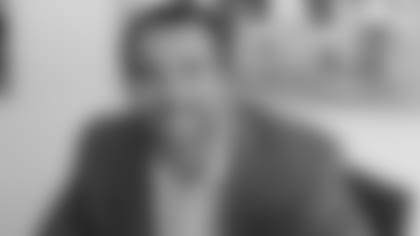 New Bears defensive end Jared Allen signs his contract Monday at Halas Hall.
"In the NFL, as players all we ask for is a chance to win every game you're in," Allen said. "I've been on teams where we didn't have that chance and those are tough times to struggle through. My excitement comes with being here and knowing that there are going to be opportunities to play some great defense and opportunities to win multiple games."
Allen joins the Bears after spending his first 10 NFL seasons with the Chiefs (2004-07) and Vikings (2008-13). His 128.5 career sacks are the most by any player since he entered the league. The 6-6, 265-pounder from Idaho State has averaged 14.5 sacks over the last seven years.
A five-time Pro Bowler, Allen led the NFL in sacks with 15.5 in 2007 and 22 in 2011. He has also been incredibly durable, starting all 16 games each of the past six seasons.
Bears general manager Phil Emery described Allen Monday as a relentless, high energy player who has been successful in all areas of his life and has grown through his time in the NFL.
"It's great to have him join us," Emery said. "We're very excited about what he's going to add to our group and our effort to continue towards our goal of winning championships."
The path to achieve that objective has been crystal clear. Since the start of free agency, 12 of the 13 players Emery has signed play on defense. Last season the Bears ranked second in the NFL in scoring but allowed the most points, total yards and rushing yards in franchise history while also tying for last in the NFL in sacks.
Allen said that he's excited about teaming with defensive tackle Jeremiah Ratliff, a four-time Pro Bowler with the Cowboys who appeared in the final five games with the Bears last season.
"I've seen what he can do in Dallas, and when he's healthy he's an absolute beast in the middle," Allen said. "I've had the fortune of playing with Pat and Kevin Williams [in Minnesota] and he's up there on that level with them.
"What he can do from the nose tackle spot or the three-technique spot, not only in the run game but the pass rush game, it's huge. To have a guy that can consistently get three or four yards deep, the quarterback's got one way to go, to me or him."
Allen called linebacker Lance Briggs "an absolute monster" and also mentioned cornerbacks Charles Tillman and Tim Jennings as well as new Bears defensive ends Lamarr Houston and Willie Young, both of whom signed with the team this month as free agents.
"Everybody thinks that defensive ends and d-linemen, all we want to do is rush the passer," Allen said. "Well, I come from a long line of thinking that you have to earn the right to rush the passer. So we're going to get after it in the run game. We're going to be a vaunted Bears defense again and it's going to start with us up front. It's going to start with that front seven."
Allen is just as excited to join a team that boasts such a potent offense, led by quarterback Jay Cutler. Last season the unit established single-season team records for total yards, passing yards, passing touchdowns, completion percentage, passer rating and first downs.
"I know what it takes to prepare for this offense, and it [stinks]," Allen said. "Jay is crazy good with what he can do inside the pocket. People talk about [the Steelers' Ben] Roethlisberger; how he can extend plays. I think Jay is probably the tops in pocket presence of just making it hard to rush against. Chicago was always in my top-five short list because they have a quarterback, they have an offense.
"I've played against this offense enough to know that it's very potent and deadly, so I'm excited to be here. It's a cool feeling when you go into an offseason knowing you have a chance to win."