The following is the sixth of nine position previews in advance of training camp.
The Bears defensive line that will report to training camp next week in Bourbonnais will bear little resemblance to the one that spent last summer at Olivet Nazarene University.
General manager Phil Emery revamped the unit during the offseason, signing veteran ends Jared Allen, Lamarr Houston and Willie Young in free agency and selecting tackles Ego Ferguson and Will Sutton in the second and third rounds of the draft, respectively.
"We all know that in order to have a great defense, it starts with the defensive line," said defensive coordinator Mel Tucker. "So there's been a lot of focus there."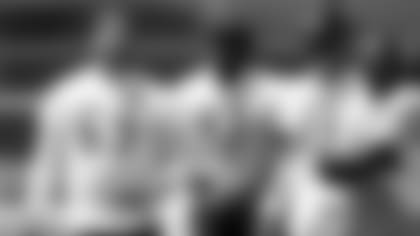 Jared Allen has recorded 128.5 sacks in 10 NFL seasons, the most by any player since he entered the league.
Allen has recorded 128.5 sacks in 10 NFL seasons with the Chiefs (2004-07) and Vikings (2008-13), the most by any player since he entered the league and the 12th most in history.
The 6-6, 265-pounder led the NFL in sacks in 2007 and 2011, when he recorded 22, just half a sack shy of Michael Strahan's single-season league record.
A five-time Pro Bowler who has been voted first-team All Pro four times, Allen has averaged 14.5 sacks over the past seven seasons, never registering fewer than 11 during that span. In 2013, Allen compiled 11.5 sacks, 52 tackles, 13 tackles-for-loss, six pass deflections and two forced fumbles.
Allen has also been extremely durable, starting all 16 games each of the past six years and never playing in fewer than 14 games in any season since entering the NFL.
"He's done a fantastic job so far," Tucker said during minicamp in June. "He's a real pro. When he practices, he practices at a high level. He's good in the classroom. He leads by example."
Houston signed with the Bears on the first day of free agency in March after spending his first four NFL seasons with the Raiders. The 6-3, 302-pounder appeared in all 64 games with 60 starts in Oakland, recording 226 tackles, 16 sacks, one interception, five passes defensed, 37 tackles-for-loss, four forced fumbles and six fumble recoveries.
Last season Houston started all 16 games for the second straight year, establishing career highs with 69 tackles and six sacks while also compiling two forced fumbles and one fumble recovery.
Allen and Houston have helped change the personality of the Bears defensive line.
"It's a salty group," Tucker said. "We're putting a premium on toughness and being rugged and being stout, and having tremendous anchor in our d-line and being able to control blockers.
"In order to do that, you have to be tough and you have to be physical. It's the trenches. That's what we're looking for and that's what we have with those guys and that's just the way it's got to be in the front with those guys. You can't play any other way in the front; if you don't have tough guys in there who are willing to scrap and fight and toss guys around to win one-on-ones."
Young spent the past four seasons with the Lions, recording 72 tackles, six sacks, 11 tackles-for-loss, seven pass breakups and two fumble recoveries. The 6-4, 251-pounder started for the first time last season, opening 15 of 16 games and establishing career highs with 47 tackles, three sacks, seven tackles-for-loss, five pass breakups and two fumble recoveries.
Others who will compete for reserve positions at end include second-year pro David Bass, veterans Austen Lane and Trevor Scott, and 2013 sixth-round pick Cornelius Washington. Bass showed promise as a rookie last year after being claimed off waivers from the Raiders.
It appears that the leading candidates to start at tackle are Jeremiah Ratliff and Stephen Paea, both of whom were bothered by injuries last season.
Ratliff joined the Bears last November and appeared in the final five games with four starts, compiling 14.5 tackles, 1.5 sacks and one tackle-for-loss.
It was his first action in over a year. The 6-4, 293-pounder underwent groin surgery in December 2012 when he was with the Cowboys and then injured his hamstring during a conditioning test at the start of training camp. He opened the 2013 season on Dallas' physically unable to perform list before being released Oct. 16.
Ratliff spent his first eight NFL seasons with the Cowboys after being selected by Dallas in the seventh round of the 2005 draft. After starting all 16 games and being voted to the Pro Bowl for four straight seasons from 2008-11, Ratliff was slowed by injuries.
Draft picks Ferguson and Sutton will also get the opportunity to earn playing time at tackle in training camp and the preseason. In his only season as a starter at LSU last year, Ferguson compiled 58 tackles, 3.5 tackles-for-loss and one sack.
Sutton was named Pac-12 defensive player of the year each of the past two seasons. He was dominant in 2012, recording 64 tackles, 23.5 tackles-for-loss and 13 sacks. After bulking up last year, Sutton's stats declined. But he's back close to the same playing weight he was in 2012.