CLEVELAND — Battling for the No. 3 running back position, Armando Allen showed his versatility on offense and special teams in Thursday night's 28-20 preseason win over the Browns.
The second-year pro from Notre Dame led all players on both teams in rushing with 83 yards on 16 carries as well as receiving with five receptions for 51 yards and one touchdown. Allen also generated a takeaway by forcing a fumble on a Browns punt return.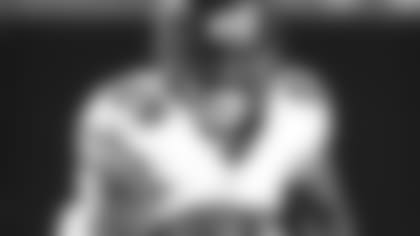 Armando Allen
"There were a lot of things I could have done better, but that's just me being my biggest critic," Allen said. "Overall, I think I had a pretty good game."

Allen's TD reception came when he lined up wide left and caught a Josh McCown slant pass for an 11-yard score. Allen had catches of 18 yards on third-and-nine and 13 yards on third-and-six on the Bears' first possession of the game before Robbie Gould missed a 35-yard field goal attempt.

Asked if he felt like he did everything he could to prove he deserves a spot on the Bears' 53-man roster, Allen said: "I feel like I did everything I could tonight to help our team win. That was the most important thing for us; to finish out on a good note. Tonight wasn't really about me."

Running back Lorenzo Booker also had a productive game, rushing for 81 yards on 15 carries and catching four passes for 16 yards before exiting in the fourth quarter with a head injury.

"I thought Booker and Allen both stepped up and made play after play when they got an opportunity to," said coach Lovie Smith.

Stepping up: Receiver Dane Sanzenbacher also made the most of extended playing time, giving the Bears a 7-0 lead with a one-handed 30-yard touchdown reception from McCown. The former Ohio State star caught the ball with cornerback Trevin Wade draped all over him.

"Typical Dane," Smith said. "He's got good hands, so you expect him to make some plays. Whenever you have a chance to come back home, being a Buckeye and all, I know it's special for all the players when you get a chance to play in front of people that saw you play growing up. Dane's a good football player. He's been like that since we brought him in last year."

Asked if making a remarkable one-handed TD catch was part of his plan to cement a roster spot, Sanzenbacher joked: "Yeah, we had talked about that before the game and we figured we might as well do it now in the last preseason game because I might not get another shot."

Turning serious, Sanzenbacher added: "I'm not sure how the whole situation works. I'd like to think that the coaches have 90 percent of the roster made up in their minds at least before this game. But it's nice to come in and give them that extra push and keep that thought in their mind and go out there and make plays."

![](http://bit.ly/U4CFJv)Proving it: Punter Ryan Quigley excelled for the second straight game. The undrafted rookie placed three of four punts inside-the-20, pinning the Browns at their own 7 and 6 in the first half. In addition, Quigley alertly recovered a Browns fumble on a punt return in the fourth quarter.

In last Friday night's win over the Giants, the Boston College product averaged 43.6 yards and placed three of seven punts inside-the-20 while filling in for injured veteran Adam Podlesh.

"You talk about taking advantage of your opportunities," Smith said. "Last week on the national stage he really stepped up and did a great job. He's been doing it in practice and he did it again tonight."

Flying high: Undrafted rookie safety Jeremy Jones set up the Bears' first touchdown by leaping over receiver Jordan Norwood to intercept a Colt McCoy pass in the first quarter.

"That was a great pick by him early in the game," Smith said of the Wayne State product.

Jones showed humility when asked about the interception, saying: "I was out there just playing the coverage the coach called and reading my keys. I just happened to be in the right place at the right time, just playing football."