The Bears' trade of Jared Allen to the Panthers Monday is expected to create more opportunities for outside linebackers Sam Acho, Lamarr Houston and Willie Young.
"We'll roll those guys in there," said defensive coordinator Vic Fangio. "I think Sam will play a good bit of the base stuff and then Lamarr, Willie, Pernell [McPhee] and then Sam [will be] in the mix to play the sub stuff."
In last Sunday's loss to the Seahawks, McPhee played 48 of 63 defensive snaps (75 percent), the most of any Bears outside linebacker. Acho was on the field for 31 plays (48 percent), followed by 30 for Allen (47 percent) and 24 for Houston (38 percent). Young was a healthy scratch.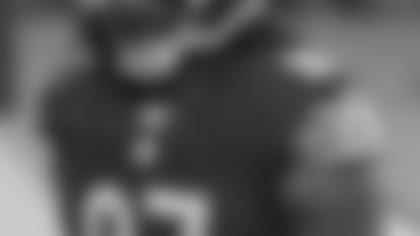 Outside linebacker Willie Young
Acho signed with the Bears in April after spending his first four NFL seasons playing in a 3-4 defense with the Cardinals. The Texas product appeared in 51 games with 32 starts for Arizona, recording 86 tackles, 13 sacks, 16 tackles-for-loss, seven forced fumbles, two fumble recoveries, three interceptions and eight pass breakups.
As a rookie in 2011, Acho played in all 16 games and registered seven sacks, five tackles-for loss and four forced fumbles. After starting all 16 contests in 2012, he was limited to three games in 2013 due to a broken leg. Last year Acho appeared in all 16 games with four starts, compiling 21 tackles, one sack, one interception and four tackles-for-loss.
"He's had the most experience playing in this type of defense," Fangio said, "so he's picked it up fast and is very comfortable in what we are doing and is very knowledgeable and does a solid job when he's out there."
The Bears are pleased with the progress being made by Houston, who is rebounding from a torn ACL he sustained last Oct. 26 in a loss to the Patriots.
"He's coming," Fangio said. "I think that people forget he's coming off an ACL and it takes time with those. Sometimes it takes over a year to get it back right and he's learning a new position, so it's just going to take time. But I believe it will come for him."
Just 11 months removed from the injury, Houston is thrilled with how far he's come.
"I'm very happy where I am," he said. "I've made a lot of progress to this point. I've put in a lot of work and I've had the coaches and everybody support me."
Houston insists that he isn't looking at Allen's departure as a chance to get more playing time.
"I appreciate Jared being here, what he's taught us while he was here," Houston said. "We have a lot of respect for that guy. He's a future Hall of Famer. As far as opportunities, I don't look at it as more opportunities. When you get your chance, that's an opportunity. Right now I'm just thinking about working to get better along with the rest of the people in our room."
While Houston lined up in a 3-4 defense with the Raiders before joining the Bears last year, Young had played strictly in 4-3 schemes with the Lions and Bears prior to this season. As a defensive end in his first year in Chicago in 2014, he led the team with a career-high 10 sacks.
Young is trying to learn a new position after missing the entire offseason while recovering from a torn Achilles' tendon he suffered last Dec. 21 in a loss to the Lions. Getting more playing time following the Allen trade figures to help accelerate Young's development.
"It should help it a lot," Fangio said. "It obviously cleans it up a little bit. You can only play five guys in two spots so many times, so it should help. Hopefully with the opportunity, he'll flourish."
Asked what Young needs to do to be as productive as he was last season, Fangio said: "He's got to be more consistent and not only just rush the passer, but he's got to be able to play everything else that's involved with it. When they run the ball, execute all the assignments that he has in any particular defense. He's got to get better at that."