Having watched Willie Young as an NFC North opponent, fellow defensive end Jared Allen isn't surprised that his new Bears teammate is having a breakout 2014 season.
In his first year in Chicago, the 6-4, 251-pounder has recorded a team-high eight sacks through 10 games after compiling just six sacks in 48 games over four seasons with the Detroit Lions from 2010-13.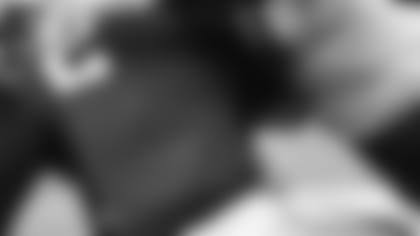 After showing flashes with the Lions, Willie Young has recorded eight sacks in 10 games in his first season with the Bears.
"When Willie was with Detroit you could see he had talent," said Allen, who played for the Minnesota Vikings from 2008-13. "To have that kind of length is very rare. I said, 'Once he figures out how to use his body and how to use that length, he's going to be deadly,' and he has been."
In their first season as teammates, Allen has been impressed with Young's work ethic.
"You just see the kind of energy he plays with," Allen said. "He's worked tirelessly on techniques with the coaches this year. You can really see his handwork and his footwork. When I first got here he was asking questions and having conversations. He's a heck of a teammate.
"I told him at the beginning of the year, 'You're a 10 sack-a-year guy, hands down,' and he's shown it. The guy's resilient. He's processing information. Obviously I don't know how he processed information in Detroit. I just always knew that he was a talent. He presents problems to people because of how long he is."
Fond memories: With the Bears hosting former coach Lovie Smith and the Buccaneers Sunday at Soldier Field, linebacker Lance Briggs on Wednesday reflected on playing for Smith from 2004-12.
"It was fun to be around Lovie, especially as you got to understand his personality," Briggs said. "Back in '04, he just challenged me all the time. It was always, 'Lance, you're not going to make that play, Derrick Brooks can make that play, the real '55' can make that play.'
"As I started making more and more of the plays and the years kind of went on, his tune really changed and it was always, 'I know where Lance will be, I know Lance is going to make that play, so that's not a worry for me.' And that was earned. That amount of respect from him to me was earned and that goes for all the guys that were in that room."
Adding accountability: The Bears defense held a players-only meeting last week that—according to defensive end Jared Allen—was defensive coordinator Mel Tucker's idea.
"It really wasn't a big deal," Allen said. "Mel approached me about it and he wanted to give us an opportunity to take over as leaders and add some accountability to the defense. It wasn't anything that was brought up out of spite. He approached me about it. I said I thought it was a good idea. It's a good way for guys to understand what each group is doing. It's just another way to hold each other accountable and to build off things and create communication."
The Bears followed with their best defensive performance of the season in a 21-13 win over the Minnesota Vikings.
"We talked last week about everyone needing to do more; players and coaches together just looking to take it up a notch," Tucker said. "I think [the meeting] was an effort on their part to take some extra time together as a unit. I thought that was a positive. I think it paid off for us."
Kudos to Vikings: Speaking to the media Wednesday for the first time since last Sunday's victory, special teams coordinator Joe DeCamillis credited Vikings coach Mike Zimmer for calling a fake punt that resulted in a 48-yard run, setting up a touchdown.
"It was a great call," DeCamillis said. "I could've helped with a better call from the standpoint of a personnel call, but other than that it was a great call. I've got to give him credit. He's definitely made the notebook, I can tell you that."