It's been a somber few weeks for the freefalling Bears, especially since they endured one of the most embarrassing losses in franchise history Sunday night in Green Bay.
But defensive end Jared Allen still has faith that the embattled team can rebound from a disastrous three-game losing streak during which they've been outscored 94-7 in the first half.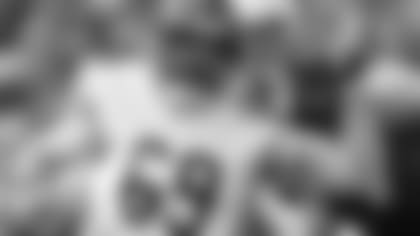 Bears defensive end Jared Allen rushes the passer during as Week 8 loss to the New England Patriots.
"I think we've got a good team," said Allen, who signed with the Bears in March after 10 seasons with the Chiefs and Vikings. "I came here for a reason and I still believe in this team and I still believe in what we have and I still believe in what we can accomplish.
"It comes down to putting the work in and just keep sawing wood, keep sawing wood, keep sawing wood. I believe that God puts you through adversity to prepare you for something in the future, and that's the way I look at it. So I'm going to come to work, I'm going to smile, I'm going to keep sawing wood and I'm going to do what I've got to do to help our team win."
The Bears (3-6) have lost five of their last six games to fall into last place in the NFC North. As they prepare for Sunday's home game against the Minnesota Vikings, they no doubt will try to learn from what transpired in last weekend's 55-14 debacle at Lambeau Field.
Aaron Rodgers tied an NFL record by throwing six touchdown passes in the first half as the Packers raced to a 42-0 halftime lead, the second largest halftime margin in NFL history.
"It was very disappointing for everyone that was involved, players and coaches," said defensive coordinator Mel Tucker. "We were not prepared enough and our effort and everything we do needs to be better. There was nothing that was good enough, and regardless if we thought we were ready going onto the game, we need to make sure we are even more ready going into this next game."   
As you would suspect, there are several areas the Bears must improve after they followed a 51-23 loss in New England Oct. 26 with a 41-point shellacking in Green Bay.
"We need to challenge balls better," Tucker said. "We need to get a better, more consistent pass rush. We've got to do a better job in man and we've got to do a better job breaking on the ball in zone. We've got to do a much better job of recognizing play action. Those are four or five things right there that will improve our pass rush."
Although football is a team sport, it's up to each individual to look in the mirror and figure out how to help solve the problem. That's especially true after the Bears became only the second NFL team and first since the Rochester Jeffersons in 1923 to allow at least 50 points in back-to-back games.
"It's finding something that you can do better," Allen said. "It's finding a way to improve yourself to help the team. If everybody takes that action, we'll get better."
"When you are not having success, everyone has got to take it up a notch and everyone needs to step up and do better; coach better, play better, practice better," Tucker added. "Our practice tempo, execution and intensity, all of that has to go up a notch or two or three."
Despite the disturbing performance against the Packers, Tucker said Wednesday that the Bears plan on starting the same 11 players on defense Sunday versus the Vikings.
"We are going to go in with the group that started that game and we need to get them better," Tucker said. "They need to play better; we need to coach them better. Everything we do this week is to be able to get that done.
"The answers are in our building. They are in our meeting room. They are on the practice field. They are within each individual player and each individual coach. That's where the answers are. That is where we've got to find them."