New Bears defensive end Jared Allen has been voted the 68th best player in the NFL in a poll of league players conducted by NFL Network.
The five-time Pro Bowler was featured on Wednesday night's episode of "The Top 100 Players of 2013," which unveiled players ranked Nos. 61-70.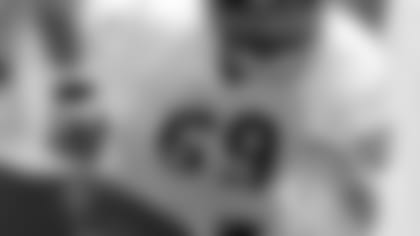 Jared Allen
"He's a high-motor guy," said recently-retired New York Giants tackle David Diehl. "He's a guy who plays snap to whistle. A lot of his sacks are just from him going in and attacking things from the backside, continuing to play relentless."
Allen has recorded 128.5 sacks in 10 NFL seasons with the Chiefs (2004-07) and Vikings (2008-13), the most by any player since he entered the league and the 12th most in history.
The 6-5, 265-pounder led the NFL in sacks in 2007 and 2011, when he recorded 22, just half a sack shy of Michael Strahan's single-season league record.
Allen has averaged 14.5 sacks over the past seven seasons, never registering fewer than 11 during that span. In 2013, Allen compiled 11.5 sacks, 52 tackles, 13 tackles-for-loss, six pass deflections and two forced fumbles.
Allen has also been extremely durable, starting all 16 games each of the past six years and never playing in fewer than 14 games in any season since entering the NFL. In 157 career games, he has also compiled 558 tackles, five interceptions, 29 forced fumbles, 17 fumble recoveries, 51 pass deflections and four safeties, tied for the most in NFL history.
"It seems like every time you need somebody to make a play, like a big sack to get the ball back in a critical situation, he usually comes through," said Minnesota Vikings fullback Jerome Felton. "He's got to be a top-five defensive end in the league still and I don't see him slowing down."