MINNEAPOLIS, Minn. — Just when it seemed like Alshon Jeffery had reached the apex of his jump on a third-quarter play Sunday against the Vikings, the Bears receiver soared even higher.
Jeffery skied over Minnesota cornerback Chris Cook to haul in a 46-yard touchdown pass from Josh McCown in the left corner of the end zone, giving the Bears a seemingly safe 20-10 lead. His team ultimately lost the game 23-20 in overtime, but it certainly wasn't because of Jeffery.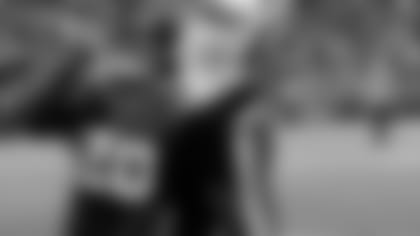 Alshon Jeffery leaps over cornerback Chris Cook to catch a 46-yard TD pass in Sunday's loss to the Vikings.
The second-year pro caught 12 passes for 249 yards and two touchdowns. In the process, Jeffery broke his own Bears record of 218 yards that he had set in a Week 5 loss to the Saints.
On the second play of the second half, Jeffery's 80-yard TD reception gave the Bears a 13-7 lead. Jeffery beat one-on-one coverage from Cook and then outran safety Jamarca Sanford. But his 46-yarder is the one that no doubt will be featured on highlight shows throughout the week.
"That ball hung up for a long time," said coach Marc Trestman. "That was a great throw by Josh to keep it in bounds, but we all saw it. He exploded into the air and elevated."
"I saw the ball go up and a guy with big palms come out of nowhere to snag it," said receiver Brandon Marshall. "It was one of the greatest catches I have ever seen."
Ground up: Adrian Peterson rushed for 211 yards on 35 carries Sunday, his second highest total in 12 career games against the Bears. His only better performance came in his first meeting when he ran for 224 yards on 20 attempts on Oct. 14, 2007 at Soldier Field.
"We're doing everything we can," Trestman said. "I thought our guys, we had good fits. Sometimes we hung on and he dragged us. He didn't have a lot of explosive plays, but he got his share."
After being held to 85, 94, 51 and 39 yards in four games against the Bears from 2009-11, Peterson has gained 108, 154, 100 and 211 yards in his last four contests versus Chicago.
After allowing an average of 102 yards in the first six games this season, the Bears run defense has yielded an average of 205 yards in the last six contests, including 246 Sunday.
Stuffed twice: Protecting a 20-17 lead, the Bears were forced to punt with 2:47 remaining after Matt Forte got stopped for no gain on second-and-one and third-and-one at the Minnesota 41.
"I felt very good about those two plays," Trestman said. "We ran a spontaneous play that you just try to hit them quick because it was so short to go, and then we had exactly the play that we prepared for on third down. I'm not sure exactly what happened, but we certainly didn't get it done.
"I'll look at the tape. I'll have a better answer for you tomorrow, but obviously we didn't execute it. They got their pads under us and were able to make the stop."
News and notes: Bears players who sat out with injuries Sunday were quarterback Jay Cutler (ankle), linebacker Lance Briggs (shoulder), and safeties Major Wright (hamstring) and Anthony Walters (groin). Also inactive were guard/tackle James Brown, tackle Jonathan Scott and defensive end Cornelius Washington.
Craig Steltz started in place of Wright at strong safety and led the Bears with 12 tackles. Defensive tackle Jeremiah Ratliff made his Bears debut and was credited with one tackle. Defensive tackle Stephen Paea returned from a toe injury and recorded one tackle and a half sack.