After agreeing to a three-year contract Wednesday, Bears cornerback Prince Amukamara signed the deal Thursday at Halas Hall before conducting a conference call with the media. Here are five things we learned from that session with reporters:
(1) Amukamara instructed his agent to speak only to the Bears because he wasn't interested in playing for any other team.
The veteran cornerback dined with general manager Ryan Pace, coach Matt Nagy and defensive coordinator Vic Fangio last Friday night. The Bears called Amukamara Monday and the deal was finalized Wednesday.
"There's just something about here that felt like home," Amukamara said. "I think it had to do with a lot of the guys and what we had going last year, and I just really wanted to finish this thing out. I feel we were scratching the surface last year. We were in some games. We won some games and just really wanted to build off that."
(2) The chance to continue to play for Fangio was a major factor in Amukamara's desire to return to the Bears.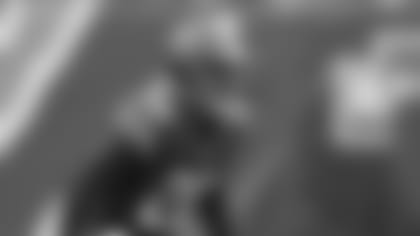 Bears cornerback Prince Amukamara drops back into coverage during the 2017 game against San Francisco.


Fangio and the rest of the defensive staff was retained by Nagy after he replaced John Fox as head coach.
"That was huge," Amukamara said. "I really love his defense. I love the mastermind that Vic is. He's probably one of the most detailed defensive coordinators I've ever been a part of. It just feels he calls the right play every down. That's probably an exaggeration, but it's very rare that you see that. He just puts us in the best position to be successful, and as a cornerback you really like that."
(3) An opportunity to pair with fellow cornerback Kyle Fuller also provided Amukamara incentive to remain in Chicago.
Fuller was due to become an unrestricted free agent, but the Bears placed a transition tag on him and would like to sign him to a long-term deal.
"We work pretty well together," Amukamara said. "Kyle's a different type of corner. Kyle likes to play off and he likes to read the quarterback, which made him very successful last year just reading the quarterback and being able to break on passes. My deal is more of an in-your-face press type of corner. Kyle's preparation for the game, he studies like a quarterback. Quarterbacks study film before the game all throughout the week. He'll give me tips and stuff like that and we'll help each other out. I feel like just watching him prepare, that just excited me, especially for him being so young."
(4) Amukamara is thrilled that the Bears signed free-agent receiver Allen Robinson II, his teammate with the Jaguars in 2016.
"Allen Robinson was a nightmare in practice and I say that in the best way possible," Amukamara said. "He's very, very competitive. If he makes a play, he's going to let you know it and he just works extremely hard and he's super young. He's so raw and he's super young and I think he's definitely what this team needs. He's a big play guy and not too long ago he was one of the leaders in touchdowns and yards in this league and I know he's excited to get back to that."
With height and leaping ability, Robinson presents unique challenges for defenders.
"Allen's probably about 6-2 or 6-3, but with a 40-inch vertical," Amukamara said. "This guy stood under the rim, put the ball between his legs and dunked it. His catch radius, he can just jump and catch the ball anywhere. I've seen him make crazy catches in practice and that's just tough for a defender. You could be in the best position possible, but if you don't have a 40-inch vertical or aren't as tall as 'A Rob' then you're at a disadvantage."
(5) Amukamara enjoyed meeting Nagy and can't wait to play for the first-year head coach.
"[He's] very relatable," Amukamara said. "It was easy to talk to him. It's not that easy with a lot of head coaches, so it was just very organic. It was very easy to talk to him. Had a good time. We talked about family. We talked about ball, talked about where he came from, talked about competing against each other when he was with the Eagles. Like I said, it was a positive conversation."