The Bears are providing their fans more team access with a new weekly television program and the addition of a sideline reporter for home games this season. Fans have asked for more information in stadiums throughout the NFL and the Bears will be providing timely updates from around the league through this unique in-stadium enhancement.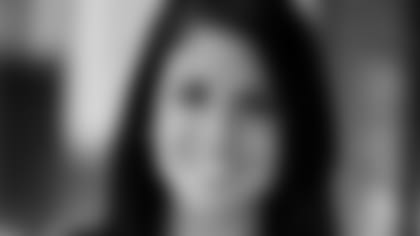 Lyndsay Petruny joins Anthony Adams to host "Inside the Bears" on Sunday nights at 11:05 pm following "Bears Gamenight Live" on Fox32 Chicago.
Former Bears defensive tackle Anthony Adams and Lyndsay Petruny will host "Inside the Bears," a year-round, half-hour magazine show debuting Sept. 14 at 5 pm on Fox32 Chicago, the Bears official broadcast partner.
The show will focus on off-the-field fun and entertainment. Produced by the Chicago Bears Network at their new television studio at Halas Hall, "Inside the Bears" is brought to you by Jimmy John's and will air multiple times each weekend throughout the year.
During the football season it can be seen on Sunday nights at 11:05 pm following "Bears Gamenight Live" on Fox32 Chicago. It will air every Saturday at 6 p.m. on MY50 Chicago. The show will also be available on ChicagoBears.com.
The recently-retired Adams played in 121 games at defensive tackle over nine years in the NFL, including five seasons with the Bears. The Penn State product produced his own retirement video in March, which went viral with over one million views on YouTube.
Petruny recently served as a reporter and producer for Kraft Sports Productions, the New England Patriots' in-house production company. She contributed to a variety of shows on Boston's CBS affiliate, Comcast SportsNet New England and Patriots.com. The Kent State graduate also has worked as a correspondent for the Big Ten Network covering Penn State, and served as a reporter for Pittsburgh's CW Network and WVIZ-TV in Cleveland.
In addition to her co-hosting duties on "Inside the Bears," Petruny will serve as an in-stadium sideline reporter for Bears home games at Soldier Field providing updates through the PA system. She will give fans stats, scores and highlights from games around the NFL, injury updates, and interviews of Bears players and coaches live from the field or outside the locker room.