A Pro Bowl special teams player with the Bears in 2006, Brendon Ayanbadejo will never forget the range of emotions he experienced six years ago in Super Bowl XLI.
It started with euphoria when Devin Hester returned the opening kickoff 92 yards for a touchdown and ended in bitter disappointment with a 29-17 loss to the Indianapolis Colts.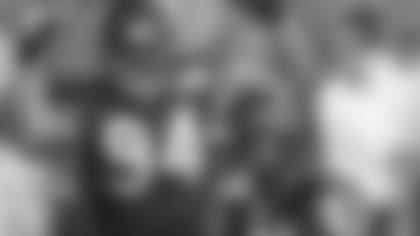 Brendon Ayanbadejo celebrates Devin Hester's 92-yard kickoff return TD in Super Bowl XLI.

Now a linebacker with the Baltimore Ravens, Ayanbadejo is inspired to win Super Bowl XLVII Sunday for Hester, Brian Urlacher, Lance Briggs and the rest of his former teammates on the 2006 Bears.

"It's amazing to be back," Ayanbadejo said. "All of my Bears boys: I have you in my heart. They're on my back right now. Part of my motivation getting that championship is them as well."

A few days ago, Ayanbadejo was in a restaurant when he glanced up at a television set and was transfixed when he saw highlights of Super Bowl XLI.

"I was sitting there talking, but while they showed the highlights for that Super Bowl I had to stop everything and just watch," Ayanbadejo said. "I remember how it felt to not be successful. I remember how it felt to have that first kickoff returned for a touchdown.

"It was a lot of emotions I was feeling, so to be able to be back here and right that ship that went wrong in 2006, it will be an amazing experience. We're looking forward to doing that."

Ayanbadejo has played pro football on several teams in the United States, Canada and Europe. But the 2006 Bears will always maintain a special place in his heart.

"We had such a great relationship, me and those guys," Ayanbadejo said. "I showed up in Chicago a couple of years after Lovie (Smith) got there and the guys all took me in: Urlacher, Briggs, Chris Harris, Antonio Garay, Israel Idonije, Adewale Ogunleye, Peanut Tillman; all those guys. They're still my buddies, they're still my boys, and I think about them big time."

Ayanbadejo, who was voted to two Pro Bowls in three seasons with the Bears from 2005-07, followed a very unusual path to the NFL.

After high school, Ayanbadejo signed with Sacramento State as a 189-pound wrestler and spent one year in junior college at Cabrillo College in California before developing into a first-team All-Pac 10 pass-rushing defensive end at UCLA as a senior.

But even after starring for the Bruins—he once sacked Carson Palmer four times in a win over USC—Ayanbadejo played pro football in Winnipeg, Toronto, Vancouver and Amsterdam and was cut by three NFL teams including the Bears before establishing himself in the league.

Ayanbadejo was a man without a position when he left UCLA after registering 58 tackles, 13 tackles for loss and nine sacks as a senior in 1998. He was too small to play defensive end in the NFL and some scouts felt he was too stiff to be an every-down linebacker.

Ayanbadejo signed with the Atlanta Falcons as an undrafted free agent, but he was released during training camp. He joined the Bears in January of 2000, but was waived in May. After splitting the 2000 season in the Canadian Football League between Winnipeg and Toronto, he was signed by the Ravens in 2001 and allocated to Amsterdam in NFL Europe.

After being waived by the Ravens in July, Ayanbadejo spent the season out of football before returning to the CFL in 2002 with the British Columbia Lions.

Ayanbadejo finally earned his way onto an NFL roster in 2003 with the Miami Dolphins, and was named a second alternate to the Pro Bowl as a special teams player a year later.

The Bears then acquired Ayanbadejo in a 2005 trade with the Dolphins in exchange for tight end John Owens and a seventh-round draft pick.