The battle for the Bears' backup running back job intensified Thursday night with Shaun Draughn, Ka'Deem Carey and Senorise Perry all making an impact in a preseason win over the Jaguars.
Draughn rushed for 33 yards on three carries, gaining 11 yards on each of his attempts. Carey produced the Bears' longest run with a 15-yarder and scored a late touchdown on a 1-yard dive. And Perry had a 22-yard reception and scored the winning TD on a 5-yard run.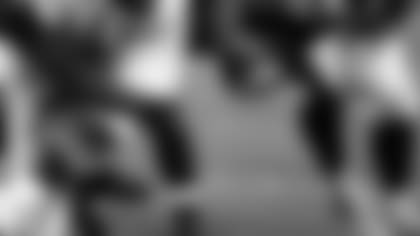 Rookie running back Ka'Deem Carey dives forward during Thursday night's preseason win.
Draughn is the most experienced of the backs competing to for the No. 2 spot behind Kyle Long, having appeared in 20 games the past three seasons with the Chiefs and Ravens. But even though he's listed second on the depth chart, Draughn knows he isn't a lock to earn the job.

"No, not at all," Draughn said. "We're still working. We've still got two preseason games. Anything could happen. I stack practices and I try to stack the games the same way that I stack practices. Try to keep doing what I'm doing, stay in my playbook and know where to be."

Battling for a spot on the Bears' 53-man roster is nothing new for Draughn, who entered the NFL in 2011 with the Redskins as an undrafted free agent out of North Carolina.

"I've never been the one slated to go in as a starter or a backup, especially being a free agent," Draughn said. "Every year I've had to fight and crawl for a position on the team."

Injury bug: Rookie first-round draft pick Kyle Fuller exited Thursday night's game after injuring his foot while covering the opening kickoff.

"My ankle got caught in a weird position," Fuller told reporters in the locker room after the game. "It was good news that the X-rays were negative. We'll see how it feels tomorrow."

Tight end Zach Miller, who caught two touchdown passes in last Friday night's preseason opener against the Eagles, exited Thursday night's contest with a foot injury in the second quarter.

Asked about Fuller and Miller after the game, coach Marc Trestman said: "We'll know a lot more tomorrow. They're being checked out right now and we'll see where they are tomorrow. I'll have more definitive information for you at the press conference tomorrow."

Hold on tight: Three of the main candidates for the Bears' punt and kickoff return jobs struggled to hang onto the ball Thursday night.

Eric Weems lost a fumble on a kickoff return that led to a Jaguars touchdown, Micheal Spurlock fumbled a punt return out of bounds and Michael Ford dropped a kickoff in the end zone before scooping it up and returning it 19 yards.

"We certainly didn't see much in the return game," Trestman said. "We had the turnover, but more than that we haven't seen anything in the return game. It's pretty much been a catch and a stop. So we've got to look into that as well."

Chris Williams, who is also in the hunt for the punt and kickoff return jobs, sat out Thursday night's game with a hamstring injury.

"He's day-to-day, but we're encouraged," Trestman said. "I think we'll see that when we get back to work next week that hopefully he'll be ready, but it's still day-to-day."

Sitting out: In addition to Williams, other Bears who did not suit up Thursday night were receiver Marquess Wilson, safeties Craig Steltz and Chris Conte, cornerback Isaiah Frey, offensive linemen Eben Britton, Brian de la Puente and Jordan Mills, tight end Dante Rosario and defensive end Willie Young.