Having seen the Bears defense thrive in recent seasons, Mel Tucker opted to keep the same scheme and terminology in place when he was hired as defensive coordinator in January.
Judging by the ball-hawking unit's performance this summer, Tucker made the right decision. After leading the NFL with 44 takeaways last season, the Bears have picked up where they left off, generating four takeaways in each of their first three preseason games.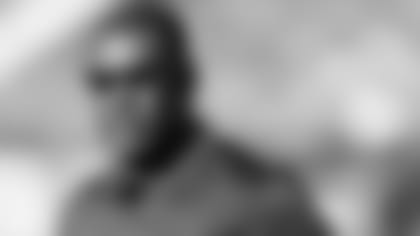 Mel Tucker
"That was very important to us. They didn't come in here and change a whole lot," said cornerback Tim Jennings. "They kept us in play to make plays more often and didn't try to change anything.

"That's one thing that coach Tucker emphasized a lot. He's a players' coach and wants us to go out there and play our hearts out, and try to put us in the best opportunity to get the ball back to the offense as much as we can. The guys that we had in here were able to come in and pick up where we left off."

In the first half of Friday night's preseason win in Oakland, the Bears' first-team defense held the Raiders to three points, 92 total yards and 0-of-6 on third down.

The starting unit also picked off two Matt Flynn passes, including one by Jennings, who made his first trip to the Pro Bowl last season after leading the NFL with nine interceptions.

"I wanted to try and do something like that [Friday night]," Jennings said. "Going into the season, I feel pretty healthy and want to go out there and do my assignments and make some plays."

Tucker has also incorporated his own wrinkles on defense, such as well-timed blitzes that led to two interceptions and a Charles Tillman sack against the Raiders.

Middle man: Jon Bostic continued to shine against the Raiders, recording a team-high eight tackles. But the rookie middle linebacker knows he must keep getting better.

"I felt a lot more comfortable, but I can still see there's a long way for me to go," Bostic said. "I'm not where I want to be. I critique myself real hard so every time I get back to the sideline, I'm making sure that I'm talking to D.J. [Williams], asking D.J. what he's seeing, letting coach make adjustments. I'm a little bit more comfortable out there, but there's still a long way for me to go."

Bostic showed his athleticism and playmaking ability when he dropped running back Rashad Jennings for a one-yard loss and helped fellow linebacker James Anderson chase down quarterback Terrelle Pryor for a five-yard loss.

"I played some runs a little bit faster," Bostic said. "I was confident in my run fits, especially when we were playing cover-two. You've just got to keep coming along. It's a long ways for me to go. I'm not where I want to be. I know for the season I'm going to need to be way ahead of where I'm at now. I've got to make sure to make these adjustments and make sure those things carry over this week and into next week's game."

Helping hands: Matt Forte turned a short swing pass into a 32-yard touchdown against the Raiders thanks in large part to downfield blocks by Alshon Jeffery and Martellus Bennett.

"Coaches have been harping on our receivers," Forte said. "That's how you get big plays, blocking downfield, and on that one swing pass to me that I scored on, [Jeffery] locked the dude down on the outside. Martellus blocked two people on that play. If I don't have those guys, it's a nice play but I don't score."

Rookies on the rise: Jay Cutler has no qualms about lining up behind two rookie linemen, especially after right guard Kyle Long and right tackle Jordan Mills once again excelled with the starting unit in Oakland.

"They played well," Cutler said. "They get better and better each week. The thing about them is they want to do it. They're excited about it. It matters to them and they're getting better. I felt really comfortable back there. I thought they did a great job of getting me a good pocket, letting me step up."