The following is the second of eight position previews in advance of the April 25-27 NFL Draft.
Just like the quarterback position, there may not be any elite running backs in the 2013 draft. But that doesn't mean there aren't some promising prospects who will become solid pros.
The most productive college back in the draft is Wisconsin's Montee Ball, who rushed for 5,140 yards and 77 touchdowns while playing in 49 games with 32 starts for the Badgers.
Eddie Lacy - Alabama

As a junior in 2011, the 5-10½, 210-pounder led the NCAA in rushing with 1,923 yards and tied Barry Sanders' single-season record with 39 TDs. Ball followed by rushing for 1,850 yards and 22 touchdowns last year as a senior, becoming the NCAA's career leader with 83 TDs.
Pro Football Weekly's 2013 Draft Preview describes Ball as a highly instinctive back who plays faster than his timed speed and possesses good feet and vision, but lacks top-end speed to pull away from defenders as well as the creativity to shake tacklers in space.
While PFW ranks Ball as the top running back in the draft (and the 27th overall prospect), ESPN's Mel Kiper Jr. thinks that designation goes to Alabama's Eddie Lacy. In fact, Kiper predicts that Lacy will be the only running back selected in the first round, going 26th to the Packers.
"I like the combination of big-play potential and the physicality and size of a player who can give you a lot of carries," Kiper writes. "Lacy can run a little upright and needs to lose the spin move, but he can make people miss and finishes with power and good leg drive. When he's consistent with pad level, he can punish on the second level."
Lacy rushed for 1,322 yards and 17 touchdowns last year as a junior in his only season as a starter for the Crimson Tide. The 5-11, 231-pounder served as a backup for Heisman Trophy winner Mark Ingram in 2010 and Browns first-round draft pick Trent Richardson in 2011.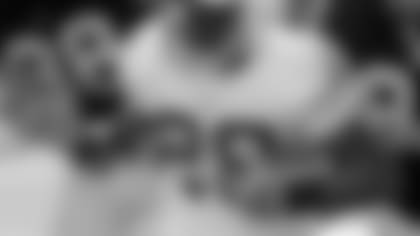 Wisconsin running back Montee Ball set an NCAA record by scoring 83 career touchdowns.

PFW describes Lacy as "a powerful, workhorse back who likely will not have as good of an offensive line or as well-coordinated of a ground game attack as the one he departed upon entering the NFL and could take some time to acclimate to the NFL game."

Lacy's draft status could be hurt by a hamstring injury that prevented him from working out at both the NFL Scouting Combine and Alabama's Pro Day.

PFW ranks Andre Ellington as the second best back in the draft behind Ball and ahead of Lacy. The 5-9, 199-pounder was a two-year starter at Clemson, where he rushed for 3,436 yards and 33 touchdowns while appearing in 48 games with 31 starts over four seasons.

PFW projects Ellington as a second- or third-round pick and describes him as "a dynamic big-play threat with the elusiveness, short-area explosion and top-end finishing speed to become a complementary speed back, mismatch piece and home-run returner."

Another promising running back is Giovani Bernard, who rushed for 2,481 yards and 25 TDs in two seasons at North Carolina. According to PFW, the 5-8, 202-pounder is similar to NFL running backs Maurice Jones-Drew and Ray Rice in terms of his compact build, vision and instincts, but he does not run with the same power.

Other top running backs in the draft include Oregon's Kenjon Barner, Michigan State's Le'Veon Bell, UCLA's Johnathan Franklin, South Carolina's Marcus Lattimore, Texas A&M's Christine Michael, Stanford's Stepfan Taylor and Utah State's Kerwynn Williams.