Just after 3:00 Pacific on Sunday afternoon, less than two hours before kickoff against the San Francisco 49ers and mere minutes before the team had to declare its active game day roster, Bears trainers, coaches and front office personnel met on the Levi's Stadium field to discuss the availability of Brandon Marshall and Alshon Jeffery.
The two Bears wide receivers had missed practice all week because of injuries – Marshall with a sore ankle, Jeffery with an injured hamstring – resulting in them being listed as questionable for the Week 2 contest. However the group decided, after both showed they were able to run well enough in pregame workouts, that each would be in uniform for the contest.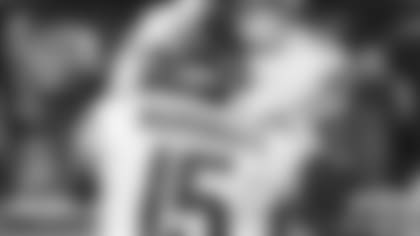 Brandon Marshall celebrates with Alshon Jeffery after hauling in a 17-yard touchdown.
It proved to be a wise decision. Both Marshall and Jeffery battled through their respective ailments to come through with big catches, helping the Bears to a 28-20 victory to ruin the 49ers first home game in their new stadium.
"Both of them, Alshon and (Brandon), they didn't practice all week, it wasn't for sure if they were going to go," quarterback Jay Cutler told NBC's Michelle Tafoya following the win. "They're both professional. We don't have to worry about them. We just knew we had to get them to Sunday, and they played their butts off."
Marshall's presence was especially important for Cutler and the Bears. The receiver hauled in three touchdowns, including the eventual game-winning score with 6:55 remaining in the fourth quarter, helping the team rally from 17-point first-half deficit. It was the first time a Chicago wide receiver had three touchdown catches in a game since Marshall accomplished the feat versus Tennessee on November 4, 2012.
He finished with five catches for 48 yards, while Jeffery added 47 yards on three receptions.
"It's tough being in games like this," Marshall said. "But what ends up happens is, it builds character, it builds a stronger backbone. And we're going to need it with the schedule that we have and what we're trying to accomplish."
Marshall's first touchdown grab was certainly the most impressive of the three he made on Sunday. Facing 3rd-and-2 from the 49ers' 17-yard line, with only 18 seconds remaining in the half, Cutler dropped back and launched a rainbow of a ball into the end zone. The wide receiver leapt, spun clockwise in the air, put up his right arm and snared the ball out of the sky before the closest San Francisco defender could even react to the pass. The touchdown cut the 49ers lead to 17-7 and gave the Bears some much-needed positive vibes heading into the locker room for halftime.
"When it was in the air, I just threw my hand out there and it stuck," he said.
Coach Marc Trestman said all week prior to the game against the 49ers that the Bears would have a 'Next Man Up' mentality and would not adjust the game plan if Marshall and Jeffery were unable to go. While that philosophy didn't change, there were adjustments made once the contest started.
The two banged-up receivers started the game on the outside, running mainly longer, downfield routes. After being held to a combined three catches in the first half, they were each moved into the slot following halftime, allowing them to use their big body size to gain position on defenders while not relying as much on their injured legs.
Marshall's second touchdown came on a basketball-type play, posting up at the goal line and then snaring the ball out of the air over 49ers rookie safety Jimmie Ward. The third score came on a back-shoulder fade, also against Ward. All three of Marshall's touchdowns came when he was lined up in the slot.
"We weren't going to get caught up in who's in and who wasn't, because we didn't know how much (Marshall and Jeffery) were going to play or if they were going to play (at all,)" Trestman said. "Even at the start of the game we didn't know how much they would be able to play so we didn't worry ourselves about it. We just called plays and tried to continue to probe the defense as the game went on."
Now the Bears have a full week to rest before their next game, on Sept. 22 at the New York Jets on "Monday Night Football." The time off will hopefully help Marshall and Jeffery return closer to 100 percent health, and help the Bears avoid any more tense pregame meetings where the fate of their Pro Bowl wide receivers is in the balance.