Matt Barkley is pleased with the progress he's made in his first four NFL starts, but the young Bears quarterback is confident that he can play even better.
Since replacing the injured Jay Cutler, Barkley has completed 60.5 percent of his passes for 1,042 yards with six touchdowns, five interceptions and an 81.5 rating. His numbers no doubt would be much better if Bears receivers hadn't dropped nearly 20 passes in his four starts.
Barkley feels that he has steadily improved "just commanding the offense and understanding the offense and understanding where [coordinator] Dowell [Loggains] is in regards to calling plays."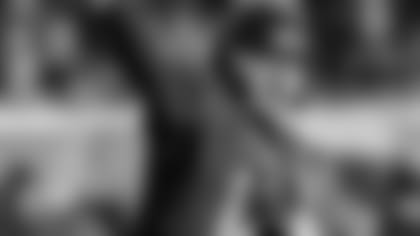 Matt Barkley has completed 60.5 percent of his passes for 1,042 yards with six touchdowns.


"I feel like I've done a good job of continuing to build on that week-to-week," Barkley said.
The USC product expects to make even greater strides in the final two games of the season, especially in terms of strengthening his rapport with teammates.
"I feel like I'm capable of a lot more," Barkley said. "The negative glaring plays are eating me up. I know those are easily correctable and I know there's not a lot holding me back. It's just a matter of putting my head down and making sure that we're all on the same page."
Barkley rebounded from adversity in last Sunday's 30-27 loss to the Packers. After committing turnovers on four straight possessions, he engineered three consecutive scoring drives of 75, 78 and 75 yards as the Bears rallied from a 27-10 deficit entering the fourth quarter to forge a 27-27 tie.
"He's playing faster each week," Loggains said. "He's getting a better feel for the offense each week and starting to really learn his teammates some, which is a big help as well playing quarterback. He's trying to get better timing with those guys."
Barkley's performance over the final six weeks of the season could earn him an opportunity to compete for the starting quarterback position next year with the Bears, but he insists he's only focusing on the present. He told reporters he's "taking this one game at a time and not getting caught up in the emotions of this sport and really finishing this season strong because without that, nothing else matters."
"That's where my head is at," Barkley said, "making sure these guys are in the attitude of winning these last two games, and we'll see what happens from there."
Bears coach John Fox is hoping that Barkley can repeat what quarterback Jake Delhomme accomplished in Carolina when Fox coached the Panthers.
"We signed a guy in free agency, wasn't a big name, was a backup on the New Orleans Saints roster," Fox said. "He came in and took us to within three points of winning a Super Bowl in his first year as a starter. A lot of it is what kind of supporting cast you have and what kind of football team you have, and hopefully we'll get better in both of those areas."
Closing the season with wins over the Redskins and Vikings would be a good place to start. And although the Bears have stumbled to a 3-11 record, Barkley and his teammates remain confident, knowing they must eliminate their self-inflicted mistakes.
"We know we can [win]," Barkley said. "It's just a matter of not killing ourselves. The guys in here believe it. They know they can. They believe in each other and I know I believe in them. It's just a matter of making it happen."