With Bears quarterback Jay Cutler listed as doubtful on the injury report for Sunday's game against the Titans, backup Matt Barkley is expected to make his first NFL start.
Cutler was held out of practice Friday for the third straight day due to a shoulder injury he sustained in last weekend's loss to the Giants. He is the third Bears quarterback sidelined with an injury this year, joining Brian Hoyer (broken arm) and Connor Shaw (broken leg).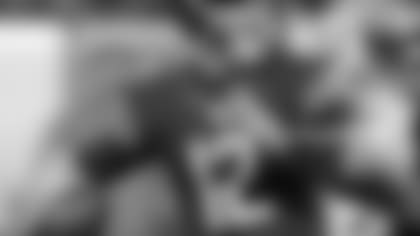 Bears backup quarterback Matt Barkley has appeared in one game this season, completing 6 of 15 passes for 81 yards.


That leaves Matt Barkley as the next man up. The Bears signed the former USC standout to their practice squad Sept. 5 and promoted him to their active roster Sept. 22. He has appeared in one game this season, completing 6 of 15 passes for 81 yards with two interceptions and an 18.3 passer rating in a Week 7 loss to the Packers after Hoyer was injured.
"One thing that stands out for Matt is poise," said offensive coordinator Dowell Loggains. "Even when he had to play when he came in the Green Bay game, he hadn't had one practice rep with our offense outside of scout team and he did a really good job. He's poised in the pocket."
Barkley figures to benefit from all the reps he took this week in practice.
"I think it is a huge advantage," said coach John Fox. "Regardless of the position, guys have got to be ready. They're pros. You go into the game as a backup, you're one play away from being the starter. The issue with that is you didn't have all the reps as the starter all week. So from a preparation standpoint, it should be a huge advantage for Matt this time around, and he would be the guy if Jay couldn't go."
Selected by the Eagles in the fourth round of the 2013 draft, Barkley appeared in four games over two seasons with Philadelphia, completing 30 of 50 passes for 300 yards with four interceptions and a 43.7 passer rating.
Barkley was traded from the Eagles to the Cardinals last September. He did not appear in a regular-season game but remained with Arizona until he was released this past August.
The next touchdown pass Barkley throws will be his first in the NFL, but he's confident heading into Sunday's game against the Titans.
"I'm going to be ready," Barkley said. "I'm not overthinking it. I'm not overhyped. I'm just going to be me and try to win this game."
With Barkley joining the Bears after training camp, it hasn't been easy for Loggains to formulate a game plan based on what the quarterback can and can't do well.
"In the NFL as a backup quarterback, you don't get a lot of work with the first team because the starter's taking those reps," Loggains said. "So we pay attention to how he does in scout team and try to find out his strengths and weaknesses that way.
"The challenge is you don't get him in training camp, you don't have him in OTAs, so the foundation of the system, they don't have. Matt understands the game plan this week. He's a pro. But there are some things that he's repping for the first time this week. Practice has been a challenge that way, to see what he's comfortable with and really to find out what he does well and how we can put him in a situation to succeed."
Loggains acknowledged that he may have to make some changes on the fly Sunday based on how Barkley handles the Titans' defensive game plan.
"There will be some adjusting in the game, as it gets going, to see how he's seeing the defense," Loggains said. "We really haven't seen him in this role in our offense as a starter with a full week of preparation, so there's always a little bit of uncertainty. But we're very confident that he's going to go out and perform well."