It had to be painful to sit through. But Matt Barkley is convinced that watching tape of his five-interception outing in last Saturday's 41-21 loss to the Redskins will make him a better quarterback.
"There was a lot to learn from," Barkley said Wednesday. "The big picture was just when it doesn't feel right, it's not right. Don't try to force things or try to make a big play out of nothing. When the timing is off, don't make a bad play worse. I came away realizing that some plays we get beat and just to take a loss and not make it worse."
All five of Barkley's interceptions came after the Redskins had taken an early 14-0 lead. One pick occurred when he threw into triple coverage on a deep post pattern and another happened when he heaved a ball over the middle to avoid a sack.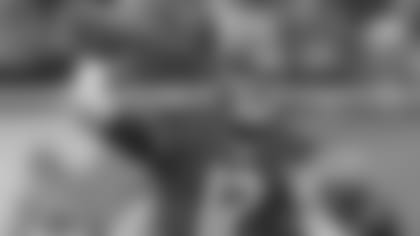 Quarterback Matt Barkley hopes to rebound Sunday when he makes his sixth straight start in the season finale against the Vikings in Minnesota.


"Once we got down, I felt like we needed to kind of get back into it," Barkley said. "Sometimes during that game I was forcing a ball or two to try to get some chunk plays, trying to get more yards, trying to win the game on one play and that wasn't going to happen."
The strange thing about Barkley forcing throws against the Redskins was that he had performed like a seasoned veteran in two similar situations in previous games.
The USC product threw two fourth-quarter touchdown passes and would have had a third if not for a drop in the end zone in leading a furious comeback in an eventual loss to the Titans. He then engineered three straight scoring drives versus the Packers to turn a 27-10 fourth-quarter deficit into a 27-27 tie.
Barkley hopes to rebound Sunday when he makes his sixth straight start in the season finale against the Vikings in Minnesota. While he has impressed Bears coaches with his poise and accuracy since replacing the injured Jay Cutler last month, Barkley has also thrown 12 interceptions, including eight in his last two games.
That's way too many for a 3-12 team that has generated a league-low 10 takeaways and regularly struggles to overcome mistakes.
Asked what Barkley needs to do differently against the Vikings, coach John Fox said: "Avoiding interceptions. Ball security I think is critical."
"When you play one of the top four best offenses in the league," Fox said in reference to the Redskins, "the main idea is to keep it away from them, not give it to them more. Cleaning that up, that's all correctable things. Our coaching staff will work hard on that.
"We're going against a very good Minnesota Vikings defense I think ranks second in a lot of important categories at their place with crowd noise. So it's not an ideal situation for a young quarterback but one we have to improve quickly."
Barkley had very little pro experience when he joined the Bears practice squad in September. Selected by the Eagles in the fourth round of the 2013 draft, he had appeared in just four NFL games—all as a reserve—over his first three seasons with the Eagles (2013-14) and Cardinals (2015).
With the Bears having lost three quarterbacks this year in Cutler, Brian Hoyer and Connor Shaw, Barkley has had a chance to get valuable reps, albeit ones that include growing pains.
"Some things I feel like you do have to learn through experience," Barkley said. "Unfortunately, some of them aren't the best experiences. I've definitely learned from what I've been through so far and whether that's on my own accord or just the timing with the line, the timing with the receivers, seeing different defenses, a lot goes into every one of those plays. For me here on out—like I said earlier—it's [about] not compounding mistakes and learning to take a loss."