Defensive end David Bass likely will feel very much at home on the road Sunday when the Bears battle the St. Louis Rams at the Edward Jones Dome.
Bass grew up in St. Louis, where he starred in football and basketball at University City High School before moving on to Missouri Western State.
The 6-4, 256-pound rookie anticipates that 20-25 of his relatives and friends will attend Sunday's game, including his mom, brother, uncle and girlfriend.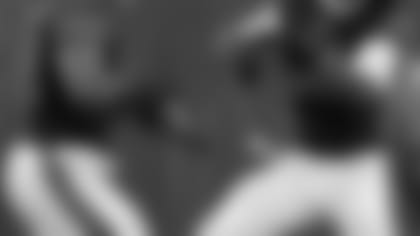 David Bass celebrates after recording the first pick six of his NFL career last Sunday.
"It feels good [to return]," Bass said, "mainly for the fact that my family and friends get to be there, people who supported me throughout my whole career, before I even knew I was going to be in the NFL. They get to watch me play, so that's going to be big."
In high school, Bass served as a team captain, was an all-metro selection and earned a Fab-25 Demetrius Johnson Award for being one of the top defensive linemen in Missouri and Illinois.
Despite those accolades, Bass was not heavily recruited. So he headed to Division II Missouri Western State in St. Joseph, Mo., with a chip on his shoulder and ultimately set school records by compiling 40.5 sacks and starting 50 consecutive games over four seasons.
As a senior, Bass was one of eight finalists for the Gene Upshaw Award, which is presented to the top lineman in Division II, and played in the East-West Shrine Game.
"Even though I was going against Division II talent, I would check different stats and see what people at the Division I level were doing and I would try to match that," Bass said. "When I looked at my sacks and set goals before the season, I would compare them to Division I. It isn't the same level. I just wanted to make that many more plays."
Bass may have been a longshot to make the NFL from Missouri Western State, but that didn't stop him from striving to achieve that lifelong goal.
"It was something I was aiming for; whether it was realistic or not, I couldn't tell you," Bass said. "I've seen it happen from Division II though. Each year I would go online after the draft and I'd pay attention to the small school guys who made it, in particular at my position, and when I'd see guys like that, it would give me hope. So it became a realistic goal, something I was really shooting for, not only that I wanted to do but that I believed I could do."
Bass' dream was buoyed by seeing two Missouri Western State players make it to the NFL. Guard Roger Allen originally signed with the Rams in 2009 and is now with the Buccaneers, while kicker Greg Zuerlein is in his second season with the Rams.
Bass was also inspired by Rams defensive end Eugene Simms, who attended West Texas A&M, and former Raiders and Chiefs defensive end Chad Kilgore, who went to Northwest Missouri State.
Bass ultimately accomplished his goal when he was selected by the Raiders in the seventh round of this year's draft. He was disappointed to be waived during final cuts, but was confident he would get a second opportunity elsewhere. The Bears provided that chance by claiming him the next day.
"[Getting cut] is definitely a motivating factor," Bass said. "Being competitive, putting in your all and busting your butt every day, that's something that you don't want to happen.
"But it happens so much that I didn't let it affect me to the point where I would tank. I hoped that another team would me up. I hoped that I put enough on film where another team would pick me up, but I wasn't sure. You can't guarantee anything."
The one thing you actually can guarantee is that Bass will continue to try to take advantage of every opportunity he gets. He did that last weekend by scoring his first NFL touchdown on a 24-yard interception return, helping lift the Bears to a 23-20 overtime win over the Ravens.
Bass may have fewer chances Sunday with Shea McClellin expected to return after missing two games with a hamstring injury. But no one in the Edward Jones Dome who's so close to home will have traveled a greater distance to get there.