Exactly a year ago on Nov. 17, 2012, David Bass helped Missouri Western State edge Minnesota-Duluth 57-55 in a triple-overtime thriller in the first round of the Division II playoffs.
The Bears rookie defensive end experienced another exhilarating moment Sunday, returning an interception 24 yards for his first NFL touchdown in a 23-20 overtime win over the Ravens.
[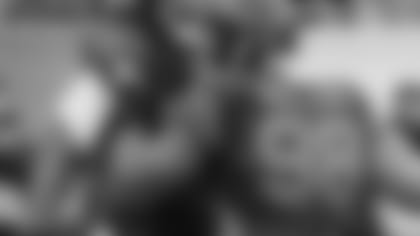 ](http://www.chicagobears.com/multimedia/photo-gallery/Bears-vs-Ravens/2207a9da-e7ac-42dd-bf0f-47cccc613b3e)

David Bass picked off Joe Flacco in the second quarter and returned it 24 yards for his first career touchdown.
Click to view photos from the game.
"It's definitely a confidence-booster," Bass said. "As a rookie there's a lot of learning you've got to do, just focusing on your fundamentals and techniques every day. I was just trying to go out there and play my role, do my responsibility, and when you make a play like that, that's huge. It allows you to relax and feel good about yourself so you can go out and just build on that."
Baltimore led 10-3 midway through the second quarter and had momentum on its side after keeping the Bears out of the end zone and forcing them to settle for Robbie Gould's 20-yard field goal.
On the next play from scrimmage, Bass held his outside containment and leaped high at the line of scrimmage to pick off Joe Flacco's pass intended for fullback Vonta Leach in the flat. The 6-4, 256-pounder then raced untouched for a touchdown that tied the game 10-10.
"David Bass has been working terribly hard," said coach Marc Trestman. "He wasn't here in training camp. We brought him in, we've worked with him. Credit to Mike Phair and Mel [Tucker] and the guys for working to develop him and he comes up with a huge play."
Big catch: Tight end Martellus Bennett set up Gould's game-winning 38-yard field goal in overtime with a career-long 43-yard reception from Josh McCown. Bennett leaped high over cornerback Ladarius Webb to haul in the pass.
"That was huge," said receiver Brandon Marshall. "He needed that for himself, but obviously he won the game for us with that. It doesn't come down to one play, but that was huge for us."
Bennett's 43-yard reception was the only completion over 21 yards by either team. The Ravens' longest pass play Sunday was a 17-yarder from Flacco to Dallas Clark.
"The play was designed to throw a slant and go to Brandon," Trestman said. "We were fortunate. I believe we caught them in a blitz. I saw them in single safety. That's what we wanted; a chance to move the safety and work down the seam or outside lane to Alshon [Jeffery]."
On the ground: Wind gusts up to 46 miles per hour Sunday limited what the Bears could do on offense. They ran the ball on all eight of their plays in the third quarter, gaining 28 yards.
"[The wind was] blowing sideline-to-sideline," Trestman said. "We could not throw the ball, any ball. We were very concerned even about a flip or a screen pass because it was coming so hard."
Despite the stiff wind, McCown completed 19 of 31 passes for 216 yards with one touchdown, no interceptions and a 92.9 passer rating in place of the injured Jay Cutler.
"You look across the field and see Joe Flacco and look on the sideline and Jay is over there and I'm like, 'Can I borrow somebody's arm?'" McCown said. "It was definitely one of those days where I wish I could spin it like those guys, but we were able to get it done."
News and notes: The Bears improved to 3-0 against AFC North opponents. ... The home team has now won all five all-time meetings between the Bears and Ravens. ... Gould's last game-winning kick in overtime was also a 38-yarder on Dec. 22, 2008 in a 20-17 victory over the Packers at Soldier Field. ... When scoring a defensive touchdown, the Bears are now 4-0 this season and 25-2 since 2005. ... Matt Forte rushed for 83 yards on 18 carries and caught five passes for 14 yards and one touchdown. ... Jeffery led the Bears with seven receptions for 83 yards. ... Defensive tackle Stephen Paea exited the game with a toe injury.