Halfway through their preseason schedule, the Bears aren't yet ready to declare a winner in the battle for the backup quarterback position between Jimmy Clausen and Jordan Palmer.
"It's a heck of a competition," said coach Marc Trestman. "I try not to worry about having to make a decision right now and just letting them practice, letting them work and coaching them up.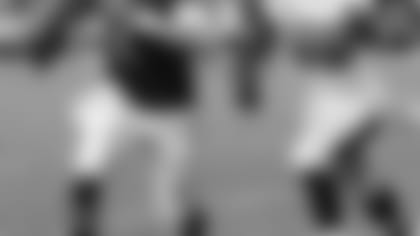 Jordan Palmer completed 6 of 9 passes for 73 yards in last Thursday night's win over the Jaguars.
"We'll see where we go. We've got two more games. We're going to wait it out and talk through it. When the time comes, we'll have a decision to make."

In the Bears' first two preseason games, Clausen has completed 18 of 28 passes for 244 yards with two touchdowns, one interception and a 100.9 passer rating, while Palmer has connected on 14 of 20 attempts for 177 yards with one TD, one interception and a 93.1 rating.

Palmer helped the Bears turn a 19-7 deficit into a 20-19 victory over the Jaguars last Thursday night at Soldier Field by engineering two fourth-quarter touchdown drives. He entered the game after Clausen's five possessions resulted in four punts and an interception.

Trestman said the headsets that coaches use to communicate with quarterbacks did not work for 3-5 plays when Clausen was in the game, including one snap that resulted in an interception. Clausen's pass over the middle was tipped by linebacker Telvin Smith and picked off by safety Josh Evans.

"Jimmy did a good job of at least getting a call up that was a sound play," Trestman said. "Their linebacker really made a heck of a play. He just got a tip on it. If Jimmy would have checked it down he would have gotten a completion. He had a chance to make the play and again [Smith] made a good play, so I can't say it was a lack of judgment to throw it to the second level there."

It wasn't the first time the Bears have had problems with their headsets at Soldier Field.

"We had an issue a few times last year," Trestman said. "But other places I've been there have been issues like this. So I don't think it's exclusive just to Soldier Field or one stadium. It's happened over the years with the quarterback/coach communication other places as well."

Trestman told reporters that his evaluation of the two quarterbacks involves how well they work through progressions, make the right reads, use proper footwork and make accurate throws.

As Clausen and Palmer continue their competition for the backup position behind Jay Cutler, the Bears still aren't sure whether they will keep two or three quarterbacks on their 53-man roster.

"We'll see at the end," Trestman said. "I don't know where we're going to go with numbers, how that fits with the rest of the football team. Anything is possible. We're going to leave everything open until that time and see how it sorts itself. It's not just the two or three [quarterbacks], it's the whole team and how we're going to work the numbers at each and every position."