Marquess Wilson seemed to be solidifying his role as the Bears' No. 3 receiver before fracturing his right clavicle while diving for a long pass Monday in practice.
With Wilson sidelined indefinitely following surgery Tuesday morning, the Bears are keeping all of their options open in the hunt for a new third receiver.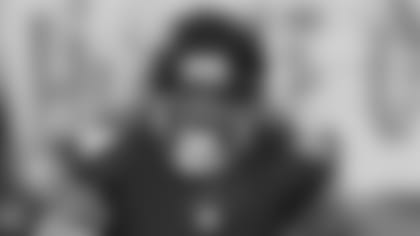 Eric Weems has seen limited action on offense in two seasons with the Bears.
The top contenders for the spot behind Brandon Marshall and Alshon Jeffery on the current roster include, in alphabetical order, Josh Bellamy, Josh Morgan, Eric Weems and Chris Williams.
The Bears added another receiver to the mix Tuesday night when they signed Greg Herd. The Eastern Washington product entered the NFL in 2013 as an undrafted free agent with the Cowboys. He also spent time with the Seahawks last summer in training camp.
Asked what he's looking for in Wilson's replacement, coach Marc Trestman said: "We want to see guys who can make plays and take care of the ball, protect the ball, know what to do and how to do it at the right time—just like we ask of each and every player at their position."
Bellamy has appeared in eight NFL games, all as a reserve, in two seasons with the Chiefs (2012), Chargers (2013) and Redskins (2013). He averaged 20.2 yards on five kickoff returns with Kansas City in 2012, but has yet to catch a pass in a regular-season game.
Morgan spent his first six NFL seasons with the 49ers (2008-11) and Redskins (2012-13), catching 199 passes for 2,488 yards and 11 touchdowns in 79 games. With Washington, he had 48 receptions for 510 yards and two TDs in 2012 and 20 catches for 214 yards in 2013.
Weems enters his third year with the Bears after spending his first five NFL seasons with the Falcons (2007-11). Primarily a special-teams contributor, he has caught three passes for 35 yards in 32 games with the Bears.
The Bears signed Williams prior to last year's season finale off the Saints' practice squad. Before joining New Orleans last October, he spent three seasons in the CFL with the Hamilton Tiger Cats, setting a league record with six return touchdowns in 2012.
Cutler has often expressed a preference for big receivers such as Marshall (6-5), Jeffery (6-3) and Wilson (6-4). But the veteran quarterback doesn't seem to mind that potential replacements Bellamy (6-0), Morgan (6-1), Weems (5-9) and Williams (5-8) all are considerably shorter.
"They all have big catch radiuses," Cutler said. "It's not like they have small catch radiuses. They can go get the ball high or low. We've worked with them enough to have a feel for what they are capable of. I think we have to get in some game situations and see how it unfolds."
Trestman declined to answer a reporter's question about which candidate is most like Wilson.
"I don't want to go there," said the Bears coach. "They all have their differences. To give a short sound bite isn't fair to the other guys. I'd have to do an hour just on the receivers.
"Just keep watching them. You'll see how productive they are. Right now we need them to get lined up right, know where to go, be in the right place and catch the ball against the competition they're facing. With Marquess out, they're getting reps against guys that are ones, and that's a good thing."
Cutler empathizes with Wilson while understanding that the Bears must move forward without him.
"It's tough," Cutler said. "He was having a heck of a camp. I feel bad for him, but the good thing is we'll get him back. We'll see what happens throughout the preseason. We'll get through some of these games and get some guys on film and you never know who is going to step up."