It appears that Bears receiver Marquess Wilson will make his 2014 debut Sunday against the Minnesota Vikings after the second-year pro was added to the 53-man roster Friday.
Wilson resumed practicing last week for the first time since breaking his collarbone Aug. 4 in training camp. He was placed on injured reserve with the designation to return.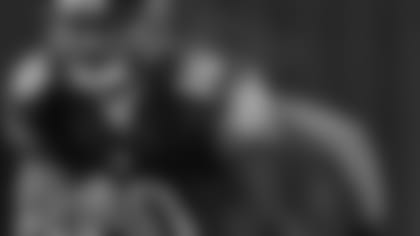 Receiver Marquess Wilson was selected by the Bears in the seventh round of the 2013 NFL Draft.
Wilson performed well during offseason workouts and training camp before he got hurt and was expected to serve as the Bears' third receiver behind Brandon Marshall and Alshon Jeffery.
"We saw it [in training camp] and we saw it in the spring," said coach Marc Trestman. "He was ascending, was learning the offense, was involved in making plays out there for us, and we were excited about it. Him being up now, we're optimistic that he'll be in position to help us."
In other injury news, guard/tackle Eben Britton (illness), defensive end Trevor Scott (knee) and linebacker Darryl Sharpton (hamstring) have been ruled out of Sunday's game.
Tackle Jordan Mills (ribs) is doubtful; receiver Josh Morgan (shoulder) is questionable; and Marshall (ankle), tight end Martellus Bennett (ribs), cornerback Tim Jennings (knee), cornerback Terrance Mitchell (illness) and defensive end Cornelius Washington (illness) are probable.
Line changes: With Mills hurt, the Bears likely will start a different offensive line combination for the sixth straight game, with Brian de la Puente at left guard and Michael Ola at right tackle.
"We're not going to make any excuses for that," said coach Marc Trestman. "We feel we have six or eight guys who are very good offensive linemen. Injuries are part of the National Football League. That's never going to change. They've hit us in this area a little bit, but we're not using any of this as an excuse."
The Bears offensive line will have to contend with a Vikings defense that likes to blitz and ranks third in the NFL with 30 sacks.
"You have to get rid of the ball," said quarterback Jay Cutler. "You can't sit back there and hitch a couple times and look guys off and switch sides of the field. You have to pick a side and try to work that side and try to get rid of it because they're coming. They're bringing more than you can handle a lot of times or they're bringing four to a side, which is hard to deal with."
Fan reaction: After losing five of their last six games capped by a embarrassing defeat in Green Bay, the Bears realize they may not receive a warm reception from their home crowd Sunday.
"We understand the passionate disappointment, for lack of a better way of putting it," Trestman said. "We certainly understand that. Our job's to play well for them and we're focused on playing well."
"I think we've got to start fast," Cutler said. "We can't blame them if we don't start fast and we get some boos. Guys understand that. We know we haven't played as well as we should play, especially at home, so we've got to do better for our fans."
Teddy time: After getting torched by all-time great quarterbacks Tom Brady and Aaron Rodgers in their last two games, the Bears will face Vikings rookie Teddy Bridgewater Sunday.
The first-round pick from Louisville has completed 60.4 percent of his passes for 1,321 yards with three touchdowns, five interceptions and a 74.9 passer rating.
"Teddy's a winner and he competes at a high level," said defensive coordinator Mel Tucker. "He does seem to have an element of clutch to him. He's mobile, he has a strong arm and he can make a lot of throws. He's highly competitive. He's a good young player and I can see why they like him."