The Bears on Sunday agreed to terms with the following 10 undrafted free agents:
LSU running back Michael Ford
Ford played in 37 career games with five starts at LSU, scoring 14 touchdowns (13 rushing and one receiving). He ranked second in the SEC last season in kickoff returns, averaging 27.5 yards on 20 returns. Ford, who entered the draft following his junior season, had four kickoff returns of 40 yards or longer, including an 86-yarder that set up a TD against Arkansas.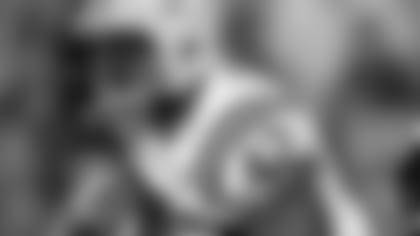 LSU running back Michael Ford was second in the SEC in kickoff returns last season.
Rutgers receiver Mark Harrison
Harrison led Rutgers last season with 44 receptions for 583 yards and six touchdowns. As a sophomore in 2010, he started 11 of 12 games played and was named the team's offensive MVP, recording 44 receptions for 829 yards and nine TDs. Pro Football Weekly's 2013 Draft Preview describes Harrison as a "big, straight-linish, monotone receiver who flashes ability to factor outside the numbers and in the red zone."

Oklahoma cornerback Demontre Hurst
Hurst started all 13 games at left cornerback last season and was named All-Big 12 second-team by the conference's coaches after ranking fourth on Oklahoma's defense with 59 tackles. He had four forced fumbles and three fumble recoveries but only two interceptions in 53 games over four seasons with the Sooners.

Iowa State receiver Josh Lenz
Lenz caught 31 passes for 459 yards and six touchdowns last year at Iowa State, leaving the school with 104 career receptions for 1,325 yards and 10 TDs.

LSU center P.J. Lonergan
Lonergan started 38 of 42 games played at LSU. The Tigers were 31-7 in the games he started, including 11-2 in 2010, 10-1 in 2011 and 9-3 in 2012. He was selected SEC offensive lineman of the week last season following his performance against Mississippi, and earned SEC Academic honors in 2009.

Montana State defensive tackle Zach Minter
Minter was named first-team All-Big Sky last season after recording 29 tackles, 8.5 tackles-for-loss and three sacks, despite missing two full games and most of two others with injuries. He recorded his third career interception against UC Davis, setting up a late touchdown in a seven-point win.

Memphis receiver Marcus Rucker
Rucker started 26 of 44 games played over four seasons at Memphis, catching 126 passes for 1,665 yards and 14 touchdowns. He finished his career ranked fifth in school history in receptions, sixth in yards and tied for seventh in TDs. Last year as a senior he started all 12 games and led Memphis in receiving with 47 catches for 525 yards and three TDs.

Georgia Southern defensive tackle Brent Russell
Russell started 52 career games, recording 231 tackles, 54.5 tackles-for-loss, 25 sacks, one interception and five blocked kicks. Last season as a senior he registered 44 tackles, 8.5 tackles-for-loss and 4.5 sacks in 13 games.

Oklahoma punter Tress Way
Way was named All-Big 12 honorable mention by the conference's coaches last season when he placed 22 of 53 punts inside the opponents' 20-yard line. He ranks No. 1 in Oklahoma history with a 44.0-yard average per punt and hit five punts of 70 yards or more, including a 75-yarder at TCU.

North Carolina State cornerback C.J. Wilson
A four-year contributor at North Carolina State, Wilson tied a school career record by returning three interceptions for TDs. He graduated in December 2011 with a degree in sports management after just three-and-a-half years.