The Bears on Sunday agreed to terms on a one-year contract with center Brian de la Puente.
The 6-3, 306-pounder spent the past three seasons with the New Orleans Saints, starting all 16 games each of the last two years and 12 of 16 games played in 2011.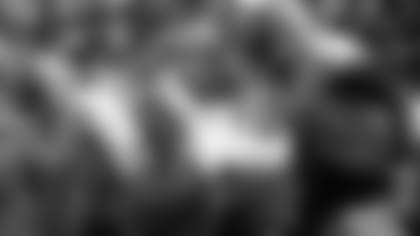 Brian de la Puente (far left) played two seasons with Jermon Bushrod (74) in New Orleans.
"I'm excited about the opportunity," De la Puente told ChicagoBears.com. "I'm excited about the team. I've heard nothing but great things about the organization and I'm excited about starting this next chapter of my career."
De la Puente, 28, entered the NFL with the 49ers in 2008 as an undrafted free agent out of the California. He also spent time with the Chiefs (2008), Seahawks (2009), Panthers (2009), 49ers (again in 2010) and Seahawks (again in 2010) before joining the Saints in 2011.
Like Bears left tackle Jermon Bushrod, De la Puente excelled in New Orleans under the tutelage of Bears offensive coordinator Aaron Kromer, who served as Saints line coach from 2009-12.
"I have a great relationship with coach Kromer," De la Puente said. "He's a big part of the reason I wanted to come up [to Chicago] and I'm excited that I have an opportunity to work with him again."
De la Puente did not appear in an NFL regular-season game until he joined the Saints in 2011.
"The first couple years of my career I did bounce around quite a bit and the Saints believed in me and gave me an opportunity to prove that I could play at this level," De la Puente said. "Coach Kromer was always in my corner. He was a big part of giving me the confidence and giving me the opportunity to play. I'm forever grateful for that and I'm excited about being a Bear."
Kromer is eager to reunite with De la Puente in Chicago.
"Brian is a great addition to our offensive unit," Kromer told ChicagoBears.com. "He has the experience as a starter and has position flexibility. Brian will fit in a group of unselfish linemen who display a true sense of family, helping each other to grow to their full potential."
Kromer, De la Puente and Bushrod were part of an explosive offense with the Saints. In 2011, New Orleans set NFL records with 7,474 total yards (467.1 per game) and 5,347 passing yards (334.2) while ranking second in scoring (34.2 points) and tying for second with 24 sacks.
In 2012, the Saints ranked second in the league in total yards with 410.9 per game and third in scoring with 28.8 points. They also permitted only 26 sacks, tied for the third fewest in the league.
De la Puente is the 30th player the Bears have signed since the final week of December. The group includes 17 returning Bears players, 10 unrestricted free agents and three street free agents.